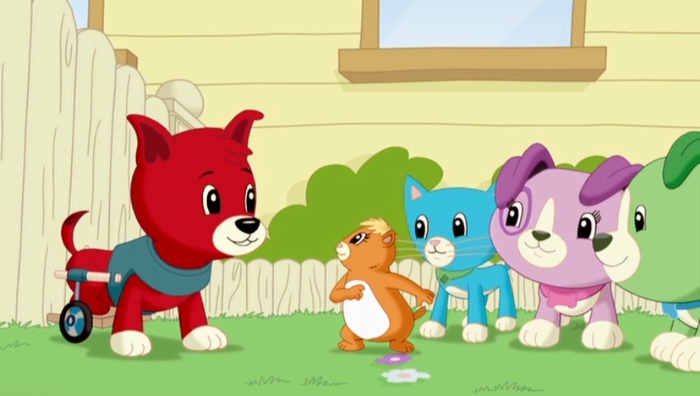 The Leapfrog brand of toys and animation is generally regarded for a certain level of quality, using its curriculum-based system to promote early math and reading skills for anyone working their way through the single-digits. Leapfrog's newer "Scout and Friends" line of DVDs follows a colorful group of talking animals as they get younger audiences ready for early childhood and kindergarten. Like all educational DVDs and books, these aren't designed to be "virtual babysitters"; though they don't necessarily require a parent or guardian present at all times, such programs are most effective when shared as a family.
Adventures in Shapeville Park is one of Leapfrog's newest releases and follows Scout, Violet and the gang as they help "The Beaver Brothers" build a new playground. Through colorful examples and catchy songs, toddlers will sharpen basic math skills with short lessons about shapes, size relations and measurement. Shapeville Park seems to be one of the more basic and accessible titles in the Leapfrog library...so if your little one is new to the world of Scout and company, this appears to be a pretty good jumping-on point.
Though the target audience age isn't listed anywhere on the packaging, Adventures in Shapeville Park seems most appropriate for kids between age 2 and 3...and since my little one turned 2 1/2 a few days ago, she had no problem jumping right in. Although I'm new to the franchise, it's my understanding that most Leapfrog DVDs (mainly those not starring Scout and friends) are aimed at slightly older audiences, so keep that in mind when choosing what's right for your little one. Within the age guidelines, this basic program is easy to follow and adorned with colorful artwork, catchy songs and lively characters that kids should enjoy hanging out with. Though Shapeville Park's short running time might make it more of a rental than a recommended purchase (especially since the "difficulty level" is lower), it's still worth a look.
Lionsgate's one-disc DVD release of Adventures in Shapeville Park pairs the 30-minute main program with a few interesting bonus features (including one for parents), as well as a strong technical presentation that showcases its colorful visuals and fun, educational songs. Let's take a closer look, shall we?
Quality Control Department
Video & Audio Quality
Presented in 1.78:1 anamorphic widescreen, Adventures in Shapeville Park looks very good overall. Colors and line detail are exceptionally crisp (though some of the reds and blues are a a little over-saturated at times), black levels are solid and only a few minor digital issues were present, including light banding and mild edge enhancement. Overall, this is a visual knockout that kids and parents will enjoy watching.
The Dolby Digital 2.0 Surround mix is crisp and well defined. Dialogue and music rarely fight for attention, while strong channel separation gives the outdoor scenes a pleasing atmosphere. Unfortunately, no read-along subtitles are included, though some of the bonus features include them. Perhaps I'm in the minority here, but all educational kids' DVDs should include such an option to make it easier to follow along.
Menu Design, Presentation & Packaging
Seen below, the colorful menus are simple and easy to follow, though little ones are prompted to let their parents help with the remote. A number of trailers and ads must be dealt with beforehand. This one-disc release is housed in a green keepcase; a promotional insert and matching slipcover are also included.
Bonus Features
Not too much overall, but at least there's a little something to pad out the main feature. Extras include a
Sing-Along
feature for all four songs (with karaoke subtitles), a handful of unrelated
Additional Songs
, an abbreviated but helpful
Curriculum Commentary for Parents
, the narrated read-along book
"A Surprise for Scout
(also with subtitles) and a few
Trailers
. These are all entertaining and informative...but there's less less than an hour of content here, so your little one may ready to move on within a matter of days.
Final Thoughts
Adventures in Shapeville Park was my family's first exposure to Leapfrog DVDs, and our 2 1/2 year-old seemed to enjoy herself. Featuring colorful characters, catchy songs and an educational format, parents could do a lot worse than what's presented here. Lionsgate's DVD package serves up an excellent A/V presentation and a few well-meaning extras, but the short running time doesn't guarantee that kids will stay interested for more than a few days. I'd recommend that some parents try before they buy, as anything short of a multi-volume collection might not give newbies enough bang for your buck. This one's still Recommended, especially if your kids have seen and enjoyed a few Leapfrog DVDs already.
---
Randy Miller III is an affable office monkey from Harrisburg, PA. He also does freelance graphic design projects, teaches art classes and runs a website or two. In his limited free time, Randy also enjoys slacking off and juggling HD DVDs. Also, he don't shiv.
---