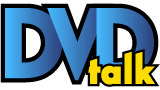 List Price: $19.95 [Buy now and save at Amazon]
---
In 10 Words or Less


Exploitation silliness with Jack Palance and scantily-clad ladies








Reviewer's Bias*


Loves: Mystery Science Theater 3000


Likes: Silly exploitation flicks


Dislikes: Timid exploitation flicks


Hates: Simply awful films





The Film


It's never a good sign when a film has been featured on Mystery Science Theater 3000. Maybe there's one, but I can't think of a film that's legitimately worth watching that's been given the Satellite of Love treatment. Sorry to tell you, director Greydon Clark's Angels Brigade is the rule, not the exception. The story of seven well-proportioned women on a mission to take down drug smugglers, this movie is cheesy through and through, from the ridiculous plot to the awkward dialogue to the weak acting.




Michelle (former Playboy Playmate and one-time porn actress Susan Kiger) is a big-time Las Vegas music act, but she has to take a break when she finds out her little brother was savagely beaten by drug dealers during a robbery gone bad. She has a chance to get revenge when his teacher April comes to Michelle with a plan to take down the drug cartel by destroying their processing operations. It's hard to explain, but when you meet the teacher, played by Clark's wife Jacqueline Cole, any possibility of believing she's behind the plot (which is silly to begin with) goes right out the window. But that's the story, and these two women set off to gather a distaff Ocean's 11-type crew to pull off the attack, including a Vietnamese karate expert, a black stunt driver, an ex-junkie Hispanic model, a street-wise blonde cop and one of April's students, the sweetly naive Trish.




The movie is full of action, including the group's infiltration of a right-wing militia, led by Thurston Howell III himself, Jim Backus, the assault on the rural drug-processing plant, a number of chases and a shootout with the bad-guys, and all of it is actually produced well, considering the time and budget (though the fist fights are laughable, with obvious missed punches throughout.) However, it's the acting, unaided by a stilted script, that will stand out far more than any fireball that graces the scene. It's for good reason that the seven lead ladies' movie resumes, with the exception of Robin Greer's (the cop), pretty much dead-end after this film. They are there mainly to look at as they run and jump around in busom-enhancing costumes (though it's all teasing, as the movie shies away from anything actually sexual, since the women only use their attractiveness as a weapon.) Even if the dialogue was better, there's no reason to think it would have helped, based on some of the deliveries.




To help raise the bar a bit acting wise, the film features some famous faces, including the aforementioned Backus (who is Magoo-ing his way around as a militia leader), Jack Palance as a gruff middle-man in the drug organization and Rat Packer Peter Lawford as the group's kingpin, along with an odd cameo by controversial former broadcaster Arthur Godfrey. While Palance is fine gritting his way through his tough-guy act, Lawford is just awful as the leader of a crime syndicate. At one point, his reaction to a gunshot is so poorly performed that you might wonder if perhaps there was an audio sync issue, were it not for visible proof of the gun's firing. And having his opposite the legitimately tough Palance just makes it that much harder to take his act seriously. Of course, by that point, you're probably laughing at the quality of the rest of the film, especially the massive plot holes and questionable logic (Michelle is supposedly a big star, but no one recognizes her?), so it just fits right in.




The DVD


I can't speak to the packaging on this one-disc release, as we received a simple screener. The disc has a static anamorphic widescreen menu that offers the choice to watch the movie or check out the extra. There are no audio options, no subtitles and no closed captioning.




The Quality


Angels Brigade has not aged well, as the titles are so jittery I actually started to experience a bit of motion queasiness, and there's notable dirt and damage throughout the anamorphic widescreen film, as well as some flickering and jitter troughout. The color is a bit faded across the board, while black levels are decent, and the level of fine detail isn't half bad most of the time (occasionally coming off a bit soft.) Digital artifacts are not a noticeable issue.




Don't expect much from the Dolby Digital 2.0 track and you won't be disappointed. Dialogue is clear and the somewhat aggressive sound effects are strong, while the film's diverse score and soundtrack, which offer everything from Hitchcockian suspense themes to disco songs to circus music, sound fine as well.




The Extras


Extras aren't normally expected on a little-known '70s exploitation flick, but this disc offers up a few, starting with an introduction by German actress Katarine Leigh Waters, as part of the film's spot in the Kat's Skratch Action Cinema series. Running 6:51, it's actually a decent overview of the film, including some talk about some of the better-known participants, with explanations of where you would know them from.




Up next is a nearly 17-minute interview with the film's director of photography, Dean Cundey, who went on to become one of the biggest DPs ever, working on the Back to the Future franchise, Jurassic Park, Who Framed Roger Rabbit and an assortment of cult classics, including Road House and Big Trouble in Little China. Here he talks about working with low-budget auteur Greydon Clark, starting out in the film business, the movie van he created for mobile production and his disappointment over working with Peter Lawford, while also inadvertently answering some questions you might have from watching the movie (like how did an actress this bad get a lead role?) It's a nice little informative chat, though the sound effects and excessive graphic wipes are a bit annoying.




The final extra is an alternate cut of the film, which runs 10 minutes shorter than the main feature, though, for the life of me, I can't spot what was cut, as all the major plot points are still in place. When I first started this version, I thought it was the re-cut Angels Revenge version (the one used on MST3K), which brings more action up-front before turning most of the film into a flashback, but this is just a slightly modified edit, with the better-known title, amd no real pay-off.




The Bottom Line

Angels Brigade is in no way a good movie, but it's also not a hilariously bad movie either, instead offering up little gems of terribleness here and there, like rewards in a treasure hunt. Even so, it's the kind of movie that's fun to watch with like-minded friends and goof on. The quality isn't bad for the movie's age and there are a few decent extras, to make for an enjoyable experience, even if most viewers won't need more than one go-round.
---
Francis Rizzo III is a native Long Islander, where he works in academia. In his spare time, he enjoys watching hockey, writing and spending time with his wife, daughter and puppy.Follow him on Twitter
---
*The Reviewer's Bias section is an attempt to help readers use the review to its best effect. By knowing where the reviewer's biases lie on the film's subject matter, one can read the review with the right mindset.
Sponsored Links
Sponsored Links