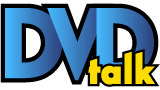 Adventure Time: The Complete First Season
List Price: $32.07 [Buy now and save at Amazon]
---
What time is it? It's...well, it's about time is what it is.

(See what I did there?)

It was a long and mighty journey for the first season of Adventure Time to hack-'n-slash its way onto DVD, and this Blu-ray release
[click on the thumbnail to enlarge]

lagged behind that overdue collection by right at a full year. ...but hey! I could sit here and moan and stuff, or I could jump up and down with glee 'cause Adventure Time!



As if you need a primer, Adventure Time is set in the Land of Ooo, the perfect place for a couple of pals like Finn the Human and Jake the magical stretchy dog to adventure-as-a-verb. Together, they might....oh, I don't know, play Herbert West and have a mishap with a Re-Animator-type serum and bring sugar-crazed zombies back from the dead, and then throw a Saved by the Bell-style slumber party where they try desperately to prevent all the folks in Ooo from realizing they're under siege by the walking dead. They hangglide on an enormous dollar bill after kicking a vomiting, oversized ogre in the nards. A little while after that, the two of 'em have to discourage the Ice King from eating his bride-to-be, and then they're forced to go househunting when a color-suckin' vampire takes over their treehouse. You've got a supergenius, disembodied, maybe-or-maybe-not malevolent heart with a penchant for romance! Pigs worn as kneeguards! Brooms eaten as part of a ploy to gain magical powers! Overzealous unfrozen businessmen to help lighten Finn and Jake's load and shore up that gauntlet-dock! Butter-pranks! A man-lorette party! A lycanthropic lumpy space princess! Little house people getting gnawed on by a small army of why-wolves! I could keep going, but there are 26 of these suckers, and that'd make for a really long list.



Don't fret, Mom and Dad; there are valuable lessons too! Finn learns how tough it is to reign in his violent adventure-dom, no matter how many magical nails he has. He learns the hard way -- we've all been here, right? -- that being a hero and also being a giant, oversized, stinky foot ain't much of a match. I'm kind of kidding, but there really is a moral compass bobbing around somewhere in here, and Adventure Time blends that in deftly enough that it never comes across as preachy or anything.



If you're a neophyte and are wondering where the part is where I start yammering on about continuity and season arcs, then...nope! Not in this first season anyway. Each episode clocks in somewhere around twelve minutes a
[click on the thumbnail to enlarge]

pop, so there's not a lot of room for that yet anyway. At least in this first outing, there really isn't any backstory to speak of, aside from some boom-boom leaf stuff and rolling around in magical mud. Everything -- from the Land of Ooo to Finn's buddies like Princess Bubblegum and Tree Trunks -- are all in place from word one. Different characters pop up for the first time in different episodes, but I think Marceline the Vampire Queen is the only recurring one that's introduced...I mean, the only one Finn didn't already know beforehand. I mean all that in a good way too. It's kind of like an Archie digest where you can tune in whenever you want and in whatever order, and you're treated to a complete, satisfying, and totally self-contained little nugget of entertainment. Adventure Time is a series that works brilliantly when devouring an entire season in a five hour marathon, and it plays every bit as well when attacked in bite-size chunks over a couple months of TV dinners.



There's not a stranger, more wonderful, more wildly imaginative show on the air these days

(maybe ever?)

than Adventure Time, cramming more off-the-wall inspired ideas into eleven minutes and change than most of shows can muster in a full season. It's fast, it's frenetic, and it's unbelievably funny. Its sense of humor can get playfully dark and demented, and it hits like a sledgehammer if you have the right sensibility no matter how old or young you might happen to be. As gleefully random as so much of the stuff that happens can get, there's still some sort of internal logic holding it all together. Creator Pendleton Ward and company do a tremendous job world-building without navel-gazing, ensuring that all that's fun and inviting an' engaging rather than dense and impenetrable. Aargh! This isn't a review; it's a mushy, slobbery Valentine! I love every gosh-darn thing about Adventure Time, from its indescribably amazing chiptune-inflected music to its deceptively simple art style to its really
[click on the thumbnail to enlarge]

inspired voice acting to whatever else I forgot to mention. Endlessly clever, infectiously fun, and just...I-don't-even-have-a-modifier-for-it entrancing, Adventure Time is what I wish Saturday morning television had been like when I was growing up. I would've loved it then, and I sure as heck love it now. Very, very Highly Recommended.






Video



---

Gotta admit: I was pretty skeered at first. This first season of Adventure Time crams over six hours of video -- almost every bit of it in high-def or upconverted! -- onto a single BD-50 disc, and it leaves almost a quarter of the capacity untouched too! I braced myself to gripe about nasty hiccups in the compression and excessive posterization and stuff, and...no, not so much.



Adventure Time is a total knockout in high-def, boasting a bright, colorful palette and crisp, well-defined linework. I guess because the visual style is pretty clean and uncluttered, the animation compresses unusually well; despite the staggering volume of material shoved into a fairly tiny bucket, I couldn't spot any hiccups in the authoring. This shiny, long-overdue Blu-ray release of Adventure Time is as perfect as it gets.



Tech specs speed run! One BD-50 disc. VC-1 encoding, which I didn't know was still a thing. Aspect ratio of 1.78:1.






Audio



---

I'm kinda blindsided by the lack of lossless audio, something I thought had been a given for years now. This season of Adventure Time is instead served up in Dolby Digital stereo

(192kbps)

, so you're
[click on the thumbnail to enlarge]

not gonna hear any advantage whatsoever over a regular ol' DVD. If you're not staring at which icons light up on your receiver or whatever, you might not be able to tell too much of a difference, though. The voice acting is consistently clean and clear throughout. Even without being reinforced by a discrete LFE channel, bass response is healthy enough, especially the labored breathing of that giant monster mouth door and the psychic worms' wubwubwubwub. I love, love, love Adventure Time's music, and that comes through flawlessly on this Blu-ray disc as well. Very, very happy all around.



A handful of commentary tracks aside, the only other audio option is a set of English

(SDH)

subtitles.






Extras



---


Music Video (2 min.;

SD

): Live-action too! ...and an upconvert for anyone keeping track at home.




The Wand (2 min.;

HD

): This two-minute animated short swirls around an epically epic battle! You're lookin' at a magic wand vs. the Ice King and his magnifying glass vs., um, the wand.




Animatics (48 min.;

SD

): Four -- count 'em! -- four animatics

(think moving storyboards)

for "Slumber Party Panic", "The Enchidirion!", "The Dungeon", and "Rainy Day Daydream". These four animatics feature audio commentary by Pen Ward, Adam Muto, Pat McHale, and Derek Drymon, and you get to hear about gags that were snipped out, why an ambitious animated series needs a bottle episode every once in a while, and just how long it takes to put together an episode of Adventure Time. Somewhere in the middle of "The Enchidirion!" is a college-era animated short introducing Mannish Man, by the way.




Featurettes (22 min.;

SD

): Pendleton Ward and his $150 smartphone steadicam rig give viewers a totally candid ten minute tour through the Adventure Time offices. Because it has an effects budget and isn't your usual behind-the-scenes type of deal, there's a spoofy behind-the-behind-the-scenes featurette too, clocking in right at two and a half minutes. Adventure Time's indescribably amazing music scores a featurette of its very own as well, delving in-depth into the unusual compositions behind a bunch of different episodes. Oh, and these are all upconvert-y too, by the way.




Audio Commentaries: Last but not even a little bit least are four commentary tracks. "Trouble in Lumpy Space" and "Prisoners of Love" both feature voice actors John DiMaggio, Jeremy Shada, Tom Kenny, and Pen Ward. The

[click on the thumbnail to enlarge]

first track starts off really chaotic and gets surprisingly subdued by the end, and that's literally the only thing I was able to get down in my notes about it. "Prisoners of Love" is more coherent, though, and you get to learn about how that was the ep that sold Cartoon Network on the series, although the twenty pages of trail mix fiddling might've been yanked out by then. "Tree Trunks", meanwhile, features Pendleton Ward's mom along with Polly Lou Livingston, one of Mrs. Ward's closest friends and the voice of Tree Trunks herself. It's just about too adorable for words. Last up is "Ricardio the Heart Guy", which has Pen Ward palling around with voice actors George Takei, Tom Kenny, Hyndon Walch, and Jeremy Shada, and now I know whose bedroom the Ice King's dump is based on.





This first season of Adventure Time comes packaged in a Finn's-cowl-shaped die-cut-whatever slipcover, and an episode guide and UltraViolet digital copy code have been lovingly tucked inside.






The Final Word



---

Adventure Time is everything I love so much about animation. We're talking about a show that I can kick back and watch with my eleven year old kid brother, and I'm over the moon about being able to devour the entire first season over and over and over by my thirty-something-year-old self in my living room. One of the most exceptional things on TV these days and totally worth picking up on Blu-ray, no matter how many times you've watched these episodes before. Highly Recommended.



---
C O N T E N T

---
V I D E O

---
A U D I O

---
E X T R A S

---
R E P L A Y

---
A D V I C E
Highly Recommended
---
E - M A I L
this review to a friend
Sponsored Links
Sponsored Links