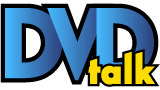 Vanguard // Unrated // February 25, 2003
List Price: $29.99 [Buy now and save at Amazon]
---
Movie: Romantic comedies have been one of the most abused genres in the movie industry for years. All too often, the characters are saccharine sweet, totally unbelievable, with circumstances that even someone with my ability to suspend disbelief would find challenging. In All The Wrong Places, we meet a young lady, Marisa (Ali Hillis), who struggles to find her own path in a creative field. Since her mother is a well known artist, she wants to do her own thing so as to be looked at for her own merit, and not for her relationship to her mom. After a number of failed attempts in various fields, she takes up film making and hopes to find her muse there. Along the way, she encounters a guy, Paul (Jeremy Klavens), who is in a slightly similar situation and the resulting chemistry between the two is what the movie centered on. When all is said and done, the two both find out that chasing someone else's dream or even chasing a phantom model of success, is not what life's about.



Picture: The movie was presented in full frame format, as it was originally shot. Yeah, it was low budget and it looked it much of the time but it was never so bad as to cause me to lose sight of the themes being discussed.



Sound: The sound was presented in Dolby Digital Stereo but I didn't notice a lot of separation between the channels and, to be frank about it, you really don't need 5.1 Surround on a relationship movie.



Extras: The best extra was the audio commentary by the director. It detailed much of the background information that helped fill in the blanks for why something was done or what some of the more obscure things meant. There were also deleted scenes that were sometimes amusing and other times you knew exactly why they were deleted. The last extra was a Behind the Scenes featurette that also provided some insight into the movie.



Final Thoughts: If you like quirky comedies with a hint of darkness (as well as reality) in them, this may very well be a good one to check out. The supporting cast was often great in their roles (Stan Carp as a Cabbie and Judy DelGiudice as the shrink come to mind) and the leads had some real chemistry going on. This was better than most mid-level Hollywood movies made with more money and resources. I'd like to have seen a bit more polish here to improve the rough edges of the technical stuff but I can't deny that it was a lot of fun to watch. As such, I'm recommending it. Oh, and I think it won an award for some of the animation it used which was very cute.
---
C O N T E N T

---
V I D E O

---
A U D I O

---
E X T R A S

---
R E P L A Y

---
A D V I C E
Recommended
---
E - M A I L
this review to a friend
Sponsored Links
Sponsored Links