Sitting Pretty (1948, Fox Cinema Archives)
List Price: $19.98 [Buy now and save at Amazon]
---
Not quite the comedy classic it's often labeled...but still fairly funny whenever delightfully snotty Webb is on-screen. 20th Century-Fox's Cinema Archives line of hard-to-find cult and library titles has released Sitting Pretty, the 1948 smash hit from Fox starring Clifton Webb, Robert Young, (wasted as usual in a nothing role), Maureen O'Hara (always good), Richard Haydn (put in here solely to make Webb look butch by comparison), Louise Allbritton, Randy Stuart (sexy as hell as a with-it secretary), Ed Begley, Larry Olsen, John Russell, Betty Lynn (adorably funny in her movie debut), and Willard Robertson. One of the highest-grossing comedies of the 1940s, and one that inspired two sequels and eventually a successful sitcom decades later, Sitting Pretty made highly-regarded Broadway performer and supporting film player Clifton Webb, at only 59 years old, into a full-fledged lead movie star, cementing-in his screen persona as a persnickety, haughty, vastly superior effete for the remaining 14 years of his big screen career. Seen today, Sitting Pretty's post-war baby boomer appeal has dimmed somewhat, but it's always a treat to see Webb look down his nose at an inferior...which apparently includes everyone. No extras for this solid fullscreen transfer.
Hummingbird Hill, America suburbia, 1948. Harried housewife and mother Tacey King (Maureen O'Hara) has lost yet another domestic due to her three young boys' high-spirited antics, particularly perpetually crying toddler Roddy (Roddy McCaskill). Husband Harry King (Robert Young), a lawyer with stuffy Horatio J. Hammond's (Ed Begley) firm, informs Tacey that he didn't get that raise he'd been after, so new help seems like a moot point. Traditional teen babysitters aren't the answer, though, when most of them avoid the King children like the plague...or when they hit on Harry, as does 16-year-old Ginger (Betty Lynn). So, when Tacey receives word that a "Lynn Belvedere" has answered her ad for a stay-in babysitter, she enthusiastically awaits her arrival...until very male (well...sorta) Lynn Belvedere (Clifton Webb) shows up, much to Tacey's consternation, and Harry's outright refusal. However, when pompous, chilly, know-it-all Mr. Belvedere proves himself unusually adept at handling all of the Kings' household problems, he's promptly hired and invited to stay. And that provides fodder for iris-loving mamma's boy and local gossip, Clarence Appleton (Richard Haydn), who sees scandal in the unusual arrangement.
Last summer I reviewed the third and final installment in the loosely-aligned Mr. Belvedere "series," 1951's Mr. Belvedere Rings the Bell, and found it to be very simply the funniest movie I had seen that year. So I was excited to see the first installment, Sitting Pretty, show up in our screener pool (obsessive compulsive moviegoers love to start over everything at the beginning). I hadn't seen Sitting Pretty in years and years, nor did I remember much from it; however, that iconic image from the movie of the cereal bowl overturned on a crying baby's head as Webb looks on dispassionately came immediately to mind, as did the movie's vaunted reputation as a comedy classic. Watching it now, though, I certainly laughed...but not as much as I expected to--and definitely not as much as I did watching Mr. Belvedere Rings the Bell.
Just to be clear right off the bat: Sitting Pretty is a perfectly acceptable little charmer that's light and amiable in the overall, with a killer central performance by Clifton Webb that gets big laughs whenever he sights his narrowed eyes down the gun barrel of his pointed nose, and lets loose with a deadly rejoinder. It's a cliche to describe an actor as "the whole show" in a movie, but if ever that platitude was true, it was true in Sitting Pretty. Without Webb, Sitting Pretty would be ten minutes of a Blondie programmer without the gags or slapstick. Webb's character Mr. Belvedere was considered quite an oddball original when Sitting Pretty premiered, and while I guess the notion of an older male snot playing babysitter to three kids isn't too terribly outrageous today (then again...how many parents would hire him now?), it's still bracing to see him channel kid-hating W.C. Fields through a somewhat simmered-down Waldo Lydecker from Laura and Elliott Templeton from The Razor's Edge. When Webb distastefully informs O'Hara, "I dislike all children intensely...but I assure you that I can readily attend to their necessary, though unpleasant, wants," it's quite hilarious because Webb plays it without one wink to the audience. You believe he finds kids a repugnant nuisance (when cute little Roddy babbles, "You eat," as he holds out his sopping cereal spoon--a moment that will dissolve any parent in fond memories of their own children--and Webb coldly threatens, "Don't do that, little boy!" it's a scream). Webb's supremely imperious, supercilious, condescending air is such a hoot because, quite simply, he pulls it off. Critically, the movie doesn't pop his character's balloon later; he isn't shown up to be a fool. We laugh because he is perfect in every way...including being a perfect bastard. You can't argue with him. There's a real sense of comedic release in seeing that kind of powerful character succeed on his own elevated terms (if they made this today, they wouldn't have the balls to keep him unsentimental right through to the end; there would be the inevitable sappy scene of Mr. Belvedere finally breaking down his reserve with the aid of a little child's love. Yeeech.).
So, after a bit of a pokey opening, Mr. Belvedere is introduced, and we're primed for some slapstick hijinks (babies and fussbudgets collide) and some smart satire on suburban living, its balloon of post-war respectability and "American Dream" attainability pricked by the prickly Lynn Belvedere, E.I.E. ("Expert in Everything"). And...that's when the movie folds, incredibly, on both counts: few if any gags, and little if any social satire. If the central crux for Mr. Belvedere's arrival is, "Mom and everyone else can't handle the little brats," then why doesn't the movie spend some time showing them being little brats? No scene in the movie justifies the premise--the little boys aren't shown acting up. Why does one potential babysitter scream down to her mother (speaking with Young on the phone), "Tell him I dropped dead!"? The kids are that bad? Where? The Kings' last maid left because she couldn't handle the boys. Why? We don't know. Worse, once Mr. Belvedere establishes his domain by tipping the cereal bowl onto little Roddy's head--a classic moment in the movie that ironically, director Walter Lang has happen off camera--the household is magically and instantly transformed into an island of civility and tranquility. How did that happen? The movie makes the critical (and rather inexcusable) error here of refusing to show Mr. Belvedere doing anything to reform the boys, their giant dog, or indeed, O'Hara (even the mildest Ma and Pa Kettle programmer knew that unruly kids equaled comedy gold). We're just supposed to take it on faith that his prim, intractable, no-nonsense style of impossibly correct instruction was enough to make-over the Kings...because we never actually see it. What a missed comedic opportunity!
As for any social satire...forget it. Sitting Pretty's setting is supposed to be a typical post-WWII baby boomer suburb, but the movie, filmed on the 20th backlot, fails to achieve any of that milieu, let along comment on it, either in spirit or production design. SPOILER ALERT! If the movie's big twist is Mr. Belvedere's "screaming satire" expose of suburban living (handled in a lightning-fast, unsatisfying montage for such a big plot point), how ironic is it that the movie itself fails to deliver even a tiny shred of that satire (for example, we never see any the "scandals" that Belvedere somehow detailed in his book)? We don't get any Levittown iconography, either physical or thematic, in the background to inform the story, nor are the pitfalls and joys of suburban living incorporated into the script. And where's what should be the movie's central conflict in an increasingly matriarchal America: a prissy man doing a better job as homemaker than an all-American mother? O'Hara needs a babysitter/maid (a stretch right there for many women in the audience who probably handled more kids in much less space with a lot less than an attorney's salary), but the minute she hires him, the work is finished. Shouldn't there be at least a scene or two where Belvedere and her clash on the home duties, with him showing her up? Instead, we're bogged down in this second half with seemingly endless reworkings of the same scene: a rumor is started by gossip Haydn resulting in Young and O'Hara arguing. Young's jealousy of Webb is ridiculous not because Webb isn't capable of believably seducing O'Hara (check out how he flusters Joanne Dru in Mr. Belvedere Rings the Bell), but because they're hardly ever shown together on the home front, either arguing or bonding. And that's the problem that runs throughout Sitting Pretty: a hole in the middle of comedic and satirical situations that our good feelings about the movie's many potentials, fill in.
The DVD:
The Video:
The fullscreen, 1.37:1 black and white transfer for Sitting Pretty looks pretty good, with a sharp image, decent blacks, good gray scale, and not too many imperfections. Maybe a bit contrasty in spots, but not too bad.
The Audio:
The Dolby Digital English mono audio track is a little squelchy, with some hiss, but it's not too noticeable. No subtitles or closed-captions.
The Extras:
No extras for Sitting Pretty.
Final Thoughts:
Not quite the "classic" it used to be. Sitting Pretty works anytime Clifton Webb deigns to delight us with another patronizing, condescending, withering riposte. Aside from that...it's all warmed-over, cut-rate Blondie without any decent gags. Still...Webb is enough to recommend Sitting Pretty.
---
Paul Mavis is an internationally published movie and television historian, a member of the Online Film Critics Society, and the author of The Espionage Filmography.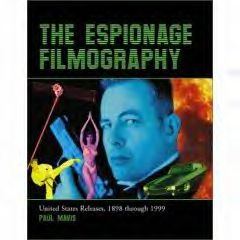 ---
C O N T E N T

---
V I D E O

---
A U D I O

---
E X T R A S

---
R E P L A Y

---
A D V I C E
Recommended
---
E - M A I L
this review to a friend
Sponsored Links
Sponsored Links