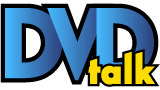 Doctor Who: Spearhead from Space Blu-ray Edition
List Price: $29.98 [Buy now and save at Amazon]
---
The Series:
The late Jon Pertwee played The Doctor for the first time in this four part storyline which ran through the first few weeks of 1970, Doctor Who: Spearhead From Space, the first of the series to be shot on color film. Directed by Derek Martinus and written by Robert Holmes, the story begins when a bunch of meteorites hurtle through space and crash in the charming English countryside. A local man named Seeley (Neil Wilson) comes across them just as the TARDIS pops up and the new Doctor (Pertwee) steps out... only to basically fall flat on his face.
With the Doctor promptly shipped off to the hospital, UNIT steps in to see just what exactly is up with these meteors. Complicating matters is the presence of a local factory that specializes in manufacturing mannequins. As they've needed to change with the times, they've shifted from manual to automated labor but this has come at a strange cost. The mannequins coming out of the factory lately have been armed to the teeth and appear to be able to operate under their own power. Thankfully the Doctor is starting to feel a little better and with some help from his new companion Liz Shaw (Caroline John), he soon starts digging around to see what he can see - and what he does see points to a scheme courtesy of some alien invaders intent on replacing the population of the Earth with death dealing automated mannequins!
Doctor Who: Spearhead From Space is classic Who through and through. Pertwee hits the ground running and seems very comfortable in his role from the outset of the program. He exudes the right amount of confidence to make the role his own and never feels like he's reaching too far with his take on The Doctor. He also has a great on-screen chemistry with the lovely and charming Caroline John and some good humor comes out of the relationship the two characters share in this storyline. The supporting cast are all game here as well, but Pertwee and John really do steal the show - and rightly so as they're given quite a bit more to do than everyone else involved and its' interesting to note that here, the Doctor's accomplice is very much his equal.
While automated mannequins may not sound like such a menacing foil for the Doctor to have to go up against, the fact is that the mannequins in this storyline are quite a bit creepier than the Daleks or any other aliens that Who had gone up against in the past. They've got this soulless quality to them and such a macabre appearance to their very human like features that there's just something not quite right about them. They also slightly resemble concepts later explored in The Terminator films in many ways - while they're not the same sort of cyborgs that those creations were, they have similarly merciless qualities to them that make them interesting villains.
The first of the four chapters opens up with a bang and the series manages to hold that pace throughout the next three chapters. There's a lot of good suspense here and quite a bit more action than some of the other storylines have offered up. As such, it all goes by quite quickly and at a good pace. As it was all shot on film there seems to have been a bit more attention paid to the production values this time around as well, meaning we get a nicer looking series with Spearhead From Space than we do with many of the other Who entries made around the same time. Really, this is one of those entries in the long running series that just all comes together on every level that you'd want it to. It's fun, fast paced, reasonably intelligent and plenty entertaining - and it's also a very creative and genuinely different storyline for The Doctor and his companions, one that stands the test of time surprisingly well in the grand scheme of things.
The Blu-ray:

Video:


Dr. Who: Spearhead From Space arrives on Blu-ray in a very nice good looking AVC encoded 1080p high definition 1.33.1 fullframe transfer. As this entire serial was shot on film, it makes sense that it would transfer to Blu-ray nicely. Detail is considerably improved as is color reproduction. The last special edition DVD transfer looked very good but seeing this one in HD really does make a big difference. You can make out a lot more interesting and quirky little details here, all of which add to the enjoyment of the serial. Texture in Pertwee's somewhat flamboyant costume is more apparent as is the sweat on his brow during some of the more physical scenes. Colors look more natural here and black levels are stronger and deeper. Shadow detail is generally quite good and skin tones look lifelike and natural showing no signs of noise reduction based waxiness. There's an appreciable amount of film grain visible, as there should be, but outside of that not much at all in the way of print damage, dirt or debris. All in all, Spearhead looks great here.
Sound:
The only mix here is an English language DTS-HD 2.0 Mono track, there are no alternate language options or subtitles provided, though English closed captioning can be found on the disc. Again, this lossless track offers a nice improvement over the previous DVD's Dolby Digital mix, there's noticeably more depth here both in the dialogue and in the score and sound effects. Levels are properly balanced and there are no issues with any hiss or distortion to note. The score sounds good, the effects have strong presence and this is, all in all, a clean, clear and very concise mix true to the original roots of the show.
Extras:
The extras kick off with a forty-four minute piece on Jon Pertwee entitled A Dandy And A Clown that does a great job of providing some welcome background information on the series' leading man. Loaded with a great selection of archival clips and photographs not only relating to his work on this series but from throughout his career, it paints a fascinating portrait of the man. We get insight into his personality, his life off screen and of course, his career as an actor. Though Pertwee has been the subject of documentary and featurette material before, this is a very nice overview and a fitting addition to this release.
The disc also includes a second featurette entitled Carry On: The Life Of Caroline John which clocks in at just over a half an hour in length. Here those who knew the late actress, such as her daughter and husband, share some fun stories about her life and her career. It's more of a tribute piece than a documentary per se but it does a nice job of letting us get to know that Caroline John they knew by discussing her views on everything from religion to family life. It's a very affectionate piece and one that her fan base really should appreciate. Again, we get a lot of archival materials used here, both stills and vintage video clips like interviews and what not, which is interesting to see.
Aside from that, we get twenty-three minutes of footage shot in 1969 as a test for the opening credits of the third Doctor's run. It's presented in black and white without any sound and it actually makes Pertwee look quite a bit scarier than he really was. Interesting stuff for sure. A two minute documentary on the high definition restoration of the feature is also found as is a trailer for an upcoming release (The Green Death), menus and chapter selection. A pretty solid selection of extra features, right? And they're all in high definition except for the coming soon bit
Now for the bad news… there were a lot of extras contained on the DVD special edition re-release that are not included here: a commentary with Terrance Dicks and producer Derrick, a commentary with actors Caroline John and Nick Courtney, a featurette entitled Down To Earth: Filming Spearhead From Space, a Unit Recruitment Film, a featurette entitled Regenerations: From Black And White To Color and the Production Notes subtitle track and DVD-Rom material. Completists will want to hold onto that set for those extras.
Final Thoughts:
Dr. Who: Spearhead From Space remains a highlight in the early seventies run of the series and one of the best episodes that Jon Pertwee was involved in. It's an odd, sometimes even eerie story that goes in directions you probably won't expect it to which manages to be quite involving and a whole lot of fun. This remastered Blu-ray from the BBC looks and sounds great and it contains quite a few exclusive new extra features that fans will enjoy. The only caveat is that the extensive extras from the last DVD release are nowhere to be found, so you'll want to hold onto that. Regardless, this is a great presentation of a great serial and it comes highly recommended.
Ian lives in NYC with his wife where he writes for DVD Talk, runs Rock! Shock! Pop!. He likes NYC a lot, even if it is expensive and loud.
---
C O N T E N T

---
V I D E O

---
A U D I O

---
E X T R A S

---
R E P L A Y

---
A D V I C E
Highly Recommended
---
E - M A I L
this review to a friend
Sponsored Links
Sponsored Links