Johnny Belt and Robert Scull's Bubble Guppies (2011- ) is a lightweight animated series aimed at the preschool set. This colorful show features a half-dozen brightly haired mer-kids as they swim around and teach young 'uns about everyday occurrences and subjects like new places, animals and neighborhood jobs. Produced using the commercially available Autodesk Maya 3D software, the art style floats somewhere between 3D South Park and your average Wii U game: faces are simple and kid-like, easily recognizable and, if your little one's a budding artist, probably pretty easy to draw. The third season of Bubble Guppies just premiered a few weeks ago, so this franchise looks to be in it for the long haul.
On the Job is the second of three single-disc Bubble Guppies DVD collections and was originally released all the way back in February (the most recent being Sunny Days, a summer-themed collection of episodes). Like the other two, this disc serves up six adventures with a common theme...and if the title didn't give it away, it's all about jobs. Obviously they don't go too in-depth: from doctors to construction workers (and even pro athletes), young audiences are given a simple run-through of how and why these jobs are done. It's a valuable subject worth knowing about, although Bubble Guppies doesn't bring much new material that hasn't been already covered by The Berenstain Bears and about a thousand other kids' shows and books. Yet the series' dynamic and entertaining style is its selling point, so most preschoolers should get a kick out of this material. Some parents might even enjoy themselves too, in small doses.
The format of these episodes is simple enough, usually following the Guppies (Molly, Gil, Deema, Goby, Nonny and Oona, each with distinctive personalities) as they learn about each job through interactive questions, classroom activity, lunch, field trips and more. Along the way, a few short songs are also introduced that tie into the episode's theme...and while some hit the mark, these bubblegum pop nuggets sometimes fall flat and might be hard for some preschoolers to follow lyrically (in comparison, the songs are actually a step down from the ones on Sunny Days, although these stories are a little stronger). Closed Captions are provided, but a more visual karaoke-style presentation would probably help. But more often than not, kids will have some fun and might even learn a few things while they're at it.
---
Episodes Include: "Fishketball", "Build Me a Building", "The Grumpfish Special",
"Call a Clambulance", "Firefighter Gill to the Rescue" and "A Tooth on the Looth"
---
Quality Control Department
Video & Audio Quality
Those with a library of newer kid's DVDs have undoubtedly gotten used to crisp, colorful animation, bold line quality and an aspect ratio that fits the newer 16x9 standard. Well, here's some bad news: not only are the Bubble Guppies DVDs cropped to 1.33:1, but they don't look all that great to begin with. Perhaps it's a source material issue, but the overall image quality is definitely on the soft side...and while colors are generally vivid, they're lost in a haze of inconsistent black levels and occasional digital eyesores like banding, compression artifacts and interlacing. Sure, some will argue that kids won't care about any of these problems, but the cropping is inexcusable. Though at least the packaging is honest, Nickelodeon's DVD of the 2012 TMNT animated series was also advertised as "full screen" and presented in 1.78:1.
The audio is also watered down, as the source 5.1 mix has been compressed into a plain-wrap Dolby Digital 2.0 track. This odd compromise is more forgivable, since the spoken-word elements of the series are the most important thing. Dialogue is clean and crisp, while the music sounds a little flat in direct comparison. Channel separation is fine, although the surround effects are obviously missed on occasion. Optional dubs or subtitles are not included here, but each of these six episodes is Closed Captioned.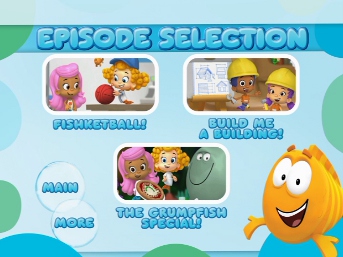 Menu Design, Presentation & Packaging
Seen above, the basic and colorful menu designs are easy to navigate. Each episode is presented with multiple chapter stops and no obvious layer change was detected during playback. Annoyingly, a static advertisement for other
Bubble Guppies
DVDs is displayed before the menu and forces the viewer to click "OK" to bypass it. This one-disc release is housed in a silly eco-friendly keepcase and includes a not-so-eco-friendly matching slipcover. The disc art is plain gray and no bonus features have been included.
Final Thoughts
Much like Sunny Days, the six-episode On the Job is another harmless and colorful collection of Bubble Guppies episodes that preschoolers should enjoy. My little one requests both of these collections periodically...and while she's still too young to grasp some of this material (especially the songs, which usually seem a bit too advanced for the target audience), it's presented in an entertaining and dynamic style. Unfortunately, Nickelodeon's DVD package is still sorely lacking, from the below-average A/V presentation to the complete absence of extras. I'd much prefer season sets presented in widescreen (or even 1080p)...but until then, this low-priced disc is still worth grabbing. Mildly Recommended.
---
Randy Miller III is an affable office monkey by day and film reviewer by night. He also does freelance design work, teaches art classes and runs a website or two. In his limited free time, Randy also enjoys slacking off, juggling HD DVDs and writing in third person.
---