Lifetime: 12 Films Of Christmas
List Price: $24.98 [Buy now and save at Amazon]
---
Reviewer's note: This "new" collection of twelve Lifetime Christmas-themed made-for-TV movies includes the same movies from last year's same-named release. The only difference here is the packaging: it's been slimmed down considerably, eliminating the multiple hardcases--good news if you're challenged for shelf space (and it's cheaper to buy, too). So here's that same review from last year, ladies.
Awwwww....hit-and-miss Christmas-time TV viewing when you want to turn the tree lights on and snuggle up with your honey...or when you're tearing into that bucket of Haagen Dazs, crank phone calling for the 38th time that cheating bastard who left you high and dry during the holidays. Lifetime has released 12 Days of Christmas, a 12-disc, 12-movie set of popular made-for-cable Christmas movies, courtesy of the Lifetime channel (and various Canadian tax shelters, no doubt). Movies included here are: The Road to Christmas, Recipe For a Perfect Christmas, Home By Christmas, A Christmas Wedding, Holiday Switch, A Very Merry Daughter of the Bride, Under the Mistletoe, Holiday Wishes, Christmas in Paradise, Deck the Halls, His & Her Christmas, and Will You Merry Me?. Now, I'm more a Lifetime Movie Channel fan than a straight Lifetime viewer―I like my man-hatin' melodrama cheap, crude, and violent―so dopey holiday-themed romances aren't first on my Christmas-time viewing roster. However...you can't deny that Lifetime hit on some kind of successful formula here, because most of these innocuous (and some noxious) little Christmas flings keep getting repeated year after year after year. No extras for these good-looking transfers. Let's look ever so briefly at the movies here in the 12 Days of Christmas set.
THE ROAD TO CHRISTMAS
After a brief courtship, Chicago fashion photographer Claire Jameson (Jennifer Grey) is getting married to rich, handsome, Italian stud Lorenzo (Jean Michel Pare) in Aspen, on Christmas. Meanwhile, widower and former artist-turned-teacher Tom Pullman (Clark Gregg) is trying to get his bored, angry teen daughter Hilly (Megan Park) in the mood for their traditional Christmas semi-cross country truck ride to his mother Rheduel's (Barbara Gordon) house. A series of comical disasters waylay Claire, and she of course winds up traveling with the Pullmans, where she eventually bonds with Hilly...while falling for Tom.
Yet another in the seemingly endless variations on It Happened One Night (with a little Remember the Night thrown in, to boot), The Road to Christmas takes the expected romcom route of knocking down the snooty Claire a peg or two until she's "learned her lesson" of humility from the "little people" like Tom...before she proves herself to be a regular Joe, while Tom is elevated to worthy catch with the romantic backstory of a once-famous artist who quit the biz when his wife kicked the bucket. Fairly routine, even when it's bending over backwards not to offend anyone (Lorenzo cheats on Claire with a dude, and then we're asked to excuse him because he's had to be in the closet his whole life...um, cheating's cheating, right girls?), The Road to Christmas does sport a nice turn by Jennifer Grey (I personally like the new nose), who can play both comedy and drama (she cries pretty, and that's always a prerequisite for these movies: red-nosed soppy bawlers don't play well in these fantasies).
---
RECIPE FOR A PERFECT CHRISTMAS
"Cute, brainy, and just the right amount of New York neurosis" secretary J.J. Jenner (Carly Pope) gets her big break at chic, trendy Manhattan Glow magazine: incoming British snob/sexual harasser writer Malcolm Bristol (Clive Walton) is out, and J.J. is in as the Glow's new food critic―a position that can literally make or break a restaurant with its reviews. J.J. has two weeks to write her debut column, and it had better be good, but with Christmas fast approaching, she's got enough on her hands when frequently absent mom/sexy hellfire Lee Bellmont (Christine Baranski) shows up, sucking the air out of every room she enters. Cue Alex Stermadapolous (Bobby Cannavale), a struggling chef whose back rent-due restaurant has two weeks to vacate the premises. Hence, the deal struck: J.J. has Alex date her peripatetic mom, to keep her occupied during the holidays, and out of J.J.'s hair.
Improbable but speedy, Recipe For a Perfect Christmas' biggest boost is the delightful Baranski, who comes on strong from minute one and pretty much steals every scene she's in (she can play brassy and confident, and turn right around and be sweetly vulnerable the next). Her performance, along with believably New Yawky Cannavale, keeps the rest of Recipe For a Perfect Christmas's iffy moments in balance―a lot of which comes from screenwriters Rachel Feldman and Susan Nanus' often obvious dialogue (Baranski states she named her daughter after drug O.D.er Janice Joplin because, "some people may think she wasn't the best role model, but she was a force larger than life." So was Hitler). The structure, though, is sound, playing off the clichéd fantasy of the "good" girl vying romantically with her "hot" mom for the same guy. Nice cinematography by Albert J. Dunk.
---
HOME BY CHRISTMAS
Well-off housewife Julie Bedford (Linda Hamilton) is going to have a rough Christmas: her husband George (Garwin Sanford) is leaving her for a 27-year-old gym instructor. When Julie (improbably) only takes a $25K settlement, giving him their spacious house just to end the divorce quickly, that's when the trouble really begins. Her teenaged daughter Andie (Brittney Wilson) hates her new tough, urban school and mom's rat-trap apartment; she eventually leaves to live with her dad and pretty, younger mommy-in-law. Julie is mugged, and winds up owing $6K to the hospital. She's soon evicted and living in her car, terrified to tell her family and friends how far she's fallen. But help from fellow homeless woman Selma (Brenda Crichlow) and widower furniture salesman/café owner Max Stern (Campbell Lane), puts Julie back on track for the holidays...and in the path of Max's handsome doctor son, Michael (Rob Stewart).
Hold the phone: I don't want any "social messages" in my Christmas romance movies. None. I'm watching a Christmas movie to escape the reality around me, not to be reminded of it. I don't care if the issues in Home by Christmas are pertinent and important and meaningful (but not too real that everyone doesn't get a happy ending at the finale). I want fantasy, not authenticity. Watching poor, overly-intense, humorless Linda Hamilton (jesus) descend into abject poverty ain't my idea of shutting out the world for two hours (it reminded me of that god-awful Disney movie from years back, One Magic Christmas, where they killed off the dad and had creepy Harry Dean Stanton as an angel who looked like he just did a nickel in Joliet for pandering). While I cottoned to the movie's seemingly central message―screw the government and pull yourself up by your own bootstraps―that admirable credo is quickly subsumed when crypto-socialist tripe increasingly creeps into the mix (why the hell do the scripters throw in a line from Selma, talking about her church practicing communism?). A disagreeable little fable that wants it both ways...and satisfies neither.
---
A CHRISTMAS WEDDING
After a chance meeting at a skating rink two years ago on Christmas Day, real estate agent Emily (Sarah Paulson) plans on marrying nice guy Ben (Eric Mabius)...on Christmas Day. The only problem is: she has to travel to Florida with her hottie boss Tucker (Dean Cain), and as sure as you can say "hurricane," the race is on to see if Emily can make it back in time for her wedding, with dimwitted, suspicious Ben in charge of the plans.
Using a slight variation on the core set-up of Planes, Trains, and Automobiles (which wasn't all that original to begin with), A Christmas Wedding inexplicably misses some obvious opportunities to juice up its rather staid plotline. Why didn't the scripters have Cain make a more open play for Emily (when colorless Paulson lisps she'll make it up to Mabius on their honeymoon, the only decent thing for the viewer to do is politely recoil. As for Cain... "Why?" is the only possible response)? And why didn't they mirror that romantic conflict with sexy sister Jill (Reagan Pasternak) hitting on dullard Mabius? As for Emily's trip through middle Canada America, it's the same old insulting crap from moviemakers about how surprisingly polite and quaint and unexpectedly helpful those colorful weirdoes are out there in the vast expanses of the U. S. of A.! Why, that biker gang isn't going to rape you, Emily! They're just plain, decent folks like you! I have news for moviemakers from L.A. via Nova Scotia or wherever: we here in the American Midwest are just fine...we're worried about people like you. Quite dull.
---
HOLIDAY SWITCH
Paula Ferguson (Nicole Eggert) hates Christmas. It puts her in a bad mood, specifically because it heightens her reduced circumstances: her family has little money for gifts. Married to nice-guy loser plumber Gary (Bret Anthony), with two daughters―one, Olivia, still young and sweet (Maya Ritter); the other, Eleanor (Maya Ritter) a teen and insufferable―former artist Paula can't help but wonder what her life would have been like if she had married her other high school crush, Nick (Brett Le Bourveau), a wealthy local art dealer. Sooooo...when she sees a hole open up in her dryer, she crawls through into another dimension where she's Nick's wife, or rather: Nick's really rich wife. Now Paula has everything she wants...or does she?
An excellent little Christmas fable, with fantasy overtones. Written by Gayl Decoursey and directed by Bert Kish, Holiday Switch takes its alternate universe Prince and the Pauper storyline and keeps it refreshingly simple and without ponderous, overt explanations: we're never told why this happens to Paula, nor how it happens, nor do we feel the need to question it, such is the moviemakers' admirably straight face here. The portrait of an unfulfilled, unhappy housewife is realistically drawn (Eggert, whom I remember primarily as a seriously good-looking girl in a bikini from Baywatch, is spot-on as the angry, frustrated Paula), while the fantasy element of the story is equally dark, even in the plush settings. The actors are first-rate, right down the line (which doesn't always happen with these Lifetime movies), while the ending is nicely sewn up with a clever little twist I didn't see coming. Holiday Switch is a keeper.
---
A VERY MERRY DAUGHTER OF THE BRIDE
Local wedding planners/caterers Roxanne (Joanna Garcia) and her mother, Rose (Helen Shaver) have a problem: widow Rose is ready to move on with her life, once she meets jocular Jack (Kenneth Welsh) on vacation. Roxanne, afraid of running the business herself, is more afraid of letting her mother leave her life, so she plots to ruin her mother's engagement. She gets help from Charlie (Luke Perry), Jack's son, who's worried he'll lose his inheritance to his new mother-in-law. Complicating matters further is the return of Dylan (Lucas Bryant), Roxanne's boyfriend from years back, who left her just when things got serious.
A spirited little farce that wants to have a mean center (but turns out sweet in the end), A Very Merry Daughter of the Bride's story certainly won't win any awards for originality, but it's put over with a slight smirk that I found ingratiating (a good example: the funny little cameo from Jason Priestly, making this an unofficial 90210 reunion). Joanna Garcia is cute and funny in the lead role...while beloved Canadian TV actor Kenneth Welsh is...well..."broad" would be a kind way of describing his approach here. Much better was Luke Perry in a basically unsympathetic role; I'm not sure I've seen him in anything but Beverly Hills, but he had a smooth, venal edge to his turn here that suited the character to a "T" (away from all that Dean b.s., he's quite an effective character actor). With some funny (and meaningful) asides about growing up and away from your parents, A Very Merry Daughter of the Bride turned out to be quite entertaining.
---
UNDER THE MISTLETOE
Susan Chandler's (Jaime Ray Newman) world has collapsed. Her beloved husband, Tom (Conan Graham), has died in a car crash, and now she has to raise her young, troubled son, Jonathan (Burkely Duffield) alone. "Troubled," because Jonathan insists that not only does his dad speak to him, but he appears as a guiding ghost/angel whom Jonathan can see. When Jonathan's new hockey coach/counselor Kevin Harrison (Michael Shanks) becomes involved in helping Jonathan, Tom tells his son that Kevin is what his mom needs; however, she thinks maybe slimy lawyer Greg Roberts (Russell Porter) would be a better fit.
What could have been a solid Christmas ghost story/romance is continually marred by missteps in the screenplay and performances. Distractions such as Newman's insane body I can handle (how can I feel sorry for the widow Chandler...when I all I can I think about is seeing her in a bikini?). But elements like the Diane Holmes character (Ingrid Torrance, in an obnoxious performance), that clichéd "Lifetime heroine's best friend/bitch in heat who can only talk about getting said friend laid," or the tired montage of ridiculous male stereotypes that Susan has to endure to win a radio dating contest, or the truly reprehensible plot point of having Tom clear the way emotionally and morally for Kevin to bag his wife by crying about not leaving his wife enough life insurance (um...Susan couldn't have insisted...or put some money in the kitty herself? It's all the husband's fault?)―all those elements work against the movie's better features, such as Duffield's believable, impressive turn as a sad, grieving boy, desperately wanting to cling to his father's memory. A touching ending (and I like having my Christmas stories complete with real ghosts), but the impact is unfortunately lessened.
---
HOLIDAY WISHES
Party planner Dannie Hartford (Amber Benson) has been asked to do a big favor for her employers, the wealthy King family: get spoiled brat daughter Britney (Britt McKillip) to give a little speech about family togetherness at a big party the Kings are throwing for prospective new business partners. To do this, Dannie promises Britney she can go to the school dance. At the dance, Britney makes fun of lonely foster kid Rachel (Katie Keating), who's been farmed out to the Bradleys, who run a horse stable. At the dance, both Rachel and Britney simultaneously wish upon the Christmas tree star: Rachel wants a real family, and Britt wants a horse. The catalyst for these conjoined wishes is Danni, who also wishes upon the star at precisely the same moment: she wishes to find her long-lost sister. As quick as you can say, "Freaky Friday, the girls' identities switch.
A so-so variation on the above-mentioned Disney live-action classic, Holiday Wishes has too many subplots going on for its own good, including the King family's clashing comedic plotline of trying to impress a new business partner, and Danni's draggy search for her sister. Had the movie just stayed on the girls, it would have fared better...but as it is, none of this is particularly new or original, anyway, and worse, it's handled with a heavy hand by director David Weaver (it doesn't matter if aspects of the story are emotionally heavy...lighten up for this kind of material). Indifferent performances don't exactly help, either. Not heinous, but instantly forgettable.
---
CHRISTMAS IN PARADISE
Christmas time in sunny San Juan, Puerto Rico. As another cruise ship unloads it vacationing passengers, two broken families form an unexpected bond. Widow Dana Marino (Charlotte Ross) has her helpful older son, Chris (Devon Werkheiser), around to put up with troublesome loner Mike (Kenton Duty), who seems lost and uncommunicative in his fantasy world of drawings. Divorced dad Dan Casey (Colin Ferguson) has his own ying/yang pair of kids: good little girl Nell (Aria Wallace), and very bad, very naughty teen Blair (Josie Loren). As Dan and Dana make a tentative connection, Blair and Chris do more than that, especially when initially snotty, rude Blair becomes drawn to wounded Chris when she learns about his dad (the same happens with little Nell, who tries to break through Mike's shell). Only when Dan's jet-setting ex-wife Madeline (Marta Martin) shows up out of nowhere, loaded down with expensive buy-off gifts, does the party come to a screeching halt.
Filmed entirely on location in San Juan, P.R., Christmas in Paradise is barely a holiday movie, with a silly insertion of statues of the Three Wise Men coming to life (and somehow affecting the romances here...which is never really shown) dragged in to make the Christmas connection. As such, then, Christmas in Paradise is passable Lifetime fantasy, where bright, well-spoken, charming single parents, despite having kids who are giving them strokes, are attractive and tanned and slim (not haggard and irritable and generally pissed off), and where romantic connections are made quickly and surely, and where problems are solved merely by expressing them, where they then dissolve away like cotton candy (go ahead and divulge your deepest fears to someone you love...feel instantly, permanently better?). The performances are the best thing here in Christmas in Paradise, with Ross and Ferguson nicely low-key in their approaches, while Werkheiser and Loren make a believable pair of damaged teens.
---
DECK THE HALLS
Widow Holly Hall (Gabrielle Carteris) has taken a job with her father Jack's (Ken Pogue) toy company in the hopes of forgetting the pain of losing her husband. Her young son, Ben (Josh Hayden), is also suffering the loss of his father, but all that changes when new next-condo neighbor Nickolas St. Clair (Steve Bacic) moves in. Lifetime's idea of a "radical dude," Nick has long hair and "funky" clothes and he acts..."young," which is of great annoyance to 69-year-old-acting Carteris 40-something Holly, who discovers, to her horror, that she's in charge of managing new employee Nick's promotional budget: he's the director of marketing at her father's company.
A completely listless affair, bogged down by completely anonymous lensing and the utterly dreary Carteris, Deck the Halls becomes laughably bad when dowdy Carteris and manic-and-not-at-all-amusing-or-charming Bacic begin to exhibit signs of...being attracted to each other, their on-screen chemistry equivalent to a romantic pairing between Margret Dumont and Ish Kabibble. And once we factor in who Bacic really is (like you have to guess), the whole thing become deeply, deeply wrong. A lump of coal in anyone's TV stocking, Dreck Deck the Halls is without a doubt the worst offering here on this set. See it with someone you hate this Christmas.
---
HIS AND HER CHRISTMAS
An advice columnist at a little Marin County newspaper, Liz Madison (Dina Meyer) is soon to be out of a job: a big San Francisco media company, headed by Anthony Shephard (Garry Chalk), is set to buy her paper and put it to sleep. Meanwhile, their big Frisco paper has a popular columnist, Tom Lane (David Sutcliffe), who wants to bring his yelping metrosexual inanities to TV viewers, as well, with his own program. If Liz and company want to keep their jobs, it's time they made some noise, so a war of words soon develops between the two attractive columnists which captivates an ever-growing number of readers (hee hee!). Will these two kids get together for Christmas?
His and Her Christmas gets a pass in my book simply because it stars the perfectly delectable Dina Meyer. I don't think she's particularly good or bad here, not because she's indifferent to the part, but because the part is indifferent to her: there's not much "there" there for her to work with, frankly. However, with a face like that...who cares what she's doing as far as "acting" goes. To be fair, His and Her Christmas isn't a bad little Lifetime movie, if you can get past the silliness of the idea that people actually get excited about reading newspapers (...or the fact that the movie suggests people read newspapers at all), or the laughable generalities the columnists spout in their voice-over readings (Meyer's character in particular sounds like she's been raised on a steady-but-conflicting diet of Oprah's magazine and Phyllis Schlafly). At least the Vancouver scenery is nice.
---
WILL YOU MERRY ME?
Nice Midwestern goy Henry Kringle (Tommy Lioutas) "meet cutes" with gorgeous J.A.P. Rebecca Fine (Vikki Krinsky), and this being only 2008, oh boy do the comical misunderstanding between the Gentiles and Jews start flying! When the kids announce they're getting married, it's time to travel to the great unwashed American Midwest, where marshmallows are the most popular food and no one has ever heard of a Jew, let alone seen one! Into Henry's Christmas-obsessed mom Marilyn's (Cynthia Stevenson) home come the cultured, refined, and put-out Fines: snobby mother Suzie (Wendie Malick) and wise, kindly doctor Marvin (David Eisner). Not being able to take the Christmas kitsch that stuffs the Kringle home, the Fines do their best to act condescending to the yokel bumpkins who keep insisting on trying to be nice to them. But when Henry's and Rebecca's relationship is threatened by a shiksa goddess, oy vey do the potential in-laws stick together like a bagel and maybe a nice piece of lox.
A truly offensive little Christmas present, Will You Merry Me? doesn't bother to couch its blatantly anti-Midwest, anti-conservative (Suzie Fine contemptuously says they have to travel to some "god knows which Red state" where the Kringles live, as if any decent Jew wouldn't be caught dead in one), anti-Christian (and by implication, anti-WASP) bias―it puts it right out there for the yoks, you boobs. You see, because it's funny when Jews―or anyone―make fun of Christians, because those Christians are so stupid and naïve and childish in their enthusiasm for Santa and the baby Jesus's birth that they deserve derision, says Will You Merry Me?. Something tells me, though, that if Will You Merry Me? was weighted the other way, with the Fine family depicted with the depth of stereotypical contempt shown here to those Christian clowns the Kringles (masquerading, of course everyone says, as "farce," don't you know!), you can bet the letter-writing and phone calls would start five minutes into the premiere of the show. Now let's get this straight for bias alert: I'm not a Christian. That's right: born and raised, but now a non-believer. If anything, I've got more of an intellectual connection with the Jewish faith (no hell for me, either...it's right here on Earth, bubbeleh). So I'm not arguing for a dog in this race. However, you'd have to be a complete idiot not to see the all-out assault on Christianity that permeates the secularist-driven pop culture today (ironic, too, considering the vast majority of Americans of all races and colors and politics who call themselves Christians). So when I see garbage like Will You Merry Me?, it bugs me, particularly when it's such an inelegant hit job. When the Christian side of Will You Merry Me? is represented by spastic goofs like the Kringles, who are "comically" in denial about their other gay son (because Christians are essentially children who can't face anything "different," right, you say?), who focus only on the crass commercialism of the Christmas holiday, you get where the moviemakers are coming from, particularly when it comes time for the Fines to showcase their Hanukkah traditions, which are performed on screen with quiet dignity and respect (as indeed they should be). In Will You Merry Me?, the Jewish religion equals sanity (Rebecca's horror at Henry's gun), enlightenment, and the beautiful simplicity of thousands of years of tradition. In Will You Merry Me?, Christianity equals craziness that's either dangerous or laughable. With an unfunny, verkakte slant like that, you can keep the meshugenah Will You Merry Me?.
The DVD:
The Video:
The full-screen, 1.37:1 transfers for 12 Days of Christmas look pretty good: sharp image, decent color, and no major compression issues to speak of (it's pretty nice that each movie gets its own disc).
The Audio:
The Dolby Digital English 2.0 stereo audio tracks are clean here, with no fluctuation and clear dialogue.
The Extras:
No extras for 12 Days of Christmas.
Final Thoughts:
A few of the movies here are real gems: light, funny, and nicely constructed and performed. The remaining, however, are...dopey, at best (and outright offensive at worst). I'm going to recommend a rental for 12 Days of Christmas; after all, most of these are coming up for free on Lifetime over the next weeks and months, anyway.
---
Paul Mavis is an internationally published film and television historian, a member of the Online Film Critics Society, and the author of The Espionage Filmography.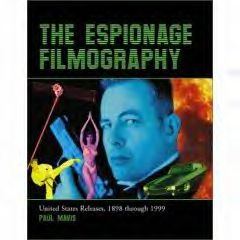 Sponsored Links
Sponsored Links