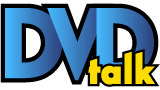 List Price: $35.99 [Buy now and save at Amazon]
---
No matter how many stereoscopic movies have come and gone over the past five years, House of Wax remains, in adjusted dollars, the second highest grossing 3D film of all time. Hell, after taking inflation into account, it ranks among the ten highest grossing horror films in the history of cinema. Its groundbreaking use of 3D -- the first ever stereoscopic production by a major Hollywood studio -- played no
[click on the thumbnail to enlarge]

small role in its success at the box office, but House of Wax endures the way it has because it's a damned good movie.



Professor Henry Jarrod

(Vincent Price)

is an artist. Other wax museums have lines out the door with their grotesque displays of murder and the macabre, but Jarrod prefers instead to honor beauty throughout history. His wax figures aren't a cold, commercial enterprise; Jarrod couldn't love his hand-sculpted creations more if they were his own flesh and blood, and from the conversations he carries on with them, the inattentive might believe that's precisely what they are. Attendance to his wax museum has been respectable but not quite enough for his business partner

(Roy Roberts)

. Burke needs money now, and with the only hope of a payday from the museum months off on the horizon, he decides to torch the place and collect the insurance money instead. Jarrod fights with every ounce of strength he can muster, but it's not nearly enough. Looking on helplessly as his beloved creations melt into nightmarish, unrecognizable deformities, Jarrod, too, succumbs to the flames.



That's the way it looks, at least. Despite reports of Jarrod's grisly death in the conflagration, the sculptor somehow re-emerges months later. He's bound to a wheelchair, and his horrifically burnt hands ensure will never again be able to sculpt, but Jarrod is determined to rebuild the life he lost, bigger and better than ever. His once-skilled hands may be generally useless, but Jarrod's not without help, enlisting a handful of proteges and assistants, among them a deaf-mute man-mountain appropriately named Igor

(Charles Bronson)

to sculpt in his stead. His wax figures are more lifelike than ever, and after embracing the ghoulish and sensational in his exhibits, the House of Wax is enjoying the sort of success that Jarrod would never have dreamt possible just a few short months earlier. I guess New Yorkers harbored some sort of dark fascination with death at the turn of the 20th century. Not only are wax museums' celebrations of bloodthirsty killers breaking attendance records, but some horribly disfigured monster keeps swiping corpses from the morgue and is relentlessly hunting the
[click on the thumbnail to enlarge]

lovely Sue Allen.

(Phyllis Kirk)

Hmmm...y'know, change the dress and put on the right wig, and Allen would be a dead ringer for Marie Antoinette...



House of Wax's gothic approach to horror and dazzling full-color visuals reanimated what was thought to be a dead and buried genre. It in many ways presages the sorts of films that would go on to define Hammer later in the decade, and it's difficult to imagine what Vincent Price would accomplish in his many Poe adaptations were if not for House of Wax. This is a movie with little interest in shocks, jolts, and visceral scares. House of Wax invests its efforts instead in skillfully establishing mood and atmosphere, and that approach plays no small role in how the film has continued to endure for sixty full years now. Despite not bothering with the formulaic "scare-every-_____-minutes" rhythms of horror since the dawn of the slasher era, House of Wax remains consistently engaging throughout, its pace never once lagging. The burning wax museum early in the film is remarkably disturbing even by modern, jaded standards: the top layer of wax sloughs off like flesh from the lifelike statues, their eyes tumble out of their sockets, their hair is burnt to a crisp, their heads tumble off their melted necks...it makes me shudder just thinking about it. This remains one of Vincent Price's most iconic performances, and that Professor Jarrod is so kind and so principled makes his eventual descent into madness that much more tragic. It's no small matter to craft a character that's charming, sympathetic, yet entirely insane, and Price proves to be more than up to the challenge. This is the film that helped introduce 3D cinema to the world at large, and it to this day is still considered one of the most skilled uses of the format. There are such gimmicky effects as its shameless paddle ball sequences and the can-can girls' legs kicking high into the air, but it's said that there's a consistently strong sense of depth and place that few of the 3D movies throughout the many years since have been able to match.



3D in the 1950s burned brightly and faded away. The glut of low-quality product that followed and endless logistical challenges from a format ahead of its time rang the death knell of 3D. Even the WarnerPhonic surround sound that House of Wax introduced failed to make a lasting impact on film exhibition. So many of the movies shamelessly trying to cash in on its success long ago faded from memory, but House of Wax has continued to endure. Even deprived of the benefit of one of its three dimensions, House of Wax has been endlessly successful on home video and as a mainstay on TV fright fests. Just in time for Halloween, House of Wax has been restored to its full stereoscopic glory on Blu-ray, and there's plenty to enjoy here even for those of us who haven't made the move to 3D quite yet. Warner Home Video has assembled a very strong showing for one of their most classic horror films, including a strong technical presentation, a terrific selection of extras, and...oh, yeah, 3D. Highly Recommended.






Video



---

If you're curious about how House of Wax plays in 3D, take a look at Jesse Skeen's review elsewhere here at DVD Talk. The film set such a benchmark for stereoscopic photography that Martin Scorsese had his crew on Hugo watch it beforehand to see 3D done right. As for this Blu-ray disc itself, film historian Bob Furmanek -- as much of an expert as you're likely to meet on the subject of vintage 3D releases -- has nothing but the very kindest words to say about how Warner has brought all three dimensions of House of Wax into our living rooms.



For those like me who are holding onto our two dimensional TVs for dear life, though, I'll tell you about my less informed reaction to House of Wax on Blu-ray. For one, there isn't the faintest trace of any wear or damage. A few stray shots aside, I'm thoroughly impressed by how vivid the film's colors are. The photography is a touch on the soft side but is remarkably well-defined, and this Blu-ray disc consistently delivers a level of fine detail that eclipses anything DVD could ever approach. Per usual, the image unavoidably degrades during optical fades and the like, but that rarely gets in the way. Much like Dial M for Murder, a handful of shots are unusually soft. The grain structure remains clear and distinct, so this presumably dates back to the original photography, perhaps a quirk of the mirrors used as part of the NaturalVision 3D process. A couple of examples are provided below, although it may be worth mentioning again that I don't consider this to be a flaw in Warner's presentation of the film on Blu-ray.




Though not reference quality, I'm still thrilled with what Warner has delivered with this 2D presentation of House of Wax. I've been assured that Warner spared no expense in remastering the film, and I'm eagerly awaiting a chance to finally experience it in 3D whenever I get around to upgrading my home theater.



Both the flat and 3D presentations of House of Wax arrive on the same dual-layer Blu-ray disc. This release preserves the film's theatrical aspect ratio of 1.37:1 and has been encoded with AVC.






Audio



---

Unfortunately, the magnetic tracks for the WarnerPhonic engagements were lost long ago, so this Blu-ray release of House of Wax is limited to mono only. That's a shame because the ambitious multichannel sound design sounds like it would've been a scream. Though not taking advantage of quite so many different speakers, this 24-bit DTS-HD Master Audio soundtrack still leaves little room for complaint. Every element in the mix is clear and reasonably robust. Some very mild background noise is pervasive throughout, but it's very easily shrugged off. Maybe we'll be lucky enough for the WarnerPhonic elements to resurface one of these days, but in the meantime, this lossless soundtrack more than does the job.



Also included are monaural Dolby Digital dubs

(192kbps)

in French, German, Italian, and Spanish. Subtitles are offered in each of those languages as well as Portuguese and English

(SDH)

.






Extras



---


House of Wax: Unlike Anything You've Seen Before! (48 min.;

HD

): Easily the standout of the extras on House of Wax is this lengthy retrospective. The list of participants is sprawling, among them newly-conducted interviews with Martin Scorsese, Wes Craven, Larry Cohen, Joe Dante, Barbara Steele, and quite a number of friends, family, and collaborators of the key talent involved. Archival interviews ensure that the late Vincent Price and director André de Toth have the presence here that they deserve as well. This is such a phenomenal retrospective, and among its many highlights are an explanation as to how a one-eyed director with no depth perception wound up helming the first 3D film by a major studio, the meticulous creation of a legion of wax figures, showing off

[click on the thumbnail to enlarge]

one of the original NaturalVision rigs used during production, some of the headaches and misconceptions so often associated with vintage 3D films, and its enormous success at the box office. The passion everyone involved has for House of Wax is absolutely infectious. "Unlike Anything You've Seen Before!" is comprehensive and extremely informative, and it's also a whole lot of fun.




Mystery of the Wax Museum (77 min.;

SD

): I had no idea that House of Wax was a remake, so the inclusion of Mystery of the Wax Museum in its entirety is an especially welcomed surprise. This 1933 film helmed by Michael Curtiz has quite a lot in common with the rather faithful remake that would follow two decades later, chief among them the rare use of color for a genre film. The two-strip Technicolor production looks fairly decent here, despite being limited to standard definition and looking as if it's been culled from an aging master. Presumably this is the same presentation from the old House of Wax DVD. I love seeing how some of the same beats are approached between the two films, especially in this pre-Code production that could actually get away with a little more than the 1953 remake.




Audio Commentary: Film historians David Del Valle and Constantine Nasr contribute an engaging, scholarly commentary. The two of them do an especially wonderful job placing House of Wax in the context of film history, including the rise and fall of 3D, why this movie outclasses so many of the 3D productions that quickly followed, how House of Wax would shape Vincent Price's career from this point on, the dismal state of horror in the early 1950s, and the tradition of unmasking monsters in horror cinema. Among the other highlights not addressed in the lengthy retrospective elsewhere on this disc are the breakneck post-production that required filming House of Wax in sequence and detailing how the film scored a green light. Well-worth setting aside the time to give it a listen.




Round the Clock Premiere: Coast Hails House of Wax (2 min.;

SD

): This very short newsreel footage doesn't feature any narration nor audio from the red carpet premiere of the film, but its visuals tell the story well enough anyway. Always an appreciated inclusion.




Trailer (2 min.;

SD

): Last up is a standard definition theatrical trailer.





House of Wax comes packaged in a very striking slipcase with lenticular animation.






The Final Word



---

When word first broke about 3D Blu-ray discs a few years back, I remember saying that it wouldn't be gleaming spectacles like Avatar or the onslaught of CG animated movies that'd convince me to replace the television I love like a blood relative; it'd be classic 3D features like It Came from Outer Space, Creature from the Black Lagoon, and House of Wax. Another one of the movies that's been perched at the very top of my Blu-ray wish list has finally swooped in for the kill, and House of Wax has proven to be well worth the wait. I may not be able to experience this longtime favorite in all three dimensions quite yet, but from the strong showing I'm seeing here in 2D, it looks like I have quite a lot to look forward to after I get my next television. With its timeless approach to horror, a breakthrough leading turn by Vincent Price, a terrific presentation, and a strong selection of extras, this Blu-ray release of House of Wax comes very Highly Recommended.



---
C O N T E N T

---
V I D E O

---
A U D I O

---
E X T R A S

---
R E P L A Y

---
A D V I C E
Highly Recommended
---
E - M A I L
this review to a friend
Sponsored Links
Sponsored Links