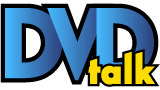 List Price: $29.93 [Buy now and save at Amazon]
---
Halley's Comet rolls around, what, every 75 years? Whatever. This comet, meanwhile, hasn't swooped by our big, blue ball of mud in 65 million years: not since the last of the dinosaurs mysteriously vanished off the face of the earth.



The good news...? You have a front row seat to one of the rarest and most spectacular celestial events in the known universe.



The bad news...? Well...



Yup. Extinction. Unless you happened to be surrounded by steel as the tail of the comet tore through the night sky, every trace of organic matter the world over has been reduced to a pile of ruddy dust. Even in a sprawling city like Los Angeles that was once home to millions, you can count the surviving population on both hands and probably still have a couple fingers left over. Reggie

(Catherine Mary Stewart)

and her
[click on the thumbnail to enlarge]

kid sister Sam

(Kelli Maroney)

both happened to make it through. Seeking out some sign of life, they trek over to a radio station that's still broadcasting and bump into Hector

(Robert Beltran)

, another teenager who for all they know might be the last man on Earth. They're among a tiny, tiny handful of people to have survived the passing of the comet intact. If you want to talk about the not-quite-so-intact ones, though...! Anyone with limited exposure to the comet's dust devolves into a sadistic, murderous zombie. It's Reggie, Sam, and Hector versus the kinda/sorta living dead, but don't fret! A military research facility saw the apocalypse coming, and they have the firepower and assorted hardware to rescue these three kids. The only hitch...? Who's gonna rescue 'em from the rescuers?



If that's too long and rambling for you, here's a shorter version: a couple of valley girls go shopping in post-apocalyptic L.A. an' mow down zombies with a MAC-10. Night of the Comet is every bit as Hypercolor-and-slap-bracelets-'80s-fun as I'm making it out to be too. It's a welcomed change of pace to watch a horror flick with ass-kicking female leads. None of 'em are Final Girls or doe-eyed love interests, something that was awfully rare thirty years ago and unfortunately hasn't changed all that much since. Kelli Maroney and Catherine Mary Stewart don't look like siblings, no, but they have a rapport that more than makes up for it...a sort of quick-witted, sisterly banter that I can't get enough of. I love that when they realize the world they once knew has crumbled into ruin, one of their first instincts is to raid the Fashion District. There's plenty of time to
[click on the thumbnail to enlarge]

search for food and bunker down; why not blow off a little steam and distract yourself to a "Girls Just Wanna Have Fun"-soundalike fashion montage?



Unlike most zombie flicks, Night of the Comet is frequently bright and colorful. ...and, well, there's the whole thing about it not really being a zombie flick, exactly. The number of the undead is fairly small. I guess you can't really even consider 'em to be undead so much as infected by comet dust or whatever. They aren't gutmunchers. They're every bit as chatty as they were before that comet ever zipped by. They can fire guns and perform medical procedures and operate heavy machinery and all that. This extraterrestrial plague hollows out its victims' eyes, wreaks some I-don't-even-wanna tell-you havoc on their complexions, and twists them into vicious, demented killers. Its very distinctive approach to zombies furthers the sense that Night of the Comet isn't like much of anything I'd seen before or since. There's also that Romero-esque spin where living, breathing human beings are more of a threat than their zombified counterparts, taken here in a more teen-oriented direction where asshole boys and adults who think they know everything can't be trusted.



Night of the Comet was a hell of a lot of fun all the way back in 1984, and not much has changed right at three full decades later. Y'know, the inexorably mid-'80s-ishness of it all may even make it more of a blast to watch these days. Writer/director Thom Eberhardt aims for more of a county fair spookhouse feel rather than looming dread or leave-the-nightlight-on scares. Night of the Comet plays it tongue-in-cheek and delivers a lot of clever dialogue that holds up really well all these years later. It's the sort of movie that leaves a big, goofy smile plastered across my face, and that's completely by design. The whole thing looks pretty terrific too, from the design of the zombies all the way to making Los Angeles convicingly come across as a deserted wasteland. Night of the Comet is a cult classic in every sense of the word -- or, well, the two words -- and it's such a thrill to finally have this longtime favorite on a shiny, newly-minted Blu-ray disc. Highly Recommended.






Video



---

Night of the Comet looks pretty solid in high-def. Some shots are a little fuzzier than others, but the image is reasonably well-defined, and there's often a whole lotta fine detail on display. Its neon palette looks terrific on Blu-ray too. This is one of the more heavily speckled discs I've come across in a while, but all that dust and stuff doesn't wind up being too much of a distraction. Although the texture of the film g
[click on the thumbnail to enlarge]

rain isn't always remarkably distinct, there's no excessive noise reduction or any heavy-handed knob-twiddling like that either. I'm not sure if this Blu-ray disc was culled from the same master used when Night of the Comet was making the rounds on the cable high-def channels nearly a decade ago, but if it is, it sure holds up well enough.



The movie and its extras are dished out on a dual-layer Blu-ray disc. Night of the Comet is presented at its theatrical aspect ratio of 1.85:1 and has been encoded with AVC.






Audio



---

Night of the Comet piles on two 24-bit DTS-HD Master Audio soundtracks: one in stereo and the other remixed to 5.1. I have to admit that the remix pretty much sounds like a stereo track itself. The rears are dialed down to near-nothing, to the point where I started demoing other Blu-ray discs afterwards just to make sure I didn't have any loose wires or something. Even sequences that'd really take advantage of surround sound like the shootout in the mall are essentially dead silent. It's one thing for a remix to be low-key, but for the surrounds to be this quiet makes me think something went wrong. The LFE rarely makes its presence known in the 5.1 remix, although there's a modest growl to Reggie's motorcycle, and the score really seizes hold of the subwoofer every once in a while. The stereo track just sounded more forceful to me, although that could just be because it's louder. No dropouts, excessive background noise, or pops or clicks get in the way regardless, and the fidelity is pretty decent all around.



No dubs or anything this time around. Subtitles are served up in English

(SDH)

only.






Extras



---


Interviews (34 min.;

HD

): Catherine Mary Stewart and Kelli Maroney team up for "Valley Girls at the End of the World"

(15 min.)

, and they tackle everything from their surprisingly helpful backgrounds in soap operas all the way to trying on clothes and shootin' guns. They also talk about the rarity of female leads in an action/horror flick like this, the camaraderie on the set, the occasional hiccups in making downtown L.A. look like a barren wasteland in these pre-CGI days, and a fanbase that's only getting larger as time marches on.



The spotlight's swung over to Robert Beltram for twelve and a half minutes in "The Last Man on Earth". He speaks about turning down the role a couple of times because he was less interested in rehashing Eating Raoul and more eager to play a Gary Cooper type. Beltram delves into his approach to the role as a man of color, reteaming with Eating Raoul's Mary Woronov here, and some of the good and less-than-good stuff about working with the folks on the other side of the camera.



Last up is a brief conversation with makeup effects wizard David B. Miller, who's now best known as the man behind the look of Freddy Krueger, although he cites his work on Michael Jackson's Thriller as the most likely reason he landed this gig. Miller chats about crafting a design for the zombies that got the producers' thumbs-up on his first try, the very limited prep time, and hammering out the prosthetics and all that in a one-car garage.



All three interviews are terrific and well-worth a look.




Audio Commentaries: Three of 'em!



Catherine Mary Stewart and Kelli Maroney are in front of the mic for the first one. They talk about Night of the Comet's tone sometimes being a moving target, the influence of Moon Zappa's "Valley Girl" on their performances here, how the industry has changed since the '80s, and even spitball a couple of ideas for a sequel. It's...y'know, pleasant but a little subdued, and moderator Edwin Samuelson

[click on the thumbnail to enlarge]

doesn't do the greatest job keeping the energy up or ensuring that there's a really steady flow of conversation.



The difference the right moderator can make is really apparent in the other two commentaries. Red Shirt Pictures' Michael Felsher wears the moderator hat in those tracks, beginning with writer/director Thom Eberhardt and continuing with production designer John Muto. Both of these commentaries are infectiously fun listens, striking that perfect balance between being entertaining and genuinely informative. Eberhardt speaks about how the movie gradually took shape with its Valley-Girls-at-the-End-of-the-World premise, working with producers who weren't all that thrilled with the concept, and why he rightly doesn't think of Night of the Comet as a zombie flick. There are so many more highlights I wanna list here -- his advice to actors who want to make an impression when auditioning, what was originally meant to happen to Sam, the thematic significance

(or not!)

of the Christmas backdrop, creative solutions when your low-budget epic is running out of time -- but I don't want to give away everything.



I figured I'd have a great time with Eberhardt's commentary -- and I was right! -- but I wasn't sure what to expect from the track with production designer John Muto. To my surprise, I'm pretty sure that I'd point to this is my favorite of the disc's three commentaries. It could just be because I haven't had the pleasure of hearing such an involved discussion about the role and artistry of a production designer until now. Muto does talk about Night of the Comet in particular, but quite a bit of the commentary swirls around his approach to production design as a whole, the jaw-droppingly amazing sequence of events that brought him to this profession (when will you ever hear a dance studio, animation, Oingo Boingo, and Galaxy of Terror uttered in the same breath?), and some unreal stories about his time on Home Alone. His comments about Night of the Comet include nicking an optical from a Billy Wilder film, augmenting a department store since you can't really shoot up actual displays, and even future two-time Oscar winner John Myhre weaseling his way into the crew. This really is one of my favorite commentaries I've listened to in a long, long time.




Photo Galleries

(8 min.)

: Also along for the ride are two photo gallery montages. The lengthier of the two is a behind the scenes collection that clocks in at 5 minutes all told, although you can freely skip around with your remote. Most of the images are pretty low-res, though. The three and a half minute set of promotional stills looks quite a bit better.




Trailer (1 min.;

SD

): Last up is a standard-def theatrical trailer.





Night of the Comet comes packaged in a glossy slipcover, and if you're not all that into the new artwork, the reversible cover lets you show off the original poster art instead.






The Final Word



---

Night of the Comet crams just about everything I love so much about '80s cult cinema into an hour and a half and change. This really unique movie remains a helluva lot of fun all these years later, and I can't begin to tell you how glad I am to have a shiny, high-def special edition of a longtime favorite like this. Another Scream Factory release means another holy grail off my wish list. Highly Recommended.




---
C O N T E N T

---
V I D E O

---
A U D I O

---
E X T R A S

---
R E P L A Y

---
A D V I C E
Highly Recommended
---
E - M A I L
this review to a friend
Sponsored Links
Sponsored Links