Reviews » DVD Video Reviews » 4 Action-Packed Movie Marathon: Volume Two (Bulletproof, Bamboo Gods & Iron Men, Trackdown, Scorchy)
4 Action-Packed Movie Marathon: Volume Two (Bulletproof, Bamboo Gods & Iron Men, Trackdown, Scorchy)
Shout Factory // R // November 12, 2013
List Price: $9.99 [Buy now and save at Amazon]
Review by Paul Mavis | posted November 13, 2013 | E-mail the Author
If I did it to all those sh*tty cropped Fox Cinema Archives releases...I have to do it with Shout! Factory, too...with, apparently, the laziest and most pointless movie review I've ever written (first they're too long and pointless, now they're too short and pointless).

Shout! Factory has released 4 Action-Packed Movie Marathon: Volume Two, a 2-disc, 4-movie collection of drive-in exploiters Gary Busey's Bulletproof from 1988, 1974's Filipino blaxploitation epic, Bamboo Gods & Iron Men, Jim Mitchum's 1976 Trackdown, and Connie Stevens' Scorchy, also from 1976. Bulletproof and Bamboo Gods & Iron Men are presented in anamorphically enhanced 1.85:1 transfers (not bad, either), while Trackdown is presented here in a flat, 1.77:1 transfer...not ideal, but at least it's widescreen.

Scorchy, however, is incorrectly presented in a fullframe transfer, taken from an edited TV broadcast source. In other words, not only is the original aspect ratio mangled...I also don't get to see Connie Stevens naked in the shower! And that--fueled by adolescent memories of staying up until 3:00AM to catch Scorchy on Showtime about 20 times--was the only reason I picked up this collection.

As I've written before: there is no excuse for releasing a fullscreen transfer of a widescreen movie in 2013...particularly if that fullscreen transfer comes from an edited TV master that eliminates Connie Stevens' breasts. Unacceptable, and thus, this carthaginian review (which has, rather amusingly, stirred up a bit of hornets' nest with my seven or eight regular readers). That makes 4 Action-Packed Movie Marathon: Volume Two, regardless of the other three movies, an automatic "skip it."
---
Paul Mavis is an internationally published film and television historian, a member of the Online Film Critics Society, and the author of The Espionage Filmography.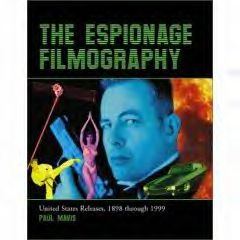 Other Reviews: