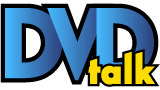 Fox // Unrated // December 3, 2013
List Price: $24.99 [Buy now and save at Amazon]
---
It's a shame that Jesse James (1939), Fox's big Technicolor Western starring Tyrone Power, Henry Fonda, and Randolph Scott, is remembered for its historical inaccuracies and for one notorious scene of alleged animal abuse than for the movie itself. That's because the movie, for the most part, is excellent, in some respects way ahead of its time.



Fox's Blu-ray is a real head-scratcher. The high-def video transfer is on one hand amazingly sharp, with practically zero signs of damage and age. In this sense it looks astoundingly good. On the other hand, the color tweaking of this three-strip Technicolor production seems way off. Instead of the uber-rich if stylized hues one normally associates with the three-strip process, there seems to have been a concerted effort to dial everything back. An almost Sepia brown permeates the entire film, with blues especially looking completely desaturated except for night scenes, where there too much blue. At other times the image looks less like three-strip Technicolor and more like Cinecolor, the cheaper, inferior process used on lower-budget movies.



Blu-ray.com's review opines this is because the original black and white matrixes for Jesse James no longer exist. But if that were true, wouldn't Jesse James more closely resemble something like Olive's Blu-ray of Denver & Rio Grande (1952)? To my eyes, Jesse James is just too sharp picture-wise, with zero misalignment of the three-strips, and a color palette lacking the harshness of secondary elements, to blame the lack of original film elements. No, what looks wrong with Jesse James, to my eyes anyway, seems less to do with what survives and everything to do with trying to make Technicolor more palatable to a 2014 audience.






Directed by Henry King, Jesse James opens well, with railroad thugs led by Barshee (Brian Donlevy, very intimidating) strong-arming farmers to sell their land to the railroad at a pitiful $1-2 an acre. Those who hesitate are beaten into signing away their rights. At the James farm, matriarch Mrs. Samuels (Jane Darwell) refuses to budge, and when Barshee threatens her, Frank James (Henry Fonda) steps in, beating Barshee instead. Barshee's men are about to kill Frank when younger brother Jesse (Tyrone Power) arrives and shoots Barshee in the hand.


Barshee pressures the local lawman to issue an arrest warrant for the brothers. Barshee and his men recklessly toss a stick of dynamite into the James's home, killing only the James Brothers' mother. Soon after Jesse turns up a saloon where he shoots Barshee dead.


Now outlaws, the James brothers vent their anger against the railroad company by becoming train robbers, urging passengers to sue the railroad instead of blaming them. This strategy works for a while, with the bandits becoming folk heroes. Jesse marries childhood sweetheart Zerelda "Zee" Cobb (Nancy Kelly), but she's concerned that his outlaw ways are beginning to define his life. Working with newly-appointed lawman Will Wright (Randolph Scott) they arrange with railroad owner McCoy (Donald Meek) for Jesse to turn himself in with the promise of a light prison sentence, 2-5 years. But after his arrest McCoy reneges on the deal, appointing a new judge promising to see Jesse hang.


Jesse James fascinates on many levels. Made near the height of the Great Depression, the ruthless railroad company is clearly likened to present-day banks foreclosing on the homes of the hard-working poor. The James Brothers become something like folk heroes, much like Arthur Penn's later Bonnie and Clyde (1967). Like Bonnie and Clyde, Jesse yearns for an ordinary domesticity with Zee and their young son but can't escape his past. As in that later film, as well as the psychological Westerns of the 1950s, Jesse becomes increasingly paranoid. After Zee builds Jesse a home he can finally settle down in, within minutes of his arrival he's ready to pack up and move on, all because a family innocently stops by to ask for directions.


The movie gained a measure of notoriety for one scene where Frank and Jesse escape a posse by riding their horses off a cliff into a river below. Details about exactly what happened remain sketchy. The IMDb and other sources contradict themselves, alternately stating a) one of the two horses died; b) both horses died, or that c) only one horse went over the cliff and it died, and that it was one stunt, shot from two different angles. The latter claim is dubious, as in the film one horse goes off the cliff feet-first while the other slides off the cliff on its back.


The more reliable TCM Database, citing Fox's legal files, reports that the horse in question was not injured in the fall, but rather drowned before the crew could get a rope around its neck. In any case, the incident prompted stricter compliance to regulations set forth by the American Humane Association.


Ironically, the incident overshadows King's extremely effective handling of the scene. As Frank and Jesse charge through thick brush, only Frank is aware of the cliff seconds away, and the abrupt cut to the horses and men going over the edge is a real surprise for both Jesse and the audience.


In addition to effectively drawing parallels to the Great Depression, King's direction is both adult and subtle. He also generates considerable suspense throughout, especially after Jesse is arrested and told the plea deal is off, and Frank sends McCoy a note that he'll be there at midnight to free his brother. McCoy and the others initially scoff at Frank's brazenness, but eventually dispatch soldiers McCoy has commissioned all over town to ensure that Frank can't anywhere near the jail. How Frank might affect Jesse's escape, and the growing tension at the jail as they await Frank's possible arrival is admirably nail-biting.


Another of the film's many assets is that most of the exteriors were shot not in California but rather in and around Lake Ozark, Noel, and Pineville, Missouri, locations that had changed hardly at all since the 1870s. They look nothing like the much more familiar Southern California locales favored by Western genre moviemakers and add much verisimilitude. The cinematography is also superb. One particularly amazing sequence in this regard, one I've seen in no other Western, is a nighttime train robbery that sees Jesse, in silhouette, running along the top of the moving train as passengers, initially oblivious to the robbery in progress, sit quietly in the warmly-lit train cars below.


The cast is also exceptional, with Power, Fonda, and Scott all excellent. Henry Hull, as Zee's newspaper publisher uncle, is outrageously hammy, but the rest of the supporting cast is equally fine, with John Carradine an interesting Bob Ford. Lon Chaney Jr., billed as "one of James gang," reportedly had a larger role but was fired midway through production, reportedly for drunkenness. I noticed him in but a single shot and a background extra at that.


Jo Frances James, Jesse's granddaughter, is credited as co-historical consultant and no doubt helped ensure a whitewash. But that the real Jesse James was no social bandit, no Robin Hood of the Wild West is beside the point and the depiction of outlaws as misunderstood antiheroes (e.g., Buster Crabbe's 1940s film series in which he played a heroic Billy the Kid) was commonplace. Undoubtedly it was this film that inspired the goofy "Bobby's Hero" episode of The Brady Bunch, in which young Bobby Brady comes to idolize Jesse after seeing, presumably, the Tyrone Power picture.


Video & Audio


Jesse James, in its original 1.37:1 standard size screen format looks, well, odd, for reasons described in much more detail above. The not-quite-right color timing of this high-def transfer is a definite but not ruinous distraction, offset by the extreme clarity and subtlety of the colors, wrong as the color scheme may be. Equally odd, in addition to a 1.0 original mono option, the film has been remixed for 5.0 DTS-HD Master Audio surround. The sound effects are aggressively directional, with trains, gunfire, and sounds of galloping horses impressively full of bass. Shots of a train pulling away from a station incorporate the surround speakers to good effect, but mostly the surround channels are utilized for the film's score. The disc is Region A encoded, and my Japanese PS3 defaulted to Japanese menu and subtitle options not listed on the packaging.


Extra Features


The meager supplements consist of very brief Fox Movietone newsreel excerpts of the film's premiere and a trailer in poor shape that's also missing text overlays.


Parting Thoughts


An excellent film anticipating the psychological Westerns of the 1950s and even the later, celebrated Bonnie and Clyde in some respects, Jesse James is presented in a problematic but in some ways still very impressive high-def transfer. Highly Recommended.



Stuart Galbraith IV is the Kyoto-based film historian and publisher-editor of World Cinema Paradise. His credits include film history books, DVD and Blu-ray audio commentaries and special features.
---
C O N T E N T

---
V I D E O

---
A U D I O

---
E X T R A S

---
R E P L A Y

---
A D V I C E
Highly Recommended
---
E - M A I L
this review to a friend
Sponsored Links
Sponsored Links