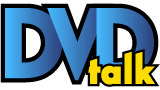 Scoot & Kassie's Christmas Adventure
List Price: $19.98 [Buy now and save at Amazon]
---
Ever since DVD players became commonplace, it seems that each year a number of straight-to-video family Christmas movies, often featuring actors you may have forgotten about, get released. Among this year's flood is "Scoot & Kassie's Christmas Adventure," which proclaims "Saving Christmas is a ruff job" and the featured actor in question is none other than Luke Perry, former "Beverly Hills, 90210" heartthrob. Here he plays a widowed dad for at least the second time, having done so previously in "Alice Upside Down," another direct-to-video family flick. As in that one, he moves into a new town (Heber Valley, Utah) with his kids, this time being 10 year old Kassie (Ariana Bagley) and 15 year old Esther (Camrey Bagley), where he's taken a job as the new manager of the small local bank.
At the same time, Marv (Taylor Negron, who you might remember as the mailman in Better Off Dead) and Buzz (Jake Suazo) have just robbed another bank. Officer Riley (James Andrews) and his canine officer companion Jake chase after them, first in their car and then on foot after reaching a dead end, eventually leading to a river. Officer Riley can't run very fast, and by the time he catches up the robbers have gotten away and it seems Jake may have drowned in the river. Riley gives up a little too fast though as Jake eventually makes it to safety, where he's soon found by Kassie who renames him Scoot, takes him home and hides him from Dad.
Kassie also ends up assisting Pastor Bailey (Adam Johnson) in conducting her classmates in the church choir, after he get frustrated with their performance but Kassie remembers techniques her mother used. Meanwhile bad guys Marv and Buzz have come into town and gotten hired as security guards at the father's bank, where they plan on pulling another heist from the inside. Further tempting them is an ever-growing Toys for Tots donation box full of cash, which the choir has been collecting money for. The kids get wise to their scheme and set out to stop them with Scoot's help.
Overall this doesn't break much new ground, as there have been several other movies where police dogs get lost and latch on to new humans, and the two bad guys aren't very good at what they do (they end up losing the cash from the first robbery, and re-watching that scene several times I still can't tell exactly how they managed to do that) and act like potential characters for the next Home Alone direct-to-video sequel (one of them is even named Marv, as was Daniel Stern's character in the original). Plus, if you're an overly critical viewer like me, you'll spend much time wondering why the police department doesn't bother to find their missing dog much less the escaped robbers, or how the two of them land security jobs so easily. Still, this is obviously meant for kids, and isn't too bad compared to many similar efforts. The original song performed by the kids is pretty nice too.
Picture:
"Scoot & Kassie's Christmas Adventure" is competently shot in full 1.78. The picture on the DVD is a bit soft however, with many details blurry and the end credits hard to read. Some of this may have been intentional, as the unused footage appearing in the disc's extras is noticeably sharper.
Sound:
The 5.1 Dolby Digital sound mix won't blow you away, but the music score and singing sound pretty good and there's also good use of ambient sound in the front left and right channels during scenes otherwise occupied by dialogue. The surrounds aren't used much here.
Extras:
A few deleted scenes are included as well as a "gag reel" with actors flubbing their lines or falling down. It looks like they had a good amount of fun shooting this.
The disc opens with a "look for it on Blu-Ray and DVD" promo spot for Despicable Me 2 as well as promos for "Barbie & Her Sisters in A Pony Tale" and "Barbie Mariposa & The Fairy Princess".
Final Thoughts:
"Scoot & Kassie's Christmas Adventure" is passable family entertainment, with nothing too offensive and not completely sugar-coated either. While it's not anything to write home about, I'd feel like too much of a Scrooge to really dislike it, and a follow-up is already in the works which could make this another franchise.
Jesse Skeen is a life-long obsessive media collector (with an unhealthy preoccupation with obsolete and failed formats) and former theater film projectionist. He enjoys watching movies and strives for presenting them perfectly, but lacks the talent to make his own.
Sponsored Links
Sponsored Links