Sugarfoot: The Complete Second Season (Warner Archive Collection)
List Price: $47.99 [Buy now and save at Amazon]
---
Sugarfoot, Sugarfoot,
Easy lopin', cattle ropin' Sugarfoot.
Carefree as the tumbleweeds,
'A-joggin' along with a heart full of song,
And a rifle and a volume of the law.
Sugarfoot, Sugarfoot,
Never underestimate a Sugarfoot.
Once you get his dander up,
Ain't no one who's quicker on the draw.
You'll find him,
On the side of law and order,
From the Mexicali border,
To the rolling hills of Ar-kan-saw!
Sugarfoot, Sugarfoot,
Easy lopin', cattle ropin' Sugarfoot.
Ridin' down to cattle town,
'A-joggin' a-long with a heart full of song,
And a rifle and a volume of the law!
"Surefoot" more like it, considering the show's smooth production. Warner Bros.' Archive Collection line of hard-to-find library and cult titles has released Sugarfoot: The Complete Second Season, a 5-disc, 20-episode collection of the successful ABC Western's sophomore 1958-1959 season. Perhaps not as endearingly popular as ABC/Warner Bros.' iconic Westerns Maverick and Cheyenne, Sugarfoot none-the-less has an easy-going, low-key charm to it, embodied by its star, the ingratiating Will Hutchins, that translates quite well today--particularly since this oater benefits from many of the same behind-the-camera personnel those two winners enjoyed, as well as the same assured, high-gloss Warner Bros. studio production values. A must-have for TV horse opera fans. No extras for these super-sharp black and white fullscreen transfers, though (and no...I wasn't lucky enough to get one of the sets signed by our star, more's the pity).
Quite frankly, the free-wheeling Sugarfoot has very little backstory to summarize; stand-alone "anthology" story-telling is the name of the game here. Young Tom Brewster (Will Hutchins), who grew up in the East and has come West to make his fortune, is a gentle, intelligent, thoroughly ethical young man dedicated first and foremost to "the law": pistol-work, fancy roping, showy duds and livery, the manly arts of fighting and loving--none of those skills and accoutrements of the typical TV Western hero appeal to Tom as much as peaceably righting a wrong against someone. Studying to become a lawyer through correspondence courses, Tom is a'gin killing, no matter what the circumstances, and that's why his law books are more accessible than his pistol and rifle. That diffidence to fight in this savage, hot-headed land--he'll tussle if he has to, though, boy--is also why he's garnered the nickname "Sugarfoot," a pejorative in the rowdy Old West that's even lower on the masculinity scale than the despised "Tenderfoot." Easygoing Tom, however, doesn't give a hoot about the nickname...particularly since he always comes out on top of his sticky, often-times deadly situations and confrontations.
In the 1970s, I grew up on reruns of many of the classic 50s and 60s Westerns, as well as Gunsmoke and Bonanza, of course, which were still going strong in first-run primetime when I was a little squirt. However, if repeats of Sugarfoot were syndicated back then--I tend to think by the early 70s they weren't all that readily available, what with syndication packages' natural aversion to hour-long black and white shows--either Sugarfoot didn't make it to my TV market...or my memories of it have been long lost to the wisps of time. So coming to Sugarfoot clean, I was pleasantly surprised at how efficient and polished and entertaining it was--although by all rights I shouldn't have been, considering my previous positive experiences with vintage Warner Bros. TV Westerns. If you've read even a few of my vintage TV reviews (you need to go play outside...), you'll already know what I think of critics back then that used to whine and cry about popular television programming like Sugarfoot and Maverick and Cheyenne...and anything else that made the Nielsen Top Thirty. Guys like producer David Susskind, with his "[1958:] the year of the miserable drivel" comment (hilarious coming from that hypocrite/phony), and irrelevant historical footnote Newton Minnow with his notorious "vast wasteland" screed (if you're looking for that obscure footnote, Minnow's listed under heading "Forgotten Do-Gooder;" sub-heading "High-falutin" Snob;" sub-section "Liberal Egghead;" paragraph "Humorless Crank")--those guys couldn't stand the fact that the vast majority of the TV-viewing public, given a clear choice, overwhelmingly preferred well-written oaters, funny sitcoms, tense medicos, and action-packed detective series over news shows, documentaries, and (often) dreary live dramas. They and their kind wanted television to "educate" (and quite often, angrily "indict" the very people expected to watch), while Mr. and Mrs. John Q. Public wanted some well-earned diversion from their hectic lives. Television, then and now, was a business first and last, and programming went were the dollars were, and that's why mainstream television and cable is still overwhelmingly entertainment-oriented...and PBS still has to be propped up with our tax dollars, tax write-off contributions from P.R.-desperate corporations, and nickel-and-dime hand-outs from its viewers (relax...I like PBS, too: just re-reading Minnow puts me in an ornery frame of mind).
So when I read dismissive comments specifically aimed at the "cookie cutter" WB Westerns from this time period and their "boiler plate" construction and execution...I say, after surveying the gradual demise of reliably entertaining network programming over the past 30 years: bring on more cookie cutter boiler plates, if they're going to be as well-written, as well-directed, and as well-performed as something like Sugarfoot. With Warner Bros. having succeeded in being the first major Hollywood movie studio to partner successfully with a TV network to produce out-of-house programming (Disney wasn't really considered a "major" when it first partnered with struggling ABC), it's not surprising WB and ABC would continue to look for ways to fashion different variations of the successful format they created with Cheyenne (see my review here to get more background on that seminal series). Given that difficult-to-produce Cheyenne had always been conceived as a rotating anthology series (to give the production team the time needed to deliver an episode every other week), a new alternating Western in 1957 such as Sugarfoot was a smart fit for the Clint Walker hit, after Cheyenne's other spokes had fallen by the ratings' wayside (Casablanca and Kings Row when Cheyenne debuted with them on Warner Bros. Presents in 1955, and then Conflict in 1956). When Sugarfoot debuted in 1957, it didn't prove quite as popular as alternating Cheyenne on Tuesday nights at 7:30pm...but Sugarfoot's place as the 24rd most-watched show for the season, next to Cheyenne's 13th place, was a remarkable improvement compared to Cheyenne's previous companion pieces. For Sugarfoot's next season--1958-1957--Warners was understandably worried when man-mountain star, Clint Walker, walked out on Cheyenne in a contract dispute. Ty Hardin was tapped to step into the still-monikered Cheyenne, appearing as newcomer "Bronco Layne," but the Walker-less Cheyenne fell to a still-respectable 18th in the ratings. Interestingly, Sugarfoot rose in the ratings, garnering its series-best ranking--21st for the year--against weak competition on CBS (Stars in Action, which was really reruns from the Schlitz Playhouse, and Carl Reiner's game show, Keep Talking) and NBC (once-mighty police procedural Dragnet, shot down by the Westerns, and once-mighty The George Gobel Show, also killed by the oaters, which alternated with "never-was" The Eddie Fisher Show).
In a crowded field in that year 1957, which included well over 20 Westerns appearing in primetime, Sugarfoot needed a hook that made it stand out...and the producers figured out a pretty good one: (sometimes violent) non-violence. Just like Cheyenne and Bret Maverick and Bronco Layne, young Tom Brewster is a wanderer, going from town to town, meeting new people and encountering new problems, week after week (as any good TV drama anthology lead character should). And specifically like Bret Maverick, gentle Tom Brewster wants to avoid physical conflict at all costs. However, Tom shies away from violence based on ethical and legal concerns, whereas ol' Bret looks for the exit door to save his pretty, glossy hide. In a late '50s primetime TV world where the bodies plugged by Western heroes piled up like cord wood, Tom Brewster's active reticence to draw down his smoke wagon was certainly a novelty...although just like Bret Maverick, Tom somehow managed to work around his aversion to fisticuffs and pistols at least once an episode, lest any viewer at home think him anything less than a "real" man. This reluctant but frequently necessary remedy-through-violence on Tom's part certainly at times undercuts the show's central hook: exactly how does this reputation for a "sugarfoot" keep following Tom around...when he continually bests the baddest of the West? However, likeable Hutchins is so adept at conveying an eternal trusting innocence of character in Tom Brewster, we buy the dichotomy between Tom's initial hands-off intent and his final more forceful execution. It's a tough character to delineate: go too far one way, and Tom would seem like a weakling; backtrack the other way and he comes off a pedantic, self-righteous bore. Hutchins, however, walks a fine line here, continually re-establishing the believability of young Tom Brewster's idealistic outlook...while giving Brewster a confident self-assurance that makes his clever, last-minute "saves" quite plausible. And fun.
The season opener, Ring of Sand, written by Raphael Hayes, effectively reestablishes Tom's supposed inexperience around the West's more deadly types when he receives perverse instruction on how to fast-draw from fellow WB contractee, Edd "Kookie" Byrnes, a psychotic gunslinger who wants to give Tom a "fair chance" when it comes time to gun Tom down (Tom maintains moral order with vengeful desert rat Will Wright when he intones, "In the end...every man gets his rightful justice,"). Typical of these WB oaters, the story construction and direction is clean, efficient, and no-nonsense, while the supporting players are top-notch (WB Lawman John Russell is on board, too). Scripter Harold Medford comes up with an intriguing episode in Brink of Fear, where Tom's childhood friend Jerry Paris, paroled from a crime he didn't commit, reverts back to his natural outlaw ways when he's spurned by Venetia Stevenson. Tom doesn't pull out a lawbook when he plugs his childhood friend, intoning sadly, "Sorry, Cully. Sorry," (good work here, as usual, from Hutchins), while it's pleasantly shocking to see the writer twist a character we were sure was "good," into a killer who even plugs the old man who offered lone support to Paris when he first arrived in town. The Wizard, written by frequent WB oater contributor Catherine Kuttner, is given a considerable boost by Sugarfoot staff director Josef Leytes' excellent atmospheric, creepy direction in this tale of mesmerism and murder (Efrem Zimbalist, Jr., stepping over from the WB's 77 Sunset Strip, hams it up delightfully here as "Kerrigan the Great"). Scripter Kuttner comes up with an even better outing in The Ghost, a terrific, spooky murder mystery that's a cross between Agatha Christie and The Old, Dark House. Director Lee Sholem's evocative, shadowy black and white framing is more horror than Western, and Martin Landau (perhaps working off a commitment to WB?) has a surprisingly tiny but effective little cameo.
Hutchins gets a chance to ditch his "aw shucks" good boy image in the clever, amusing The Canary Kid, scripted and directed (well) by Maverick regular, Montgomery Pittman, when Hutchins plays Tom Brewster look-alike "The Canary Kid," an amoral outlaw who just happens to be cousins with the bookworm lawyer. Snappy direction as well as pithy one-liners and a fun build from Montgomery, while the cast, particularly Don "Red" Barry, plays the low-key laughs just right (not one but two dolls show up here--wonderfully named "Prudence" and "Brimstone"--beautiful Yvonne Shubert and hot-as-hell Playboy Playmate/spouse killer Saundra Edwards). There's lots of action-packed WB stock footage in The Hunted, scripted by Peter R. Brooke, including a spectacular train/trestle derailment that I couldn't quite place, but beefy Mike Lane's awkward, too-obvious performance as an addle-pated veteran throws the episode off. Far better is Yampa Crossing, from scripter Tom Blackburn, which takes the simple premise of Tom and four other anxious, on-edge strangers held up on a river bank as they wait for the flood-swollen waters to subside, and churns up a tense little outing. 77 Sunset Strip's Roger Smith shows up, as does future Where Eagles Dare director Brian G. Hutton as the weasely "Kid" gunslinger (of course, authoritative veteran character actor Harold J. Stone steals every scene he's in). Devil to Pay shows Hutchins' breezy ability to swing from light-hearted comedy to drama quite well in this interesting tale of Tom's physical (and perhaps spiritual?) journey to sacred Indian territory and his efforts to save rebel H.M. Wynant (Hutchins is amusing fending off Indian maid Grace Raynor). Raphael Hayes returns with The Desperadoes, an interesting examination of revolutionary politics clashing with dictatorial reaches for power, with a good showing by always-reliable Jack Kruschen as the Napoleonic opportunist.
The Extra Hand, from Peter R. Brooks, is rather dopey, though, in its obvious platitudes about "foreigners" settling in the West (not aided by Karl Swenson overdoing it as a one-armed Russkie), although the denouement couldn't be more clever, when Swenson's character "grows" another arm (nicely worked out by the director). The Return of The Canary Kid, again written and directed by Montgomery Pittman, is even better than the first outing with Hitchins as the look-alike outlaw, with Don "Red" Barry scoring big laughs as blase killer Arkansas, and Saundra Edwards back to lend some hubba-hubba support (Pittman's hilarious scene where the gang goes back and forth between the Kid and Tom, asking incriminating questions to determine who's who, is a classic). Unfortunately, scripter Raphael Hayes comes up with a clunker in The Mysterious Stranger, a strained outing that tries to rope in a fictional descendant of George Washington's commander, Casimir Pulaski...and only succeeds in becoming a bit thick with all the rhetoric about poor workers' rights (I don't tune into Sugarfoot for a half-baked screed about labor relations in 19th century America...nor do I tune in to see Adam West's ludicrous attempt to impersonate a Polish aristocrat/concert pianist). Much, much better is Harold Medford's The Giant Killer, a slick piece of work where Tom helps desperate widow Patricia Barry incriminate--at the business end of a fistful of dynamite--ruthless politician R.G. Armstrong. Always great to see little Jay North's slightly insane, ruthless cheeriness, as well as the sexy Dorothy Provine as a beautiful slut (Medford's surprise twist ending is worthy of O. Henry and Looney Tunes).
Scripter Peter R. Brooke comes back with a winner in The Royal Raiders, a complicated little mystery, set on a train (using that enclosed, cramped space is always a winner with these kinds of stories...with the tension of another approaching train ratcheting up the suspense that much more). Old pros Helmut Dantine and Joe De Santis score here, while sexy Jacqueline Beer, of WB's 77 Sunset Strip does a nice French accent. Catherine Kuttner's The Mountain is a fairly familiar outing about a fugitive on the run (with a nice twist being he's aided by his Indian wife), benefiting from Hutchins' watchful performance here (given the overall quality of the scripting this season, it's not surprising he's consistently quite good in a tough role). The Twister is another relatively familiar outing--an outlaw brother returns to settle up with his not-so-good-as-he-seems brother--made entertaining by solid performances from Don Dubbins and Fred Beir (good action finale with the tornado, too). Scripter James Gunn takes the often-used "besieged cavalry fort" scenario and comes up with a solid entry: The Vultures, featuring Richard Long in a good turn as an educated officer accused of desertion (Tom gets to act like a real lawyer for once in Long's court martial...and naturally he does quite well!). The Avengers, from scripter Lowell Barrington, is another tense, "spook house" mystery, where Tom and a group of strangers are holed up in an abandoned inn which sports a hidden gold mine. Lots of creepy, atmospheric shots and touches (naturally, it thunders and lightnings every time someone makes a revelation), with an excellent cast (sexy Dorothy Provine is back, and Luana Anders makes an impression as the almost-feral "Princess"). Small Hostage, from Polly James, shifts awkwardly from a mild actioner (Roberto Contreras is looking for guns for Juarez) to a family comedy/drama (grumpy Robert Warwick resisting Jay Novello's and Joan Lora's efforts to foist little Gary Hunley on his as his grandson). Not too successful. Finally, this season ends strong with the effective Wolf, from scripter Milton S. Gelman, which finds Tom caught in the middle between an indulgent (or is it dismissive?) town and petty thief William Fawcett. Some interesting conflicts here, including whether or not Tom is going to "back down" in the face of Fawcett's gunslinger son, Wright King (as usual for this show, the writers are quite clever in keeping Tom innocent...and tough). Terrific cast; always good to see pro heavy Ted de Corsia, while who knew little Judy Nugent from Magnificent Obsession would turn out to be so quirkily sexy (Hutchins seems to be having a lot of fun with her; their chemistry is great).
The DVD:
The Video:
The fullscreen, 1.37:1 black and white transfers for Sugarfoot: The Complete Second Season look quite good: sharp image, reasonable blacks, good gray scale, nice contrast, and few imperfections like scratches or dirt.
The Audio:
The Dolby Digital English mono audio track is fairly clean, too, with a decent re-recording level. No subtitles or closed-captions available.
The Extras:
No extras for Sugarfoot: The Complete Second Season.
Final Thoughts:
Another assured, polished Warner Bros. oater from the golden age of TV Westerns. Sugarfoot's hook--Tom Brewster tries to solve his problems first with a law book rather than that handy pistol and rifle--is a good one, particularly since star Will Hutchins is so adept at getting across Brewster's innate goodness...and well as his playful good humor. A winner all the way down the trail. I'm highly recommending Sugarfoot: The Complete Second Season.
---
Paul Mavis is an internationally published movie and television historian, a member of the Online Film Critics Society, and the author of The Espionage Filmography.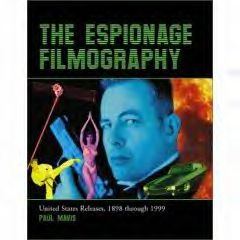 ---
C O N T E N T

---
V I D E O

---
A U D I O

---
E X T R A S

---
R E P L A Y

---
A D V I C E
Highly Recommended
---
E - M A I L
this review to a friend
Sponsored Links
Sponsored Links