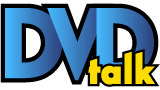 List Price: $29.98 [Buy now and save at Amazon]
---
The Movie:
"What really matters is what you like, not what you are like."
This quote from High Fidelity pretty much sums up the whole premise of A Case of You. Sam (Justin Long) is a writer looking for inspiration (oh no) who gets a crush on a barista (oh god) and decides the best way to win her is to pretend to like the things she likes (oh... really?). Using her Facebook profile as his guide, he decides to reshape himself (at least superficially) based on the things she has chosen to champion online.
Hilarity (sort of) ensues.
The first half of A Case Of You is often quite intolerable. I mean, I know that romantic comedies are like horror movies in that often the characters are beside the point and we just want to get to the kissing or killing, but... come on! A writer!? Trying to write his first big personal statement!?! The script is credited to Long, his brother Christian, and one of the film's co-stars Keir O'Donnell, and I hope that this incredibly clichéd set-up is not their idea of a big personal statement. Even naming the movie after a Joni Mitchell song (that has pretty much bubkes to do with the story) feels like an indie-movie cliché.
It doesn't help that the object of Sam's affection, Birdie (Evan Rachel Wood), isn't shown to have much of an interior life of her own -- just what she chooses to post on Facebook. She's not quite full-blown Manic Pixie Dream Girl -- her character doesn't have quite enough Deschanel-ish whimsy for that -- but over the course of the film, we learn basically that she's the child of hippies who likes to dance and sketch caricatures in the park for funsies and will eat ice cream outdoors in winter. Other than that, she mostly just reacts to Sam. She seems to really like him, which makes Sam dread the moment when the other shoe will have to drop and he lets her know that he's been lying about what he likes.
The filmmakers, including director Kat Coiro, probably understand quite well that this is a bit thin to rest a whole movie upon, so the periphery is peppered with ringers in supporting and glorified bit parts. Peter Dinklage is probably all anyone is going to remember about this movie a couple of months from now. He plays a lazy, flirty, gay barista -- which probably sounded awful on paper, but is utterly hilarious in Dinklage's hands. Sam Rockwell is also way too qualified to be in this movie, but he makes a fun appearance as Sam's Spin Doctors-obsessed guitar teacher. Vince Vaughn plays Sam's oddly affectionate book editor, in a performance that might rank as his most enjoyable in about a decade. Sienna Miller, A Christmas Story's Peter Billingsley, and 30 Rock's Scott Adsit all make brief appearances, because they must have owed Justin Long favors or something. Oh yeah, and Brendan Fraser shows up as Birdie's briefly threatening then quickly forgotten ex.
Against the odds, around halfway through the movie, A Case of You becomes quite watchable. Instead of struggling to come up with funny affectations for Sam to put on based on Birdie's Facebook, the script just lets the characters open up to each other a bit. Keir O'Donnell and Busy Philipps, as Sam's roommate and his girlfriend, nicely act as sounding boards for Sam, trying to get him to realize that Birdie might actually like him -- like, the real him, and not a compendium of objects and activities that got kudos on the internet. Then, the film takes an interesting turn during its late scenes, as the issue becomes Sam accepting himself and realizing that Birdie has been accepting him the whole time. This is one place where the flick meaningfully gets away from romantic comedy clichés, and we're not forced to watch the hero somehow concoct a big gesture to make up for the web of lies he's been spinning for the past 75 minutes. It's a refreshing enough change-up of the formula that one wishes that the writers had tried to do a little more of that in the first three-quarters of the movie.
The Blu-ray
The Video:
The AVC-encoded 1080p 2.40:1 image is quite good for an indie flick. The color palette has a muted, wintry feel to it, with a lot of beiges and browns. The movie was shot digitally and it has a clean, clear look with lots of fine detail. I spotted only two brief issues with banding and compression noise, and otherwise it looks like a spot-on transfer.
The Audio:
We get either an English DTS-HD MA 5.1 audio track or an English LPCM 2.0 audio track. They both serve the film perfectly well. The 5.1 handles the music cues a lot better, giving them real movie-theater heft. But otherwise, it's a pretty talky movie that sounds good in either iteration. There are also English SDH and Spanish subtitles.
Special Features:

Final Thoughts:
A pretty forgettable romantic comedy, despite admittedly charming leads and a cavalcade of noteworthy appearances in the smaller roles. If you're not a romantic comedy person, don't hesitate: skip it. If you love romantic comedies so much that you're not bothered by non-stop clichés, Rent It.

Justin Remer is a filmmaker, oddball musician, and frequent wearer of beards. His new album, Dream Journal, is now available to stream or download on Bandcamp, Spotify, Amazon, Apple, and wherever else fine music is enjoyed.
Sponsored Links
Sponsored Links