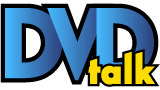 Devo - The Complete Truth About De-evolution
List Price: $14.95 [Buy now and save at Amazon]
---
The Movie:
When you think back on the history of the music video, it's clear that Devo was one of the first bands not just to embrace the concept but to use it to create something more than just advertisements for hit singles. Devo's videos, much like their music, were weird. They experimented with their videos the same way that they experimented with their albums and the added visuals really helped to 'complete' the Devo experience. Strange costumes, colorful energy domes, bizarre (even frightening masks) and subversive imagery all blended together over top of the drums and the keyboards and the vocals that made up the band's trademark sound and as such, in their prime, they managed to crank out some of the best (or at the very least, some of the most memorable) music videos of all time. And here they are, all more or less gathered together for your viewing enjoyment on the DVD release of Devo: The Complete Truth About De-Evolution, re-issued on DVD from the good people at MVD Visual after originally debuting on laserdisc and then on DVD from Rhino.
What impresses the most about the material compiled here is just how ridiculously creative these guys got when working out and executing on the concepts that they came up with for their videos. Nothing here is what most would consider normal, it's all completely off the wall and done with a genuinely bizarre sense of humor but at the same time the way in which sound and vision collide here is wonderfully eclectic.
Of course, the iconic and instantly recognizable stuff is here (Whip It and Jocko Homo being obvious examples, Secret Agent Man and Freedom Of Choice as well) but also worthwhile and helping to round out this collection nicely are some more esoteric and less obvious selections like The Theme From Doctor Detroit (this was missing from the previous DVD release) and the weird Rock Schenck Remix of Post-Post Modern Man. These tracks make this more than just a 'greatest video hits' type of release and instead turn this into a more thorough and methodically compiled collection.
So the bulk of the material on the disc is made up of "Featured Songs" that are laid out in chronological order as follows:
Devo Corporate Anthem / Secret Agent Man / Jocko Homo / (I Can't Get No) Satisfaction / Come Back Jonee / The Day My Baby Gave Me A Surprise / Worried Man / Whip It / Girl U Want / Freedom Of Choice / Through Being Cool / Love Without Anger / Beautiful World / Time Out For Fun / Peek-A-Boo / That's Good / Theme From Dr. Detroit / Disco Dancer / Post-Post Modern Man / Post-Post Modern Man (Rock Schenck Remix)
Just like the Rhino DVD release that's been out of print for a decade or so, this reissue is also missing the R U Experienced cover (which was included on the original Laserdisc release). That omission notwithstanding (and we're going to place the blame for it squarely at the feet of the Hendrix Estate, not Devo or MVD Visual), this is otherwise a whole lot of Devo in their prime and at their best.
The DVD

Video:


The footage that makes up this release is presented in its original 1.33.1 fullframe aspect ratio, as it should be. Quality is okay. Not mind blowing, but okay. The stability and detail in the image varies from one video to the next but generally speaking they're softer than you might want but perfectly watchable.
Sound:
You've got the option of spinning a Dolby Digital 2.0 Stereo mix or a Dolby Digital 5.1 Surround Sound mix, both sound pretty good. The 2.0 is more authentic while the 5.1 track spreads out into the rear channels a bit here and there but remains fairly front heavy. The stereo sounded better here, just more suitable to the material but the surround remix is there for those who want it.
Extras:
The extras on the disc start off with a commentary with Mark Mothersbaugh and Gerald V. Casale (recorded separately and then edited together) for each of the promo videos included on the disc. This is a pretty interesting supplement as it goes into quite a bit of detail not just in regards to the themes and ideas that the band was exploring in these videos but additionally the entire de-evolution concept that was running through much of their work at the time. Mothersbaugh has more to say than Casale but both participants offer up some interesting information here and if you're a fan, this track should be considered mandatory listening.
Additionally, the disc also contains a wealth of live footage shot throughout the band's illustrious career which is made up of sections called Early Live Gigs. Just like it sounds, this is a collection of songs from three separate shows from the early part of the band's career. Also worth checking out are footage from The Gates Of Steel from the (Live 1980 DVD), Uncontrollable Urge (from the Live In The Land Of The Rising Sun DVD) and Mongoloid (Sundance 1996).
We also get a separate three minute interview with director Chuck Statler in which he talks about his involvement with the band, and the Mongoloid short film by Bruce Conner. The Kindred Spirit clip with Timothy Leary is here, as are the Laserdisc Production Credits and color bars features carried over from the first release way back when. There are also some massive galleries detailing Devo promo photos, their discography and more. The Miscellaneous De-evolution section is, as it implies, a collection of 'stuff' that didn't really fit in with the other collections. Menus and video selection are also included on the disc.
Final Thoughts:
Devo: The Complete Truth About De-Evolution gathers together an absolutely massive collection of the band's best material and, by way of the revealing commentary tracks, presents it with all the context you could hope for and a score of related supplemental material. The inclusion of some new bits and pieces here may or may not be enough to inspire a double dip for those who have the older Rhino disc, but otherwise, if you're a Devo fan, consider this essential.
Ian lives in NYC with his wife where he writes for DVD Talk, runs Rock! Shock! Pop!. He likes NYC a lot, even if it is expensive and loud.
---
C O N T E N T

---
V I D E O

---
A U D I O

---
E X T R A S

---
R E P L A Y

---
A D V I C E
Recommended
---
E - M A I L
this review to a friend
Sponsored Links
Sponsored Links