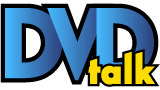 Love Bug: Special Edition, The
List Price: $29.99 [Buy now and save at Amazon]
---
The Movie
As I write this review, the mammoth summer blockbuster The
Matrix Reloaded has just been released to theaters, and for all of its
high-falutin' big budget production values, state-of-the-art special effects gimmickry,
and whackadoo Philosophy 101 ruminations, the movie still cannot compete with
the thoroughly sincere musings of one Tennessee Steinmetz in Disney's charming The
Love Bug, who explained the symbiotic relationship between man and machine
as follows:
"I see things like they are. I coulda told you all this was comin'…
it's happening right under our noses and we can't see it. We take machines and
stuff 'em with information until they're smarter than we are. Take a car. Most
guys spread more love and time and money on their car in a week then they do on
their wife and kids in a year. Pretty soon, you know what? The machine starts
to think it is somebody… Contrariwise, the traffic light down the street
hates my guts. I don't know why. But in the last six weeks I haven't caught
anything but a stop signal. It makes me wait six seconds longer than anybody
else! I timed it!"
There's nothing like 99.44% pure truth from Buddy Hackett.
From the 1950s through the Seventies, Disney ruled the roost
when it came to wholesome, fun-for-the-whole-family films, and the family
classic The Love Bug is no exception. The film, which featured a spunky Volkswagen
Beetle with a mind of its own, was a smash hit when it was initially released, eventually
becoming the number one box-office hit of 1969 and spawning a gaggle of
sequels, a television movie, and a short-lived TV series. Looking at the film
three-and-a-half decades after its release, it's not difficult to see why this
silly little film was so beloved. Dean Jones (a Disney film regular) and
Michele Lee made for a pair of likable, attractive leads. Buddy Hackett was a
scream as the humorously spiritual mechanic Tennessee Steinmetz, and David
Tomlinson (another Disney regular) commanded the screen with his delectably villainous
turn as the evil Thorndyke.
But let's get real, shall we? The real star was Herbie, the
little car with a ton of heart and endearing personality. Yes Virigina, the
white Volkswagen with the 53 painted on the side stole the hearts of movie-going
audiences everywhere, and with good reason: his tale was universal. Here was
this poor little unwanted car on a search for acceptance and identity, to belong and to be
loved. With that kind of earnestness and simple human truth, Herbie's personality
and character resonated with everyone. I was a kid of the 1970s, and I remember
that Herbie's appearance at a 1976 Disney On Ice tour brought the roof
down. Take that, Bullwhip Griffin!
What makes the film transcend its gimmickry is its goofy
honesty. It's clear from Frame One that the cast and crew set out to make a
fun, entertaining movie without taking themselves seriously for a moment. The
human leads are charismatic and enjoyable especially in light of the film's
mechanical main character: compare them to, say, the actors in Pete's Dragon.
Even the romance between Jones and Lee doesn't seem forced and labored, as if
the filmmakers screamed "We need a romantic hook here! You know… for the
grown-ups!!" Throw in some exciting racing scenes, special effects, shameless
pulling of the heartstrings, the ethical implications of automotive suicide, the
inimitable vocal stylings of Buck Owens, a scene-stealing bear, dated hippy
humor, and wrap it up in a Technicolor bow, and you have a film that's
impossible not to love. The Love Bug may not be not a film classic, but it's
definitely a classic family film.
Disney's The Love Bug: Special Edition DVD is the
spiritual heir to their now-defunct Vault Disney line: a two-disc
special edition that features a fantastic presentation of the film and a load
of supplemental material that will satisfy fans everywhere.
The DVD
Video:
The Love Bug looks really, really lovely. The film is
presented in a 1.77:1 aspect ratio and is anamorphically enhanced. I was
slightly worried during the opening credit sequence, as the film begins with
stock footage of stock car racing. The grainy, shaky appearance is intentional.
When the film proper begins, you are treated to a very pleasing transfer. The
colors are solid and consistent, with natural flesh tones and a lush palette
throughout. Images are sharp and clear, with excellent definition and detail.
The one exception is an establishing shot of a Chinese New Year parade, which
is excessively soft and hazy (again, this looks like stock footage, so this is
most likely intentional). Contrast levels are spot-on, with excellent depths of
brightness and black levels. Shadow details are pleasing, generally solid but
with occasional loss of definition. Grain structure is evident throughout the
movie. Compression artifacts and haloing are minimal to non-existent. Some
flaws on the negative are somewhat pesky; there is some speckling, debris, and
scratches on the transfer that often stand out. These are neither excessive nor
distracting, but they do mar the otherwise wonderful presentation. Overall,
this film looks pretty wonderful. I've seen The Love Bug dozens of times
over the last thirty years, and it's never looked better.
Audio:
The audio has been remixed into Dolby Digital 5.1, and the
result is generally pleasing if somewhat unnecessary. The front soundstage is
primarily employed in the audio presentation, utilizing much of the center
channel with occasional separation in the fronts. Surrounds are used sparingly
and mostly to highlight the peppy, surf-pop score. Dialog is clearly
represented, without hint of distortion or hollowness. Overall this is a good
representation of the original soundtrack.
The Extras
Strap on your racing helmet, let's get started on these
extensive Special Edition supplements!
Disc One:
A delight from start to finish, the feature-length audio
commentary showcases the films three leads: Dean Jones, Buddy Hackett, and
Michele Lee. Make no mistake, this is one of the best commentaries I have heard
in awhile. Jones and Hackett are a pair of cut-ups, but provide a wealth of
humor and background information in the creation of the film. The pair joke
around a lot, but it is readily apparent that they harbor a great deal of
affection for the movie. Lee was recorded separately from the other two, but
holds her own as an informative, entertaining presence. Yes, those were her
legs underneath that sign.
Next up is the short cartoon Susie: The Little Blue Coupe.
Running over eight minutes in length and narrated by Disney legend Sterling
Holloway, the cartoon is slight but charming, and thematically apropos to this
Special Edition (it features a "live" little coupe and her owner). The cartoon
is in fairly good shape, too, and makes for a nice addition to the set. Sneak
Peaks offers a video preview for designated "Disney Family
Favorites". The Register Your DVD DVD-ROM link allows you to "register"
your "DVD" with "Disney", if you are so "inclined." Finally, Disc One finishes
up with the standard THX Optimizer, which might be good in a pinch but generally
should not be used to calibrate your home theater equipment.
Disc Two:
Thank heavens Disney decided to keep their "Vault Disney"
style of presenting DVD bonus material – I absolutely loved the interface on
their previous discs, and the fact that it's here on The Love Bug just
fills me with nakhus the likes of which could float the Queen Elizabeth.
The Vault is divvied up into numerous sections and sub-sections, so if you get
lost fire up a flare and we'll find you.
That Loveable Bug is a forty-three minute documentary
that celebrates all of the glory of glories that is Herbie. Original cast members
Dean Jones, Michele Lee, and Buddy Hackett share their thoughts and memories of
the film. The documentary also details the creation of the film, how the script
was brought to Walt's attention before his death and how the film was made a
reality afterwards. Did you know that they almost cast a Toyota as Herbie?
(Well… now you do.) The film also went through several title revisions,
including such ungodly and revolting titles as "Boy/Car/Girl", "The Magic Volksy",
and "Beetlebomb" (*shudder*). Roy Disney lends his recollections, as well as
various other Disney archivists and historians. The extensive special effects and camera trickery are explored in delightful detail. This is a wonderful
behind-the-scenes look at the creation of this movie, and is great fun to
watch.
The Many Lives of Herbie is a thirteen-minute featurette
that details the various promotional schemes that were cooked up in order to
spread the word of Herbie to the masses, and looks at the numerous film and
television sequels that featured our lovable German friend. The featurette gets
extra kudos for featuring the great Don Knotts, whose comic genius helped make Herbie
Goes To Monte Carlo so splendiferous!
Herbie Mania runs for six minutes and showcases various
Herbie fans, those who have loved the movie so much that they have bought
vintage Volkswagen Beetles and created their own "Love Bugs."
Lost Treasures features an eight minute featurette
entitled "The Search For Herbie", in which Disney Film Archivist Hugh Chitwood
discusses the various Herbies used in the making of the films. Chitwood talks
about the consistent Herbie features as well as many of the Herbie derivations
throughout the films (different color sunroof, location of the gas cap,
placement of the 53, etc.) Even Dean Jones, the owner of one of the Herbies
used in the first film, is featured (although he quickly runs offscreen when he
spots the camera!) A fun addition.
Love Bug Production Archives is quite the treasure
trove. The Galleries section contains production photos, concept art,
and storyboards used in the films creation. There are also still frame
reproductions of the Love Bug comic book, biographies of the cast and crew,
film posters, merchandising examples, publicity materials, and reproductions of
the film's original press book, production documents, and excerpts of the
original screenplay which allow you to read the script as well as watch the
scene. The Production Gallery is a three-minute montage of production art,
storyboards, frames from the film and behind-the-scenes photographs. The Behind-The-Scenes
Promo is a five-minute promotional video from the film's initial release. Love
Bug Day At Disneyland was celebrated on March 23, 1969, in which hundreds
of Volkswagen "Bugs" congregated upon Anaheim. This eleven-minute video
showcases many of the decorated bugs that showed up for the celebration. The
Man Who Gave Herbie His Voice is an eight-minute video about the sound
design utilized in the film. There are also two Deleted Scenes: "Used Car Lot"
& "Playground", but footage of these scenes no longer exist. As a
result, the scenes are presented utilizing production stills, storyboards, and
script pages. Also included as well are the film's Theatrical Trailer
and DVD Credits. Finally, the Audio Archives contain original radio
spots from the film, as well as two unique "Sound Studio" options. The Sound
Studio allows you to listen to various layers of audio that make up the final
composite of a scene. You can use your removes "Audio" button to toggle through
the various elements, including dialog and effects, as well as the final
composite. Two scenes are included in this extra: "Herbie on the Rocks" and "Thorndyke
and the Bear".
1969 Disney Studio Album is a video timeline that
showcases all of Disney's feature-film, television, and theme-park events of
that year. In case you're interested, The Love Bug shared silver screen
time with The Computer Wore Tennis Shoes, while at the same Disneyland's
"Haunted Mansion" opened and construction began on Walt Disney World. A sweet
treat for Disney buffs.
Final Thoughts
This is the kind of DVD set that makes being both a Disney Geek
and DVD Freak so enjoyable. The Love Bug is a silly, charming, and fun
little movie with a solid message about love and acceptance, the type of film
that appeals to pretty much everyone across all age levels. Herbie is a
delightful character who has become something of a Disney icon – just seeing
that 53 and those painted red, white, and blue stripes evokes a ton of
nostalgia from me, which made returning to The Love Bug such a pleasure.
If anything, The Love Bug is a gentle (if firm) reminder of what Disney
could always do better than anyone: balance safe, family-friendly and
non-offensive stories with charm, humor, and style.
The Love Bug: Special Edition falls into line with
the rest of Disney's two-disc Special Edition sets, which is to say that it is
beautifully presented, thoroughly researched, and one heck of a fantastic value.
Let's start with the presentation of the movie itself, which is excellent. The
transfer is eye-popping and better than it has ever looked. Throw in some
exhaustive extra material, including a wonderful commentary, a thorough making-of
documentary, several bonus featurettes, radio spots, production and promotional
material, and more, and you have another triumphant Special Edition from the
House of Mouse. The Love Bug: Special Edition gets my highest
recommendation!
---
C O N T E N T

---
V I D E O

---
A U D I O

---
E X T R A S

---
R E P L A Y

---
A D V I C E
DVD Talk Collector Series
---
E - M A I L
this review to a friend
Sponsored Links
Sponsored Links