Glory Brigade (Fox Cinema Archives), The
List Price: $19.98 [Buy now and save at Amazon]
---
"You'll Never Love So Hard In Your Life... as these hard-hitting guys hit the dirt... and come up fighting!"
Tame, rather broad race-based Korean War actioner. 20th Century-Fox's Cinema Archives line of hard-to-find cult and library titles has released The Glory Brigade, the 1953 war movie from Fox, directed by Robert D. Webb, and starring Victor Mature, Alexander Scourby, Lee Marvin, Richard Egan, Nick Dennis, Roy Roberts, Alvy Moore, Russell Evans, Henry Kulky, and Frank Gerstle. Bending over backwards to present a picture of U.N.-sanctioned harmony among its international forces (...or forwards, if you take into account all that officially-sanctioned U.S. military hardware and personnel), The Glory Brigade takes a potentially complex situation--American units distrustful of their foreign U.N. comrades, and vice versa--and turns it into a facile, superficially entertaining "men on an impossible mission" war adventure. No extras for this okay black and white fullscreen transfer.
Korea, 1952, south of the 38th Parallel. Lieutenant Sam Pryor (Victor Mature) of 1st Platoon "Able Company," 33rd Combat Engineers, having just blown a pontoon bridge that "Able" built the day before, isn't surprised to hear that another major offense has been planned by the U.N. forces. A brigade of Greek soldiers need to be escorted up river to reconnoiter possible fortified defense positions of the Reds, 72 hours prior to the U.N. massed assault. When Lieutenant Jorgenson (Stewart Nedd) expresses doubt about his men's willingness to fight alongside the Greeks, Lieutenant Pryor steps up and volunteers his platoon, asserting to Major Sauer (Frank Gerstle), that his men don't have problems with Greeks...since Pryor's old man was a Greek himself. Telling his men that they'll be under Greek command, while proudly extolling the virtues of the Greek fighter, Pryor is doubly proud when he meets his new commanding officers, Captain Charos (John Verros) and Lieutenant Niklas (Alexander Scourby), who are delighted to be working with an American officer who speaks their language. Problems with the operation begin right away when many of the units' inflatable boats are damaged, forcing Pryor to abandon all heavy weapons to make room for both the American and Greek forces in the river crossing. Once at their destination, the Greek unit departs; later, the American force repulses an enemy attack. Afterwards, they spot several Greeks meekly surrendering to Red soldiers, and later, they discover the remainder of their platoon, returning for the heavy weapons, was wiped out at the beachhead. When Lieutenant Niklas returns with 20 or so men--with suspiciously clean bayonets--the Americans instantly believe the Greeks to be cowards. Now a contemptuous, guilty Lieutenant Pryor takes command, as he battles the Reds--and the Greeks...and himself--back to H.Q. before the Reds can unleash a surprise attack on the U.N. forces.
Shot extensively at the U.S. Army Engineer training post at Fort Leonard Wood in Missouri, The Glory Brigade certainly features a lot of shiny, new U.S. military materiel, including a 460-foot floating pontoon bridge built especially to be blown up for the movie, along with real-life soldier extras, as well as assorted trucks, tanks, large and small arms, and several mint "eggbeater" helicopters for the movie's rousing finale. Now...with all that expensive hardware on display, courtesy of the cooperative U.S. military...did you really think The Glory Brigade was going to conclude that any potential race-related problems encountered by its U.N.-stationed troops would prove to be insurmountable? Of all of America's major wars, the Korean "conflict" has to be one our most under-represented in movies (throw in the Spanish-American War, and the Revolutionary War, while you're at it...). The public's distinct lack of enthusiasm for Korean "police action" movies in the 1950s was about on par with its interest in that bloody, terrible war in general, so it's not surprising when one finds it difficult to name even a dozen of them in total, let alone identify a few as genuine works of "art," as opposed to the myriad number of artistically important WWII movies (if you want to make a case for the virulently anti-American television series, M*A*S*H...then it's a one-side argument).
Despite the small number within the genre, I doubt The Glory Brigade will make any "best of" Korean War movie lists any time soon. First and foremost, as scripted by Franklin Coen (This Island Earth, The Train, Alvarez Kelly), The Glory Brigade isn't even about the Korean "conflict," per se; it doesn't mention the South Koreans the American and Greek forces are fighting for (we never see them, civilian or military), nor the politics involved in the struggle against worldwide Communist aggression. Rather, The Glory Brigade seems to be about one very small issue: Victor Mature's ambivalence about his Greek heritage. According to The Glory Brigade, race relations between whites and blacks in the U.S. Army has already been solved with integration: there's one black soldier in the ranks, and he's depicted as just another dog face. As for the soldiers' reticence to fight alongside the Greeks--the premise that underpins the entire plot--it's presented in the most superficial way, with no context given between the two cultures...nor, for that matter, an in-depth look at either culture. The American soldiers think the Greeks are "funny" for dancing around and playing music during off-hours, and the Greeks, we're told (by an always smiling, sympathetic Greek soldier, so the viewer doesn't get too mad), don't like the American soldiers for not liking them. That's about as deep as the mud gets in The Glory Brigade, where the feel-good message--Greeks are good fighters, and we Americans should be proud they're on our side against the evil Reds--is a fine one...but entirely devoid of any real impact, since it's so superficially presented, and even more ridiculously "solved" (Mature realizes he's a self-conscious bonehead with his own identity problems, and offers the wronged Scourby a slap-on-the-back apology: international relations mended).
Good thing there's some action here. Director Robert D. Webb could be iffy with his genre outings, delivering the unpretentious goods (Seven Cities of Gold, Love Me Tender, Guns of the Timberland, The Jackals), or muffing it (another misadventure in race-themed adventure, Beneath the 12-Mile Reef, Seven Women from Hell, The Cape Town Affair). In The Glory Brigade, inbetween the talking, he does manage to score a Sgt. Fury-like comic book feel to the reasonably dynamic action scenes--perhaps expected of Webb, considering all of his second-unit work. Aided by cinematographer Lucien Ballard, Webb keeps the action simple and to the point; the opening bridge assault is a model of efficient action direction (the optically-printed "shakes" to the camera, whenever there's an explosion, are fun), while the final ridge assault and helicopter rescue, while too abbreviated (I'm guessing the budget finally ran out), is nicely paced (even when he stays quiet, he's good--there's a terrific moment where the boats first go down the river, in absolute silence, as Mature and men listen carefully as muted enemy voices on the shore fade in and out. Nice.). Performances are about what you'd expect here. I'm never shy about singing Victor Mature's praises, but even I get annoyed at his overemphatic preening at the beginning of the movie, whenever someone says something positive about the Greeks (it's almost laughable the way he turns and smiles, as if to say, "See? I told you they we're the greatest..."). Once he gets bigoted and self-loathing, though, he's in fine form, while Scourby and Lee Marvin make equally-noted impact just by underplaying to the agreeably broad Mature. Subtle The Glory Brigade isn't, nor is it particularly deep or meaningful, nor even passably "important." However, it does get on with it quickly enough, before we realize how little it all adds up to in the end.
The DVD:
The Video:
The fullscreen, 1.37:1 black and white transfer for The Glory Brigade looks just okay, with a bit of grain and video noise, a generally sharp image, and some contrasty moments during some of the more blown-out sequences.
The Audio:
The Dolby Digital English mono audio track is equally just acceptable, with low-to-moderate hiss that doesn't really distract. No subtitles or closed-captions.
The Extras:
No extras for The Glory Brigade.
Final Thoughts:
Disposable entertainment posing as something important. No doubt Darryl Zanuck and even perhaps Greek-born Fox prez Spyros Skouras may have thought The Glory Brigade would provide a chance to "send a timely message" within the framework of a B-Korean War movie. Maybe...if that message was, "Everything's jake in the U.N. forces." The action's okay. For genre fans, and Mature enthusiasts ("The only thing 'mature' means to me is "Victor Mature,"), I'm recommending The Glory Brigade.
---
Paul Mavis is an internationally published movie and television historian, a member of the Online Film Critics Society, and the author of The Espionage Filmography.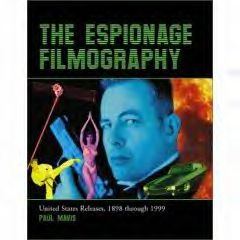 ---
C O N T E N T

---
V I D E O

---
A U D I O

---
E X T R A S

---
R E P L A Y

---
A D V I C E
Recommended
---
E - M A I L
this review to a friend
Sponsored Links
Sponsored Links