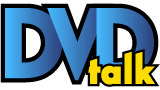 List Price: $24.97 [Buy now and save at Amazon]
---
The Movie:

The haunted house. It's an enduring and iconic idea in the horror genre. Over the years, haunted house stories have been told well and poorly. They say the book is always better than the movie, and generally that's true. But when the author is Richard Matheson, and he adapts the screenplay himself, from his novel Hell House, the result can be pretty compelling. In 1973, The Legend of Hell House came out, and set a high bar for quality for all its imitators to follow.



Clive Revill plays Dr. Lionel Barrett, a physicist and psychical researcher, hired by an old and wealthy man to discover whether there is such a thing as life after death. He will do this by spending a week in Hell House, shut up for years, formerly owned by the notorious Emeric Belasco, who hosted parties with all manner of unsavory and debauched activities. At his last party, he bricked up the windows and locked all the doors, and later all the participants were found dead. Except for Belasco, whose body was never found.



Joining Barrett in his week stay at Hell House are his wife Ann (Gayle Hunnicutt), naïve mental medium Florence Tanner (Pamela Franklin) and the last surviving member of the last team to try to investigate the house, physical medium Benjamin Fischer (Roddy McDowall).



The film is fairly dripping with atmosphere. It's got all the usual stuff: black cats, whirling fog, gothic architecture, cobwebs draping the furniture, and more. Director John Hough knows how to slowly build tension, and how to tweak the audience without getting exploitive and brash. A lot of the tension comes from the personalities of those involved. Barrett is strictly a scientist, who doesn't believe in the supernatural per se, but rather as yet unexplained energies. While Tanner believes that the spirit of Belasco's son is communicating with her, and causing much of the poltergeist type activity they're seeing. Fischer is just there for his money, and wants to sit quietly, do nothing and collect the cash.



The performances are all stellar, but McDowell particularly stands out. He is by turns meek and gun shy, then operatically expressive, then determined and courageous, and it all makes sense and flows perfectly. He knows exactly the right tone to set, hovering between melodrama and absolute seriousness. The interactions between all the actors are natural and effective. These are trained professionals, and it shows. Tanner and Ann Barrett both undergo something of a mental decline during their week at the house, and Franklin and Hunnicutt are well up to the task of depicting the slide from confident, intelligent women to… something else.



While the exteriors were a couple of real houses, the interiors are mostly sets, and they are gorgeously put together. Every cobweb and layer of dust carefully set just so. It is very easy to believe that we're looking at the real interiors of a real mansion in the hinterlands of England. Hough even mentions in his included interview how the costume designer and set designer worked together so that the costumes would either complement or contrast with each other. This kind of thoughtfulness and attention to detail make this a great looking film.



And of course, the big question: is it scary? It is, though not in the standard jump scare type of way, though there are a couple of surprising moments, and the film is not afraid to be a little crazy when it needs to. Legend of Hell House depends more on atmosphere and prolonged tension, broken by moments of chaotic violence, which include furniture flying across a room and an attack by a crazed cat. There are a couple of moments of slight cheesiness, such as the hand animated ectoplasm that oozes out from Tanner's fingers during a séance, but these serve more as a nostalgic reminder of how they had to do things in the seventies. All of the effects are practical. And, in fact, there are some that it's difficult to figure out how they accomplished, particularly the figure under the covers of Tanner's bed, which is not there when she whips off the covers, all seen in one, uncut shot.



Legend of Hell House is all around an excellent film, and Shout Factory has done an excellent job of presenting it here, with some cool extras and a very good looking transfer. If you're a fan of haunted house films, or just good cinema in general, be sure to seek this out. I'm calling this one a DVD Talk Collector Series disc.



The DVD


Video:

The image is 1.85:1 widescreen, and looks great. You would expect a film from this era to have lots of scratches, lens dirt, etc., but this kind of thing is almost entirely absent. There is some grain, and at least one section, just a few seconds long, where the quality is much lower than the rest of the print. But overall, the presentation is excellent, with rich colors, and shadows that are deep but don't obscure the action.



Sound:

The audio is DTS HD Master Audio 2 channel, and sounds pretty good. There are a lot of soft, disembodied voices, whispering sighs, and half heard movements here. Sound plays an important part of the mood of the film, and it is presented well. English subtitles are included, but no alternate language track.



Extras:

There are a number of extras, including a theatrical trailer, photo gallery and some cool old school radio spots. But the two most substantial and interesting extras are the interview with John Hough, the film's director, and the commentary from Pamela Franklin, who played Tanner.



Hough is a very accomplished director, with a long and varied career, and he tells plenty of anecdotes, about Legend of Hell House and other of his films, such as Dirty Mary, Crazy Larry, Escape to Witch Mountain and its sequel, and even Howling IV. He's a very engaging fellow, and this thirty minute interview is very rewarding.



Franklin's commentary is a bit more problematic. She has some interesting things to say, but she'll often take long pauses, and will have to be prompted by an interviewer, whose questions are mostly edited out of the conversation. She has a lot to say about the production, though, and it's interesting to contrast her thoughts on Hough's directing style with how he thinks of himself.



Final Thoughts:

Legend of Hell House is a very good movie, and not just when compared to other haunted house films, though it is something of an acme for that particular sub-genre. It really is almost flawless, with great performances, sets and effects, and a very effective script from Richard Matheson. This is a classic film, and it's rare to see anything like it these days. Go get this movie.
---
C O N T E N T

---
V I D E O

---
A U D I O

---
E X T R A S

---
R E P L A Y

---
A D V I C E
DVD Talk Collector Series
---
E - M A I L
this review to a friend
Sponsored Links
Sponsored Links