How The West Was Won: The Complete Second Season
List Price: $39.98 [Buy now and save at Amazon]
---
"Well...Oregon ain't goin' anywhere, and you kids might as well see as much of the country as you can, while you're young enough to enjoy it. There's more out here than anybody can see in a lifetime. Why, there's painted deserts and huge trees turned to stone. Canyons a mile deep. And mountains. Why there's mountains with meadows so green it makes your eyes ache just to look at them. Yessir, folks: it's a big country. A real big country. Maybe the greatest country in the whole damn world!"
No, it is the greatest country in the whole damn world, Zeb...it's just not that great of a TV Western. Warner Home Entertainment has released How the West Was Won: The Complete Second Season, a 6 disc, 14-episode collection of the M-G-M Western series' 1978 mid-season run on ABC. Based (in name only, really) on the massive 1963 big-screen Cinerama hit of the same name, ABC's How the West Was Won proved quite popular with 70s family audiences in this first "official" season of the series (more about the show's complicated production history below). Seen today, when it tries to "send a message," it's barely adequate and completely unoriginal. When it's trying to tell a long-form, multi-subplot tale of sex and violence in the Old West...it's barely adequate and completely unoriginal, but perhaps marginally more fun, so.... No extras for these iffy fullscreen color transfers.
Since How the West Was Won: The Complete Second Season is structured like one long 900 minute miniseries, the briefest of summaries is wisest here. The American West, 1968. Mountain man and former scout Zeb Macahan (James Arness), the one the Indians respectfully call "White Eagle," finds himself at Fort Sully, where he's ordered by the Army to lead a band of visiting Russian aristocrats on a buffalo slaughter in the Black Hills--treatied land that Zeb refuses to cross. His nephew, Luke Macahan (Bruce Boxleitner), a hotshot gunslinger on the run for army desertion and murder, catches up with Zeb and informs him that his sister-in-law, Kate (Eva Marie Saint, in the previous TV movies), has died, leaving the young Macahan family stranded in their push westward to Oregon. Zeb returns to nieces Laura (Kathryn Holcomb) and Jessie (Vicki Schreck), and nephew Josh (William Kirby Cullen) long enough to see Kate's sister, Molly Culhane (Fionnula Flanagan), arrive from the East to help out with the family. He then returns to Fort Sully, where he sides with the Indians, led by chief Satangkai (Ricardo Montalban), against the U.S. Cavalry, now led by General Stonecipher (Brian Keith). Luke peels off to a small town where he becomes involved with sexy hellcat Hillary Gant (Elyssa Davalos) and her father, sheriff Orville Gant (Lloyd Bridges), while Zeb moves on to first aid old flame Beth (Vera Miles) and her blind husband (William Shatner), before leading a cattle drive through torturous desert country to bring steers to starving Indians. Meanwhile, Aunt Molly has to fend off the strange, inappropriate attention of Deek Peasley (Harris Yulin); Laura almost becomes a Mormon wife; Jessie befriends Indian brave Teel-O (Ray Tracey); Josh finds love with gorgeous, treacherous hooker Doreen (Kay Lenz); and Luke, after foiling a bank robbery perpetrated by Colonel Jerrod Flint (Richard Basehart), finally faces the music in a frontier court of law.
I was pretty fortunate some years back to see the big-screen version of How the West Was Won at Dayton, Ohio's Neon Movies theater, which at that time had a smaller-in-scale but technically accurate recreation of true 3-panel Cinerama projection (they apparently ditched it some time ago). Even with the technical drawbacks (a somewhat beat-up print; those goofy join lines), it was an impressive experience--the only time I ever watched a 2D "flat" movie that somehow seemed to be in 3D. However, with the exception of the original The Macahans made-for-TV movie that premiered in January, 1976 (which I vaguely remember), I never watched the subsequent 1977 miniseries or the 1978-1979 regular weekly series of How the West Was Won. That original "movie event" The Macahans scored big Bicentennial ratings back in 1976 when it premiered on The ABC Monday Night Movie, just a few weeks before ABC shattered viewing records with its groundbreaking miniseries ("ABC presents a novel for television...."), Rich Man, Poor Man. Smelling similiar miniseries potential in HTWWW's sprawling, flexible, episodic framework, ABC came back the following year--just in time for February "sweeps"--with three movie-length outings of HTWWW, debuting as "special events" on The ABC Sunday Night Movie, beginning on February 6th, 1977. That miniseries also scored a sizeable audience, convincing ABC that HTWWW had regular series potential. One year later, on February 12, 1978, the first of two 3-hour (with commercials, of course) introductory HTWWW telemovies debuted on The ABC Sunday Night Movie, before the one hour "regular" series episodes began running at the Sunday 8:00pm timeslot. The "special event" programming worked again with the Nielsen's. Seeing as how I was equally in love with Valerie Harper and Jack Webb back then, I was either watching Rhoda on CBS (25th for the year) or Project: UFO on NBC (an impressive 19th in the Nielsen's), but far more viewers were catching HTWWW on ABC, making this first "official" go-around for the oater the 11th most popular show on the airwaves for the entire 1977-1978 season.
Watching this first (or second, if you want to get picky) season of How the West Was Won now, after catching up on hundreds of episodes of the very finest Westerns from television's golden age of the oater (the mid-50s to the mid-60s)--everything from Gunsmoke to Bonanza to Rawhide to Zane Grey Theater to The Life and Legend of Wyatt Earp--it's probably best to state up front for all those European viewers who apparently have made a cult out of HTWWW...that it's not all that great of an oater by comparison. Yes, it has some pretty good location work going for it. Yes, it has a minor "sweep" to its storytelling that approximates the lowest denominator of a small-screen "epic." And yes, its performances (with a few notable exceptions, Captain Kirk...) are first-rate. But as far as having anything new to say about the genre itself, or the issues that have become conventions in said Western genre--in this case, the clash between White and Indian cultures--HTWWW is thoroughly routine and familiar: a simple horse opera blown up and puffed up and gussied up to look like an epic, with fancy words and meaningful looks and pauses in an attempt to convey import...where there really isn't any.
That doesn't mean How the West Was Won doesn't deliver the simpler Western goods in an reasonably enjoyable manner. Absolutely key to whatever success this season attains certainly lies in big part with James Arness' anchoring performance. Commanding, authoritative, with a dry, dusty, craggy face to rival the Rockies, Arness' Zeb Macahan is the epitome of the idealized American frontiersman of countless books and movies: superhumanly gifted in the arts of survival (the Indians respectfully believe no bullet has been made that can kill him); resourceful beyond measure in judging each situation--physical or psychological--and knowing exactly what must be done...and then doing it correctly each and every time; fiercely independent, kowtowing to no man or social construct (he sides with the Indians over the U.S. government over their unfair treatment); and preternaturally fair-minded to all, regardless of race, creed, or color. In other words: he's the Terminator and Mother Theresa wrapped up in buckskin. If you're in the mood for a tortured, flawed Anthony Mann Western hero, for instance, you're going to find Arness' Zeb a bit pedestrian. But if you want your mythmaking large and generalized and enjoyably predictable, he's perfect as the kind of uber-wise, cosmically-talented "man of Nature" that inhabited so much of our early native literature and moviemaking (good luck finding him today...).
Equally predictable is How the West Was Won's mid-70s politics (at least when it initially dwells on them): white settlers were for the most part bad by their very act of "being" (of course the Macahans were helpfully left out of that stereotypical generalization), and the Indians were all good, no matter what (no wonder European viewers love this series). The best (or worst) example of this comes in the opening two movies/episodes, where a real-life historical incident--1871's visit by Russia's Grand Duke Alexei Alexandrovich--is turned on its ear into a quasi-remake of Edward Dymtrk's Shalako. In HTWWW, the Russians are sneering aristocrats who view the Indians as subhuman and therefore a non-issue as the Russian royalty poach on the Indians' sacred burial grounds. The Army, as embodied by Brian Keith, condescendingly, paternalistically refer to the Sioux as "our children of the Plains," who are to be initially patted on the head and ignored...before being slaughtered when they get out of line. You can find countless real-life examples of how the Indians were mistreated, abused, swindled and murdered in the history books (and you can also find--if you dig much, much harder--all kinds of accounts of Indian behavior that will challenge the accepted party line about our Native American brethren). However, the fact that HTWWW took this particular incident and turned it into a cliched morality lesson on the evils of Manifest Destiny pretty much makes suspicious any other serious matters the series may have had on its mind...which it really doesn't have, anyway (in truth, Alexei's visit couldn't have been more genial: the U.S. government paid handsomely to hunt on Sioux land...with the Sioux proudly taking part in the hunt to show off their skills). No Indian is a villain in HTWWW (even the renegade Indians who previously--off camera--fought against their brothers return to the tribe when presented with the grotesque evil of Cameron Mitchell's drunken, greedy, lecherous White scout), while the best the White West has to offer is the Macahans and a few persecuted Mormons (today's left-wing liberals watching HTWWW won't know whether to swoon or plotz, given the series' unblemished view of both Indians and Mormons).
How the West Was Won stays on firmer ground when it ditches Western Union and gets melodramatic. Once the one hour episodes begin, emphasis is on developing several subplots that have little or nothing to do with the larger social/historical issues of the opening "movies." We go from Indians being persecuted to the point where Ricardo Montalban commits suicide (a wholly unbelievable attempt at refashioning a proud, fierce Sioux warrior into a benign, self-sacrificing Christ figure), to Vera Miles having headaches, jealous, paranoid William Shatner stumbling around blind, and little girls getting stung almost to death by killer bees (hey, everybody was jumping on the Irwin Allen Swarm publicity bandwagon in '78...). And all of that silliness is fine because at least this kind of pandering, standardized storytelling is honest enough to be straightforward. When Arness heads out into the desert to deliver those cows, we know where it's going to wind up, and that's precisely what happens, with all those "dying in the desert" movie conventions fully met. When Boxleitner stares agape at personal favorite Ed Lauter (RIP) chewing up the scenery something hilarious, it's satisfying because great actor Lauter really means it. He's going balls-out, and he isn't afraid to look silly here. HTWWW stays pretty close to its "family hour" restrictions, but the few times when it starts to stray into Rich Man, Poor Man territory, it's agreeably sexy (both Kay Lenz and Elyssa Davalos score nice turns here, dominating their handsome-but-kinda-dull male leads). By the time How the West Was Won winds down, with criminally unsung actor Harris Yulin stealing the series from Arness with his superlatively creepy, shaded performance as a charismatic/repugnant rapist/scalper, with nicely grim, watchful Boxleitner facing off with Dallas' Dusty (here, a vengeful gunslinger), and with Arness piteously leaving Lauter to die in the desert, HTWWW is firing all rounds in terms of slick, entertaining long-format storytelling. And that's where HTWWW is most "truthful."

The Video:
Problematic. The fullscreen, 1.37:1 video transfers for How the West Was Won: The Complete Second Season are hit and miss. The first two longer movie/episodes look better than the subsequent hour-long episodes, which suffer at times from faded or muddy color, flaring, and lots of dirt and scratches. Video noise is a problem at times, too. Not the best....
The Audio:
The Dolby Digital English mono audio track varies, too, with hiss and level fluctuations. English subtitles are available.
The Extras:
No extras.
Final Thoughts:
Do you want to like something Europeans like? When it quits trying to "say something" and gets on with its melodramatic storylines, How the West Was Won: The Complete Second Season becomes moderately enjoyable...if also entirely predictable and completely unoriginal. Good performances and nice location work do yeoman's work to lift it up, but a rental is best, even for genre fanatics.
---
Paul Mavis is an internationally published movie and television historian, a member of the Online Film Critics Society, and the author of The Espionage Filmography.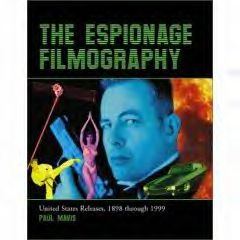 Sponsored Links
Sponsored Links