Ozploitation Trailer Explosion
Other // Unrated // March 11, 2014
List Price: $19.95 [Buy now and save at Amazon]
---
Rest easy: there's not one grating sound bite or disturbing frame of footage of Quentin Tarantino here, thank god--just naked women, car crashes, and assorted beatings, stabbings, and beheadings. Intervision has released Ozploitation Trailer Explosion, a compilation of 65 "jaw-dropping vintage coming attractions of sex, action, & horror from Down Under!" as the cover art screams (quite a few of which were discussed in Mark Hartley's fun 2008 documentary, Not Quite Hollywood: The Wild, Untold Story of Ozploitation!...just minus the yakking here). Containing original trailers from Australia's "New Wave" cycle of moviemaking--specifically, the so-called "Ozploitation" cycle which first sprouted up in the early 1970s showcasing raw sex, violence, and horror elements, Ozploitation Trailer Explosion does exactly what it's supposed to do: wow you for 165 minutes with an unending series of cool exploitation trailers, as you jump back and forth on the net, desperately searching to see how many of them are out on DVD. No commentary, no context, no extras, no nothing: just trailers, all anamorphically-enhanced (many in their original widescreen aspect ratio).
Considering what part of the country I grew up in, I was extremely lucky to have a small neighborhood "art" theatre (formerly a Jerry Lewis Twin that had featured second-run titles like The Omega Man and Arnold) whose owner was dedicated to showing anything that wasn't at the mall cineplexes. Independent and foreign films alternated weekly with obscure exploitation fare, and for a movie-obsessed kid like myself (in those early cable, pre-VCR days), that theatre offered a far more thorough education in "film studies" (yeech) than I ever subsequently received in "film school" (cripes). And certainly when it hit, the "Australian New Wave" was well represented there...although admittedly with a slight delay (the first Oz movie I saw there was probably The Chant of Jimmie Blacksmith in '78), and tilted towards the more "mainstream" offerings, if you will, of the wave. You were much more likely to see "respectable" Oz features like My Brilliant Career, Breaker Morant, or Careful, He Might Hear You there, than say something like Roadgames or Harlequin/Dark Forces (a simple matter of booking availability, I later learned from the manager, not necessarily choice). Those grungier titles I had to later seek out on video and cable, after the "Australian New Wave"--as I experienced it, at least--had seemed to peter out for me (I was leery when Mad Max Beyond Thunderdome bored me in a huge, empty cineplex, and when the fun-but-empty Crocodile Dundee made so much money...but when I saw the big, handsome, and terribly stilted Gallipoli knock-off The Lighthorsemen in '87, I knew it was all over). Lucky for me, as well, that we had a local video store that purchased all sorts of strange, out of the ordinary one-off titles (rather than 84 copies of crap like Top Gun), so I could see "exotic" Australian exploitation titles like The Cars That Ate Paris, The Man from Hong Kong...after seeing it fifty times on Showtime, Mad Dog Morgan, Patrick, and Razorback. Nevertheless...after watching Ozploitation Trailer Explosion, I realized I still have quite a bit of catching up to do.
Divided into three sections, the first group of trailers are gathered under the Sexploitation and "Ocker" Comedies tag. First off is the one that started it all for the resurgence of the Australian film industry: The Naked Bunyip, the 1970 low, low-budget indie sex documentary from John B. Murray ("It's about the Australian attitudes to sex and censorship,") that not only proved to be a smash hit, but was also instrumental in relaxing Australia's censorship standards. 1971's sex comedy Stork, a mid-level hit starring Bruce Spence that kept the ball rolling for Australian film production, was the first collaboration between key "Wave" director Tim Burstall and writer David Williamson (I love this trailer's home-made feel at the end, when a crappy cut-and-paste title card announces, "Commencing at 'The Classic,' Mosman, Wednesday April 12th"). The hugely successful The Adventures of Barry McKenzie, from 1972, almost put director Bruce Beresford out of business, due to horrible reviews (can't go wrong with that cast, though: Barry "Dame Edna" Humphries, Spike Milligan, Peter Cook, and Dennis "You filthy old perv," Price, and Barry Crocker really sells, "Go stick your head up a dead bear's bum,"). Libido, from 1973, featured four directors (John B. Murray, Tim Burstall, Fred Schepisi, and David Baker) helming four separate little playlets ("Libido is all the beautiful feelings you'll ever have,"). I don't know if it's Jill Forster or Robin Nevin here...but that one naked woman is gorgeous. Box office record-breaker Alvin Purple, from 1972, is next, about a young man whom women can't resist ("Meet a man of many parts...all in working order," "Here was a man with a big...future in front of him,"). The sequel, Barry McKenzie Holds His Own (got it), from 1974, was another commercial hit for director Bruce Beresford and writer/performer Barry Humphries ("If you love Australia, you'll swell with pride,"), while Alvin Purple sequel, Alvin Rides Again, also from 1974, looks painfully unfunny from this frantic trailer (it was a hit at the box office, though).
Nudity is on display in Petersen, from Burstall and Williamson, but by the looks of this trailer, this rough-but-thoughtful drama has few laughs in it ("A raw, uncompromising study of a vanishing breed in today's society: a man who makes his own rules,"). Its success made Jack Thompson a star in Australia ("Howdja like to geet ya heed knocked in?"). I can't say, though, that the trailer for The Love Epidemic, from Ozploitation legend Brian Trenchard-Smith, made this semi-documentary on V.D. look like fun ("Polite society won't discuss it,"), but the slick trailer for Whompers (originally known as The True Story of Eskimo Nell and Dick Down Under) sold me on trying to find this comedy western from director Richard Franklin. Back to pure sex hijinks with Plugg, from 1975, which looks like a cheap Pink Panther/Inspector Clouseau knock-off (shot in "Skinescope," with Cheryl Rixon looking good in that bikini). Camp humor, particularly from Graham Kennedy, is on display in the feature film version of Australia's ribald TV soap, The Box, while Australian rules football comedy, The Great Macarthy from 1975--which doesn't look too funny or sexy--emphasizes slapstick ("Right up in the ol' A!"). Burstall's and Williamson's big-budgeted Eliza Fraser, from 1976, looks entirely too respectable (and boring), though, for this set of trailers (top flight cast, though, with Susannah York, Trevor Howard, Noel Ferrier, and John Castle), while Beresford's and Williamson's Don's Party--despite the souped-up sex scenes, looks entirely too downbeat and serious for the "Sexploitation and Ocker" group here. "The great Australian rock movie has arrived," in Oz, the 1976 musical adaptation of Baum's classics ("If you dig rock 'n' roll, you're gonna dig Oz!"). This one actually played in drive-ins here in the States. Featuring the classic sexploitation come-on, "See it with someone you love," in the voice-over, Fantasm then proceeds to give us a close-up of John Holmes' member, in this soft-core porn outing (partially shot in L.A.) from director Richard Franklin (using the pseudonym, "Richard Bruce"). It made enough money to spawn a less-successful sequel, Fantasm Comes Again (got it), from 1977, this time from director Colin Eggleston...who also used a pseudonym: "Eric Ram," ("You'll meet Tony the lifeguard, Leslie and Bianca...who do more than just roll in the hay,"). Continuing with the hard stuff (ahem), John D. Lamond's The ABC of Love and Sex: Australia Style is next ("A smiling, soft, sexy look at sex....What is pornography? What is normal?"), followed by Lamond's Felicity, which looks to be an Aussie knock-off of Emmanuelle ("Felicity finds love in the strangest places...why no make Felicity do it for you?"). Back to knock-about farce with Dimboola, from John Duigan and scripter Jack Hibberd ("Is this normal?"), before we get Eyes of Laura Mars Meets Megaforce oddity, Centrespread, from 1981 (the punk/music video influence in trailers is already noticeable by this point). Finally, we're back in Alvin Purple territory with Pacific Banana, from 1981, about a pilot who keeps sneezing, losing his erections (the level of humor in the trailer? "How man can overcome all of his problems and stand up for himself," is heard as a volcano explodes onscreen).
In Ozploitation Trailer Explosion's Horror & Thriller section, the flat-out brilliant thriller from director Ted Kotcheff, Wake in Fright (here called Outback), gets the most terse, to-the-point trailer on the disc (if you haven't seen this 1971 shocker, I urge you to--you won't forget it). 1972's Night of Fear, from director Terry Bourke, looks tense, too (it was originally a TV pilot deemed too violent for the tube), as a young girl is stalked in the woods by a crazed killer ("Now will you join a girl in her nightmare trip?"). Director Bourke returns with another horror outing, Inn of the Damned, with Dame Judith Anderson, Alex Cord, and Michael Craig ("A big picture set in a big country," is the lame tagline here). Director Tim Burstall is back with the familiar-looking "hot, dead hitchhiker" thriller, End Play, from 1976 ("In your heart, something will tell you something is wrong,"). Space: 1999 fans will enjoy seeing Nick Tate in the tense trailer for Summerfield, an action/mystery from director Ken Hannam ("What happened at Summerfield could happen to you,"). One of this compilation's most evocative trailers, Peter Weir's The Last Wave, from 1977, immediately grabs you with its intense, dream-like imagery, while Richard Franklin's well-regarded Patrick, from 1978, certainly has the most noteworthy taglines of any of the trailers here ("He's playing dead...or is he?" "You won't believe what Patrick does to people." "Too late they all discover the power of Patrick." "Spend the night with Patrick...if you dare,"). In Colin Eggleston's jittery-looking Day of the Animals-like Long Weekend, from 1978, the trailer's tagline ("Listen to the sound of evil...it is out there waiting,") isn't nearly as good as the one on its one-sheet poster ("Their crime was against nature. Nature found them guilty,"). Rocky Horror Picture Show director Jim Sharman's The Night the Prowler's trailer can't seem to get its bearings, so we're told, "It's bizarre, challenging, and wickedly entertaining,"--never a good sign when the trailer has to tell you the movie is "difficult." Director Simon Wincer makes his first appearance on this compilation with Snapshot ("Who can she run to for help?"), from 1979, while helmer Rod Hardy returns with the Dracula Meets Coma shocker, Thirst, with David Hemmings. Hemmings and Wincer team up for Harlequin, a reworking of the Rasputin story, with Broderick Crawford of all people, subbing for Orson Welles (he asked for too much money).
John D. Lamond is back, working from a script by Colin Eggleston, with Nightmares, a slasher flick ("Many motion pictures promise you terror...but Nightmares is truly terrifying,"). Gory trailer, with a sustained slash attack on a nude woman. Glossy, intriguing The Survivor, from 1981, is next ("Brace yourself for a journey to the outer limits,"), with Robert Powell, Jenny Agutter (beautiful), and the final appearance of Joseph Cotton. It didn't play long, but a few of us saw Dead Kids, from Michael Laughlin, when it came to America as Strange Behavior in the summer of 1981. Strong cast (Louise Fletcher, Michael Murphy, Fiona Lewis), and a slick trailer ("We invite you to come with us for a strange experiment,"). Next up, Richard Franklin's entertaining road killer movie, Roadgames, has a great tagline ("If someone doesn't stop soon, there won't be anyone left alive to play...Roadgames,"), but not enough of feline beauty, Jamie Lee Curtis. Next up, two thrillers based on the real-life mystery of what happened to Sydney activist Juanita Nielsen in the late 1970s: The Killing of Angel Street, from Donald Crombie ("Their power is frightening,") and Heatwave, from Phillip Noyce (making his first appearance here on the disc), from 1982, with Judy Davis (the inexplicable tagline doesn't help: "Every city has its dreamers. Every city has its victims. This city had a heatwave." Huh?). Too bad nobody dreamed up some taglines for A Dangerous Summer, from 1982 (the burning train is a good gag, and James Mason is deliciously fey, as always). There's an intense trailer for 1982's Next of Kin ("Will she survive the nightmare that threatens her sanity? Fans of gothic horror will not be disappointed,"), while Cassandra, from Eggleston, needs no taglines when we get a de-nogginizing via shovel, in full close-up. Nice.
In Ozploitation Trailer Explosion's third and final group, Cars & Action, Peter Weir's 1974 The Cars That Ate Paris's unfortunately silly title is forgotten immediately when the strange rhythms and good gags start to pile up. It's always bizarre to see American movie iconography parroted back in foreign movies, none less so than in Sandy Harbutt's Stone, from 1974, where if you close your ears you'd think you were watching an AIP biker flick (the tagline, "They don't seem to make a lot of friends," is a classic). Chop-socky classic The Man from Hong Kong is next, from 1975 (what? No Sky High on the soundtrack?). I never missed this when it was on Showtime. Watch for three mixed metaphors in one tagline ("East meets West in a head-on clash with no holds barred!"), and plenty of spiffy action clips from director Brian Trenchard-Smith. To my ear Dennis Hopper's Aussie accent isn't bad in Philippe Mora's energetic Mad Dog Morgan (the best tagline is just a background line: "He's got giant balls, that one!"). "Meat pie" Western Raw Deal, from 1977, looks like one to seek out (smart, slick trailer), while Journey Among Women, from 1977, looks like a snooze (no matter how slow you have that naked woman running through the woods). The fast-cut trailer for the oddly-titled The FJ Holden got me interested in seeing this 1977 coming-of-age attack on Aussie suburbia by Michael Thornhill. Count me in for Bruce Beresford's Money Movers, as well, from 1979--a tough heist movie about police corruption (The tagline is the greatest: "The lucky ones only lose their toes," over the image of a bolt cutter). Brian Trenchad-Smith's stunt/rock musical Stunt Rock looks interesting ("It's super-human! Super music! Super magic! And super amazing!"), although apparently he considers it his worst movie (is that a clip from Gone in 60 Seconds in there?). "Mad Max Meets The China Syndrome" in The Chain Reaction, from director Ian Barry ("Something is out of control. Someone has seen too much. Soon the dead could be the lucky ones,"). Mel Gibson is in there somewhere.... Actor/director David Hemmings's Race for the Yankee Zephyr looks spirited, with some pretty hairy helicopter gags and a ripe cast, including George Peppard, Donald Pleasence, and Lesley Ann Warren ("The chase to end all chases...just hang on tight!").
Solid WWII action in Attack Force Z, with a surprising amount of mayhem in the trailer, from knifings to karate to beheadings, from director Tim Burstall, who was a last-minute replacement for canned Phillip Noyce. Amusing now to see John Phillip Law billed over Mel Gibson and Sam Neill ("In the jungle, a thousand men may die...and a handful came become a legend,"). Turkey Shoot, Brian Trenchard-Smith's parody of The Most Dangerous Game, looks suitably unhinged, with some nasty gags peppered throughout this speedy trailer ("Step out of line, and they'll take you to the funny farm. You could die laughing,"). Shine' director Scott Hicks' first movie, Freedom, is next, a "good looking young couple on the run" actioner ("They were running away...and nothing else mattered,"). Director Quentin Masters' Gone in 60 Seconds knock-off, Midnite Spares, looks energetic, with some large-scale car gags. Brian Trenchard-Smith's G-rated cult kiddie actioner, BMX Bandits's trailer is in and out before you even get a sense of what it's about ("They're wild in the streets!"). Phillipe Mora's The Return of Captain Invincible looks like a must-see for lovers of strange cinema: Alan Arkin and Christopher Lee in a superhero musical spoof ("Everything is going to be just great again!"). A huge budget compared to most of the movies here...with a pathetic box office return (always a good sign for bad movie lovers). Colin Eggleston's Raiders of the Lost Ark/Romancing the Stone knock-off, Sky Pirates, looks suitably dopey ("It'll be the ride of your life!" is the lame tagline). Director Mario Andreacchio apparently did too good of a job (or not good enough?) parodying low-brow actioners with Fair Game, which audiences apparently took to heart, minus his social commentary ("She was alone. They were renegades. She became the target of their savage hunt. She was...Fair Game,"). Brian Trenchard-Smith's punk/apocalyptic take-off on Escape from New York, Dead End Drive In, has an appropriately busy trailer, cherry-picking that fun movie's best parts ("Welcome to your future...like it or not," is a classic tagline). And finally, you'd never know that The Road Warrior's Brian Hannant's The Time Guardian was botched from the start; that's a sweet trailer ("The Time Guardian..pray he's not too late!").

The Video:
Uploaded to an anamorphically-enhanced platform, the fullscreen and widescreen trailers for these Ozploitation flicks look as good as you're probably going to see them, with various levels of image quality, owing to the original materials available.
The Audio:
The Dolby Digital English split mono audio track is serviceable (solid re-recording level), with no subtitles or closed-captions available.
The Extras:
No extras for Ozploitation Trailer Explosion.
Final Thoughts:
It does exactly what it's supposed to do: it makes you hit Google and Wiki and Amazon and Ebay and your local library search engine, desperately trying to track down any and all elusive DVD copies of these fun, grungy exploiters. I'm highly, highly recommending Ozploitation Trailer Explosion.
---
Paul Mavis is an internationally published movie and television historian, a member of the Online Film Critics Society, and the author of The Espionage Filmography.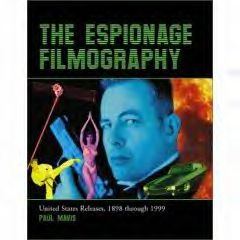 ---
C O N T E N T

---
V I D E O

---
A U D I O

---
E X T R A S

---
R E P L A Y

---
A D V I C E
Highly Recommended
---
E - M A I L
this review to a friend
Sponsored Links
Sponsored Links