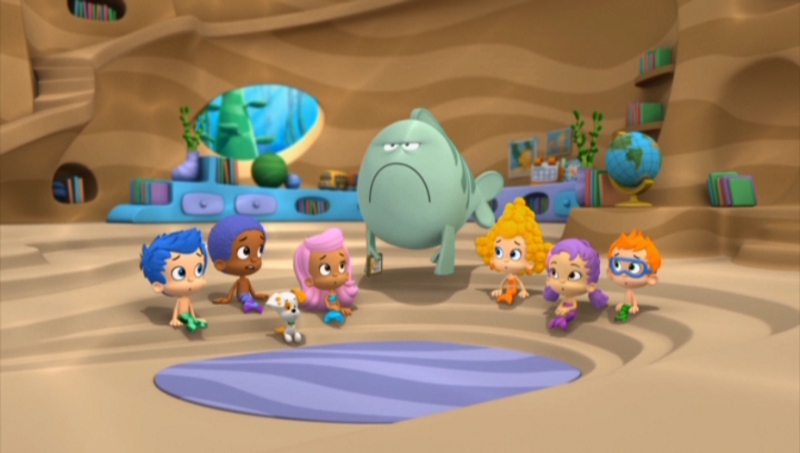 Johnny Belt and Robert Scull's Bubble Guppies is a lightweight animated series aimed at the preschool set. This colorful production features half a dozen brightly haired mer-kids as they swim around and teach young 'uns about everyday occurrences and subjects like new places, animals and neighborhood jobs. Produced using the commercially available Autodesk Maya 3D software, the visual design floats somewhere between "Dreamworks" and your average Wii U game: faces are simple and kid-like, easily recognizable and, if your little one's a budding artist, probably pretty easy to draw. The current third season of Bubble Guppies will resume very soon, so this franchise looks to be in it for the long haul.
Summer vacation is drawing to a close in just a few short weeks...and if you're young enough, this might be the first time you head off to kindergarten or first grade. It can be a pretty scary experience...but the Bubble Guppies have got you covered with Get Ready for School, a six-episode collection that just might ease the pain a little. Truth be told, if you've already seen the self-titled episode (which aired as the Season 3 premiere last August), there's little else here that follows the theme closely. In fact, the only other episode that serves up a specific school-related topic is "Good Morning, Mr. Grumpfish", which deals with you-know-who serving as the substitute teacher...but unfortunately, it's a glorified clip show advertised as a "music special". Otherwise, it's business as usual: the other four episodes just focus on various themes within Bubble Guppies' familiar format and include "Good Hair Day" (getting your hair cut), "Check It Out" (a visit to the library), "Construction Psyched" (buildings, etc.), and "The Moon Rocks" (fun at the planetarium). These are hand-picked from all three seasons of the show, with some episodes dating all the way back to 2011.
It's kind of an odd mix of episodes---considering the title of this collection, at least---but as long as you're not expecting five more episodes just like the first one, Get Ready for School is still a lot of fun. As expected, Nickeloden serves up this single-disc collection just a few months shy of the last one (March's Animals Everywhere) with all six episodes on one single-sided disc. This time around, though, we get a small change to the A/V presentation and a few small but welcome extras. It's still a bit overpriced at $15, but certainly a step above most recent kids' shows.
---
Episodes Include: "Get Ready for School", "Good Morning, Mr. Grumpfish",
"Good Hair Day", "Check It Out", "Construction Psyched", and "The Moon Rocks"
---
Quality Control Department
Video & Audio Quality
Finally, it looks as it Bubble Guppies is slowly moving to 16x9 widescreen on DVD...but for now, it's only evident on "Good Morning, Mr. Grumpfish", which is incidentally the most recent of the bunch. Whether that makes it the show's actual original aspect ratio is still unknown (in fact, some "flashbacks" from this newer episode are framed at approximately 1.33:1), but I can't imagine any kids' show airing from 2011 onward being created in anything but a widescreen format. Either way, that episode obviously looks a little better than the other five, which are all noticeably a bit less vivid and detailed overall. Either way, there are still a few nagging problems all around including moderate banding, a few stray compression artifacts and occasional interlacing. So while Bubble Guppies is still a little weak in the visual department, perhaps things will be more consistent from here on out. Even so, I'd love to see it on Blu-ray.
The audio is still a bit lacking, as the show's source 5.1 mix has been squished into a plain Dolby Digital 2.0 track. This odd compromise is more forgivable, since the spoken-word elements of the series are the most important thing and they don't seem any worse for wear. Dialogue is clean and crisp, although the poppy music cues occasionally sound a little flat in direct comparison. Channel separation is fine, despite that the surround effects are obviously missed on occasion. Optional dubs or subtitles have not been included here, but each of these six episodes is Closed Captioned.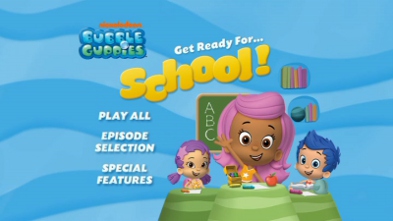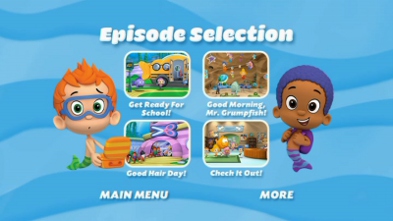 Menu Design, Presentation & Packaging
Seen above, the basic and colorful menu designs are attractive and easy to navigate. Each episode is presented with multiple chapter stops and no obvious layer change was detected during playback. Annoyingly, a static advertisement for other
Bubble Guppies
DVDs plays before the menu and forces viewers to bypass it manually. This one-disc release is housed in an eco-friendly keepcase and includes a not-so-eco-friendly matching slipcover and no inserts of any kind.
Bonus Features
Two very short
Music Videos
are included here: "Get Ready for School" and "Pencil Case" (1 minute each), which show the Guppies helping kids prepare for their first days of school and flashing their brand new pencil case. Speaking of which, the same
Pencil Case
is also tucked inside and features bright character designs on zippered vinyl. Pretty neat!
Final Thoughts
Get Ready for School may only feature one episode that actually relates to the title (OK, one and a half), but what's here is still plenty entertaining for fans of Bubble Guppies. As with past volumes, we get six more episodes new to DVD, albeit in random order. This time around, though, at least one of the episodes is presented in 16x9 widescreen and we even get a few extras for good measure, too. All things considered, it's still annoying that Nickelodeon continues to avoid the "season collection" route, but I'd imagine any fans of the series should enjoy themselves. Recommended.
---
Randy Miller III is an affable office monkey by day and film reviewer by night. He also does freelance design work, teaches art classes and runs a website or two. In his limited free time, Randy also enjoys slacking off, juggling HD DVDs and writing in third person.
---