FBI: The Complete Eighth Season (Warner Archive Collection), The
List Price: $59.99 [Buy now and save at Amazon]
---
Everything's everything, baby...but the audience keeps getting smaller. Warner Bros.' Archive Collection line of hard-to-find library and cult titles has released The FBI: The Complete Eighth Season, a 6-disc, 26-episode collection of the ABC crime anthology's penultimate 1972-1973 season. No matter how accomplished the act is by this point--and the little crime mellers this season, for the most part, are still reliably clean and taut--it's clear The FBI is on auto-pilot by this late stage, with loyal viewers, resigned to see absolutely nothing new coming from the series, continuing to defect in increasingly large numbers...for other shows on NBC's Sunday night lineup in this case. No extras for these typically nice fullscreen transfers.
Washington, D.C., 1972. FBI Inspector Lewis Erskine (Efrem Zimbalist, Jr.) is on the line with Arthur Ward (Philip Abbott), Assistant Director of the Federal Bureau of Investigation (second only to the Director, J. Edgar Hoover). Whatever personal life Erskine may have (and it's not entirely certain that he does because we never see it...), he can forget it because he's been given another assignment. Investigating federal crimes ranging from interstate fugitives to foreign spies to industrial saboteurs to murderous bank robbers, Erskine is often paired with Special Agent Tom Colby (William Reynolds), a young agent who is also selflessly devoted to the Bureau. Devoid of outside interests, Erskine and Colby grimly go about their work--unsmiling and largely unmoved by any extenuating circumstances for either criminal or victim--protecting the United States from its enemies.
I'm beginning to feel like I'm reviewing Hogan's Heroes again.... Like that show, these final seasons of The FBI are almost spookily the same--storylines seem interchangeable with previous outings; the same few directors maintain a rigorously anonymous, transposable visual schematic, the lead players' characters remain ghostly anonymous, and the same supporting actors keep popping up year after year. Taken one episode at a time, The FBI is still quite enjoyable, watching these little noir mellers that play like pared-down graphic comics: absolutely no fat, with an almost scientific precision to the storytelling that yields reliably entertaining results, time and again. Taken as a whole, though--particularly when you're watching them a few at a time, and after having viewed 7 previous seasons of the same kinds of episodes--the effect, at least by this 8th season, is increasingly numbing. It's not that The FBI doesn't have "something to say," and by that I don't mean message-wise, necessarily (unless it's "Crime don't pay ever,"), but rather aesthetically. It does; its inflexible framework and grim determination to stick to basic crime storytelling, has a beauty of simplicity that doesn't need a defense of its repetition. And as well, it's not that The FBI no longer does what it does well. It's just that we've seen it all before, and too many times, by this point. It's as simple as that. Since the ratings were still respectable up to this season, executive producer Quinn Martin no doubt followed the classic axiom, "If it ain't broke, don't fix it." However, the continued hemorrhaging of viewers this season indicated something had to be changed with The FBI. And quick.
The season opener, The Runner, by Jack Turley, is an excellent case in point of this..."excellence in stagnation." Ex-college football star David Soul breaks out of prison and returns to Oregon, bent on turning back the clock with beautiful rich girl Belinda Montgomery. Like a cross between The Great Gatsby and A Place in the Sun, poor boy Soul finds out everyone has moved on with their lives and forgotten him, with Belinda enjoying the easy life waterskiing with handsome Robert Urich. Before you can sing, Don't Give Up on Us, Baby, Soul does what so many previous FBI criminals have done: he kidnaps her into the mountains. Nice touches throughout by director Lawrence Dobkin (instead of gutting his squealer coach Lou Frizzel, Soul stabs an all-American apple pie, before his slo-mo run to nowhere), and dishy Montgomery's in a bikini...but we've seen this same scenario on The FBI far too many times. Mark Weingart's Edge of Desperation offers nothing new in its too-familiar story of married businessman Michael Tolan staging his own kidnapping in order to finance a permanent getaway with lover Karen Carlson (I don't blame him...). Always amusing to see those desert mountains in flat-as-a-pancake Toledo, Ohio. The low-wattage cast doesn't help here, nor, frankly, does it in Ed Waters' The Fatal Showdown, where Joe Campanella and Wayne Maunder steal art objects. Edward Mulhare shows up with his usual seedy, moldering overacting, while an unbilled Patrick Wayne good-naturedly "gee goshes" his way through another bit role. Much better is Ben Masselink's The Franklin Papers, a trim little forger number where Dina Merrill--having a good time playing a creep--swindles Richard Anderson into believing she has unique historical documents related to Benjamin Franklin (Merrill, always so proper, to her detriment, is good as the scammer who says she feels like a kid switching street signs, when she changes history with forged letters).
Reni Santoni has a solid vehicle in Calvin Clements' The Gopher, playing a hapless mob errand boy for Peter Mark Richman (slick and mean, as always), before he wises up and tries to play the game with the big boys (glum-acting Arlene Golonka looks good in that mini...but she's better in comedy). Snappy direction from The FBI's house director, Virgil W. Vogel. Yet another crazy stalker looking to return to the past is the subject of Gerald Sanford's End of a Nightmare, where intense Dean Stockwell is bent on hurting everyone who had a hand in his divorce from Darleen Carr (seems like too much trouble, frankly...). Stockwell is always interesting to watch, which saves this routine suspenser. Cast member Philip Abbott helms another solid noir meller in Norman Lessing's The Engineer, where out-of-work loser Ed Nelson convinces schlub gas station worker friend Michael Strong to hit the aerospace company they used to work for, in order to get plans to knock over a safe. Abbott's had some winners in previous seasons; The Engineer isn't in their class...but it's sturdy (I love it whenever the fanatically undemonstrative agents are asked to show emotion, only to refuse. When a shaken, remorseful Nelson tells Zimbalist, Jr., "If you see my son, tell him I'm sorry," Zimbalist, Jr. looks blankly at him and responds, "Of course,"...as if he's ordering an omelet).
Turnabout is fair play for Wait Until Dark co-star Zimbalist, Jr. in Warren Duff's A Game of Chess, when Erskine pretends to be blind to capture spy Patrick O'Neal (weasel-eyed and flinty). Oh, and George Nader is blind, too. Helmer Walter Grauman does his usual bang-up job for Robert W. Lenski's The Wizard, a suspenseful inside job bank robbery/heist outing aided enormously by the Paul Muni of television, Ross Martin. Martin goes from dorky bank clerk, to suave, handsome, hip heister, to whining, crying pussy in 50 minutes, and he's believable every step of the way. Good cast including Noam Pitlik, John Hillerman, Robert Hogan, Norman Alden, and Marj Dusay (looking good...). Also notable for this seismic FBI event: Zimbalist, Jr. ditches the "wet look," going for a much fuller, drier look to his 'do (...or is that a weaved-in front appliance? It looks distressingly suspicious at times...). Another season best is Mark Rodgers' The Loner, an affecting doomed noir romance where petty thief Billy Green Bush (perfect for this kind of role) hooks up with equally petty local gangster John Anderson for a dog track heist. Bush's world turns upside down, though, when he meets kind waitress Lane Bradbury. Quiet and nicely observant, The Loner's downbeat tone is complemented by Bush's and Bradbury's genuinely touching chemistry together. No big surprises in Canyon of No Return, from The FBI's house scribe, Robert Heverly, about divorcing couple Frank Converse and Louise Sorel getting shanghaied in a dangerous river rafting escape with robbers Albert Salmi and Henry Darrow. However, Virgil Vogel (and that second unit) get some exciting rafting scenes, making for a familiar but satisfying adventure. Robert Malcolm Young's Holiday with Terror tells the well-worn story of a couple of handsome, friendly kidnappers (Christopher Stone, Lynne Marta) snatching shy rich girl Patricia Mattick...without her really knowing it. No question Marta in a bikini is the episode's highlight, with smooth performances helping out (Stone had an intriguing good guy/bad guy tension).
One of my favorites, William Windom, shows up to excellent advantage in The Jug-Marker, another season best effort from the Heverly/Vogel team, where Windom, a "jug-marker" (the brain that cases a robbery job down to the smallest detail), matches sneering wits with psychopathic karate killer, Tom Troupe (a seriously creepy, weird dude). A tough, cynical noir outing with plenty of action, and with Windom just as nasty as Troupe (distant Windom tells his crying, lonely son he doesn't like a "whiner"), although Zimbalist, Jr. nails the killer with his own martial arts flair (...and then immediately executes the patented "Zimbalist, Jr. hair smoother" move with his left hand). And yes, that's a beardless Chuck Norris briefly battling Troupe...and losing (hee hee!). Another fine, "doomed FBI noir romance" outing, The Outcast, from Arthur Dales and helmer Vogel, finds hijacker Michael Callan caught between his loyalty to deceptively kindly mob boss John Larch, and his love for sensitive artist Katherine Justice (a terrific, underrated actress). Smart direction from Vogel, while Callan and Justice have a nice, believable rapport. Yet another "doomed FBI noir romance" outing--and another season's best--is Dark Christmas, from Heverly/Vogel, where mob assassin Don Gordon falls for shy glass artisan Sondra Locke--tethered to her "sick" mother, The Waltons' Mary Jackson--before he has to plug innocent businessman John Lupton at his home, on Christmas Eve...in front of his nice family. Some beautifully mounted scenes here (Vogel jacks up the "whoosh" of Locke's propane flame over her mounting attraction to Gordon...while Jackson shoots daggers at him). Good, cutting dialogue throughout; when Locke tells her suspicious (and hated) mother about obviously wrong Gordon, "I saw sickness [in him]...I've lived with it all my life," Jackson defends herself with, "I didn't make my body crippled, Regina," to which Locke counters, "I wasn't talking about your body." In the end, everyone gets the Christmas they deserved...except the agents (their God, apparently, is "procedure").
Dick Nelson's Freudian thriller, The Rap Taker, has excellent actors Robert Drivas and Scott Marlowe fighting it out for the affections of mobster daddy, Stephen McNally (that rug...) Drivas is McNally's real son--and an impulsive, psychotic dolt, and Marlowe's his adopted street urchin son, who's trying to stay straight. Lots of intriguing character twists in this one, with Drivas and Marlowe particularly good--as expected. Perhaps this season's most disappointing effort is Mark Weingart's A Gathering of Sharks, a potentially interesting diamond heist outing that absolutely wastes the incomparable Jessica Walter in a nothing role (if she looks completely bored out of her mind in that sweet, sweet yellow Ford Bronco, it's probably because she was thinking about how an Oscar-caliber turn in Eastwood's Play Misty for Me somehow only led to this). Insanely beautiful location shooting around Monterey is the episode's only noteworthy element. Martin Sheen has a solid return to The FBI with The Disinherited, from Heverly/Vogel, playing the son of a crippled mining expert who seeks revenge against the rich associates who abandoned his father...and stymied his own ambitions (or so he whines). A very strange, creepy vibe from Sheen (as always), particularly when he switches from charming lunch date to gun-toting psycho in the blink of an eye (he has a great scene with his father, John McLiam, full of unspoken nuance between these two pros). Frankly, I was expecting more dramatic fireworks and/or action from Calvin Clements' potentially exciting Desperate Journey: while escorting Top Ten Most Wanted fugitive Vic Morrow over rugged mountains, the agents' plane crashes and Morrow escapes, with a badly-injured Zimbalist, Jr. in hot pursuit--a seemingly natural set-up, with the right actor, for a solid suspenser. Instead, helmer Earl Bellamy flattens everything out with a matter-of-fact, even lackadaisical tone (Vogel would have been a better choice for this script), with even Morrow uncharacteristically subdued. A prime example of The FBI's self-imposed limitations wearing out their welcome comes when Morrow starts needling and goading Zimbalist, Jr. about how far an agent would go to survive--"Where does the badge end, and the man begin?"--which is precisely what The FBI has zero interest in exploring: Zimbalist, Jr. doesn't react in the slightest to these taunts, nor would we ever believe he had any doubts about what Morrow suggested. Hoover's agents have no imperfections in this fictional world--a depiction that was rather bracing in a comic book way during the show's first few seasons...but one that was increasingly at odds with frustrated (or bored) viewers at this point who desired at least a minimum of "shading" to their TV heroes.
Much more conventionally satisfying is The Double Play, from Ed Waters, where gravelly Stuart Whitman and bouncing-off-the-walls Robert Foxworth (complete with ripe Southern accent) pull cons with the aid of beautiful, disposable women--first the hot Erica Hagen, and then the assured, wisecracking Mariette Hartley. In addition to this excellent cast, one of my favs, Tim McIntire, in full-blown Studio 54 glory (beard, unbuttoned silk shirt, fedora, coked-out demeanor), shows up as a nervous-talking record producer fatally attracted to Hartley. Directed with a lot of snazz by Seymour Robbie, The Double Play often veers into quasi-Maverick territory, with a breezy, humorous, playful tone to it that's most unusual for The FBI...and most welcome. Even at the end, during the "Epilog" when the chastened criminals are usually forced to acknowledge their shame in front of an unsmiling Zimbalist, Jr., The Double Play has fun, first with Whitman and Foxworth laughing good-naturedly over their plight...before Whitman tries to sell out Foxworth, to Foxworth's grim amusement (Hoover must have been dead by this point, for that scene to go through...). Back to the pedestrian: Dick Nelson's dreary, predictable The Wedding Gift, with Penny Fuller failing to convince us she's the brains behind some hefty bank robberies (a dispirited John Ericson looks pretty pathetic at this point in his disappointing career). Back on track is The Detonator, from Clements/Robbie, with newcomer Richard Jordan making a big impression as an unpredictable goony/scary mad bomber hired--and then fired--to waste D.A. Roger Perry (always a good, interesting actor, like Tim O'Connor here, too--but they're both outshone by spooky Jordan). Sweet Evil, an out-of-left-field season best from Mark Weingart and helmer Philip Leacock, finds bank robbing fugitive Andrew Prine enviably caught between beautiful, smart, and thoroughly crooked girlfriend Melissa Murphy, and Murphy's hot psycho tramp little sister, Jo Ann Harris (lucky bastard...). When Murphy leaves her small hometown after an awkward visit, little sister comes along for the ride at Prine's insistence, with her soon proving to be far more twisted than either of the two seasoned pros. Prine is always weirdly fun, while gorgeous, skilled Murphy was a real revelation to me--too bad she didn't have a bigger career: she's really talented. As for Harris...what guy didn't want to nail her back then? Pulpy and fast-moving, Sweet Evil just needs a nude scene or two and some blood spurts to be a perfectly acceptable AIP drive-in flick.
Strong episodes keep coming as the season winds down. Clements/Robbie deliver up the depressing Memory of a Legend, where big-deal safe cracker Pat Hingle blows back into son Geoffrey Deuel's life--and not for the better. A beautifully-built, grim, downbeat noir with a familiar-but-still-workable morale about illusions, the past, and "the sins of the father," Memory of a Legend doesn't make one false move, before finally stripping away all the "hot air" left in Hingle's pathetic, reprehensible character. With his son mortally wounded, begging for his father to stay by his side, Hingle coldly lays out his selfishness ("I've got a chance and I'm taking it,") and splits. No redeeming last-minute conversion. And when the inevitable bust comes for him, his self-awareness of his own uselessness is complete: getting handcuffed by a supremely unsympathetic Zimbalist, Jr., Hingle attempts a devil-may-care grin and says, "When I was a young man I used to face this sort of situation with a smile on my face...what that smile ever proved I'll never really know." Beautiful. Robert Heverly's Night of the Long Knives is a mordant little Godfather riff that finds Alex Cord leading a contingent of young turks "ready to devour the old" ranks of the mob. Vet Edward Colmans does a nice job as the wise, fatalistic Counselor...but I'm not sure Cord knows how to hold a pistol. Finally, Robert Malcolm Young delivers up a competent but unsurprising kidnapping outing, The Loper Gambit, that finds Tom Lowell (forever "Canoe" to me, eating that sandwich and watching TV...) locked in a Spanish dungeon, trying to talk naive kidnapping accomplice Leslie Charleson into letting him go. Robert F. Lyons does well as the amoral leader, needling hapless cohort Elliott Street. Unexceptional and far too familiar.
At the end of the previous seventh season, The FBI still enjoyable a Nielsen Top Twenty slot--17th for the year--a seven notch drop from the sixth season, but still quite strong, owing to little other competition from the other networks' 8pm Sunday night line-ups (The CBS Sunday Night Movie didn't catch on, while the last half-hour of NBC's The Wonderful World of Disney--during The FBI's first half hour--was strong, the much ballyhooed The Jimmy Stewart Show flopped). For this eighth season, The FBI still didn't have anything to worry about from CBS, when their sitcom block failed to generate sparks: newcomers Anna and the King at 7:30, M*A*S*H (which was almost cancelled at this time slot), and The Sandy Duncan Show directly against The FBI, and returning The New Dick Van Dyke Show, a ratings' winner the year before on Saturdays--right before natural lead-in The Mary Tyler Moore Show--until CBS moved it to Sundays and killed it. No, The FBI took another steep 12 notch slide in the ratings (29th for the 1972-1973 season) when NBC moved its Wednesday night buzz-worthy mystery anthology, The NBC Sunday Mystery Movie, featuring Columbo, McCloud, McMillan and Wife, and Hec Ramsay, opposite The FBI's last half hour (with a strong The Wonderful World of Disney as a lead-in). It was successful counter-programming against the aging The FBI, with The NBC Sunday Mystery Movie winning a massive 5th most-popular show of the year ranking in the Nielsen's. Clearly, The FBI's time was just about up.

The Video:
The usual good-to-okay fullscreen, 1.37:1 transfers for The FBI: The Complete Eighth Season: color varies from episode to episode (sometimes rich, sometimes muddy), images generally sharp, contrast acceptable. Compression issues negligible.
The Audio:
The Dolby Digital English mono audio tracks are okay, with low hiss. No subtitles or closed-captions available.
The Extras:
No extras for The FBI: The Complete Eighth Season.
Final Thoughts:
Still precision-made crime/noir mellers...but something has to change big time. Viewers who followed the obstinately unchanging The FBI for eight years finally began to peel off for other shows by this point; the numbers were still respectable on the surface...but the trend was clear in this penultimate season. Still recommended viewing for The FBI: The Complete Eighth Season, despite the familiarities.
---
Paul Mavis is an internationally published movie and television historian, a member of the Online Film Critics Society, and the author of The Espionage Filmography.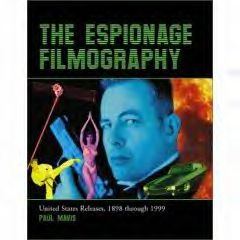 ---
C O N T E N T

---
V I D E O

---
A U D I O

---
E X T R A S

---
R E P L A Y

---
A D V I C E
Recommended
---
E - M A I L
this review to a friend
Sponsored Links
Sponsored Links