Elmer, the Great (Warner Archive Collection)
List Price: $20.95 [Buy now and save at Wbshop]
---
"Say...I'm better than I think I am!"
Baseball fantasy (the Cubs win the World Serious) with Joe E. Brown in one of his best-known--and best--roles. Warner Bros.' Archive Collection line of hard-to-find library and cult titles continues the roll out of Joe E. Brown offerings with Elmer, the Great, the 1933 baseball comedy based on the Ring Lardner Broadway play, directed by Mervy LeRoy, and starring Joe. E. Brown, Patricia Ellis, Frank McHugh, Claire Dodd, Preston Foster, Russell Hopton, Sterline Holloway, Emma Dunn, Charles Wilson, and Douglass Dumbrille. The second entry in Brown's unconnected baseball trilogy, Elmer, the Great gets big laughs anytime Brown blinks those shrewd, tiny eyes of his and screws up that satchel-sized mouth to say something both cocky and guileless, creating a uniquely American comedic character: the annoying, infuriating showboat who doesn't seem to know what's what...but who can back up his mouth in the end and make us like him. An original trailer is included in this nice fullscreen black and white transfer.
The backwoods of small town America: Gentryville, Indiana. A long-distance call from Chicago comes in, from Chicago Cubs scout Bull McWade (Charles Wilson) letting the operator know that he's flying in to see the team's newest--and tardiest--rookie. Sleepy, voraciously hungry Elmer Kane (Joe E. Brown), a greater slugger than the "Babe" himself--according to Elmer, that is--is still out at 2pm, before he wakes up for a huge breakfast from his indulgent mother (Emma Dunn)...after which he contemplates going back to bed. He'll have no talk, though, of actually following through on the Cubs' contract he's been offered: he intends to stay in Gentryville where he belongs, making his deliveries for his boss and girlfriend, Nellie Poole (Patricia Ellis), of Poole's General Merchandise store. Nellie, however, agrees with Wade that Elmer should get out of this one-horse town and make something of himself, so she pretends to break it off with Elmer, forcing him to sign the contract. At spring training, Elmer immediately makes himself known as the most arrogant, boastful hick jerk ever to field, but he backs up his bragging with skill, knocking ball after ball out of the park. That makes the other players respect him, but not like him, so they play practical jokes on Elmer, like the one where slinky radio sports reporter Evelyn Corey (Claire Dodd) helps them fool Elmer into thinking he's on the radio when in fact, he's speaking into a heat lamp. Elmer has a record season hitting for the team, but he misses Nellie, and unbeknownst to him, she misses him, too: the team's owner, Colonel Moffitt (Berton Churchill), has kept her love letters secret from Elmer. When Nellie finally comes to Chicago to see Elmer, she sees him innocently kissing Evelyn, and she races back home. Elmer, dejected, agrees to go with friend Healy High-Hips (Frank McHugh) to a gambling parlor, where Elmer mistakenly believes that he's playing not for money, but just for the chips. For fun. Wrong. He racks up $5,000 in debt to crooked owner Stillman (Douglas Dumbrille), who'll gladly tear up the debt and give Elmer 5K if he'll just throw the World Series--a suggestion that enrages Elmer and lands him in jail, anonymously, when he fights it out at the club. However, when Elmer learns that his fellow baseball players have been ribbing and tricking him, he decides to sit out the game by disappearing, with numerous complications and misunderstandings--financial, professional, and romantic--soon to follow.
One of comedian Joe E. Brown's best-remembered vehicles, Elmer, the Great, adapted from Lardner's play by Tom Geraghty and directed by Mervyn LeRoy, now necessarily plays with a slightly skewed, wholly modern patina of fantasy applied to its story of a windbag swatter who takes the Chicago Cubs to the "World Serious," as Elmer unwittingly calls it. Seen today through the context of the club's epic losing streak, Elmer's achievements on behalf of the Cubs seem outsized and fanciful, giving Elmer, the Great an extra comedic wish fulfillment subtext that certainly wasn't intended or even thought of back in 1933 (indeed, just the year before the movie premiered, the Cubs had made it to the World Series against the Yankees). Ironically, what was intended back then--the ultimate triumph and celebration of the showboating American country rube--is probably the main sticking point many newer viewers, unfamiliar with (and perhaps hostile to) that once-traditional stock comedic character, are going to encounter with Brown and Elmer, the Great.
In today's overly-machined, pre-ordained, pre-planned, and pre-digested popular culture (we'll spend three years and millions of dollars planning and designing and marketing what you're going to "spontaneously" discover on your own tomorrow...), the only figure that can be safely derided, humiliated, and mercilessly spoofed with absolute impunity (and with the sure knowledge there will be no meaningful reprisals--economic or political) is the so-called "White country redneck" (considering the unending line of grotesques that are held up for our pop culture approval, is it any wonder that a few months ago the morally bankrupt, bought-and-paid-for media branded the close-knit, law-abiding, church-going, jobs-producing Duck Dynasty Robertson clan as America's most dangerous domestic enemy?). Way back when, however, the wily country yokel who always gets his own back--particularly against those crooked or at the very least insensitive city folks--used to be a familiar, welcomed stock comedic character in American fiction and movies. In Elmer, the Great, the twist on the character is that he's an obnoxious, naive blowhard whom we're at first actively encouraged to sneer and laugh at...until he proves to be more sensitive, more loyal, and more accomplished than his detractors.
In Elmer, the Great's opener, the small town nosiness of Gentryville is painted in a few short, sure strokes. When a long-distance call from Chicago throws the local operator (Donna Mae Roberts, in a funny short bit), she does just what she's told when Wade says keep his arrival secret--she hangs up and promptly blabs to the town's three communication focal points: the newspaper, the barber shop, and the general store. Gentryville's sleepiness is literally translated into Elmer's inertia: it's 2pm before he's roused from bed, and even then he still falls back asleep (Brown's bit about Elmer sleepily putting on his socks is pretty good). Going downstairs for "breakfast," an increasingly self-satisfied, entitled Elmer is further amplified by the gargantuan, bountiful meal he's served by his doting mother--a comedic device that may have made some Depression-era ticket buyers swoon with envy (Brown gets big laughs here, as he consumes pancakes, ham, apple pie--"Bring it in! I'll flirt with it!"--gingerbread, doughnuts, and jam, with an apple and a banana for company on the way back up the stairs...to take a nap). Walking with a slow, exaggerated, long-strided, stiff-legged swagger (which never fails to get a laugh), Elmer is a pill, bragging aggressively about his own baseball prowess, scoffing at his brother's concern about honoring the Cubs' contract he signed ("Let him rave! Let him rave!" Brown jeers), while showing off his insular attitude about staying in Gentryville ("I hate places I've never been to!" he says of Chicago). However, when it comes time for a showdown with Nellie, Elmer shows a sincere, deeply-felt love for her (he shows her her picture pasted in his watch--something no one else even knows about) that goes beyond any small town narrow-mindedness he possesses (we finally change our mind about newly-dumped Elmer when we see him slowly walk up those stairs, sadly telling his mom it must have been something he ate...).
And yet...the movie goes right back to mocking Elmer, making him even more exasperating and irritating when he's at spring training, where he's caught sleeping on the bench, wisecracking about all his home-runs ("I'm always afraid of breakin' windows!"), and imperiously quitting practice when he discovers he's working out with only rookies (the vets contemptuously regard him as a "new paint job: all fresh and wet,"). So we're primed again to enjoy Brown getting his comeuppance when the players stage a prank where he's to be interviewed on the "radio"--a heat lamp, in reality...only to have the rug pulled out yet again for us when this obnoxious, full-of-himself hayseed gives a moving tribute "over the airwaves" to his mother (the guilty men silently drop their heads, unable to meet the oblivious Brown's eyes). And that's how the rest of Elmer, the Great plays out: the ludicrously over-confident country bumpkin gets into trouble again and again, and yet somehow manages to extricate himself through his innate, incorruptible honesty and his superior skills. In the movie's expertly-structured, quite funny finale, where no one is sure if Elmer is on the take to the gamblers who hold his note, director LeRoy and Brown pull off some highly amusing slapstick (Brown's warm-up stance is a classic) before Elmer is allowed to show everyone--including the audience--that all that big talk about himself was correct all along (when the coach finally gives him the go-ahead to warm up and save the day, Elmer isn't grateful for the reprieve; in a startling bit of pre-Code enforcement bravado, Elmer yells, "Warm up?! Hell, I ain't been cool since February!"). SPOILERS ALERT! The yokel cheats the cheaters who were so sure of squeezing him, while he expresses surprise at everyone--including you--that you were dumb enough to think he didn't know what was what, in the end. Whether Elmer really was that smart ultimately doesn't matter, because he wins the game. He's a conceited, immodest, big-mouthed windbag of an American hayseed, and he winds up laughing at you because he's exactly as good--even better--at what he does, as he said he was. If Elmer, the Great were made in today's "lord love a victim" times, Elmer's hubris would have been surely and swiftly punished at the end of the movie. He wouldn't be allowed to win. He'd have to be humbled and humiliated until he learned how to be nice and quiet and grateful for other things besides winning, because in today's America, winners are evil. The "winners" now are the losers who fail...and then ask to be loved for failing. Here, Elmer wins, and he sticks your condescending face in it. He isn't changed a bit at the end. How refreshing.

The Video:
The fullscreen, 1.37:1 black and white transfer for Elmer, the Great looks pretty good, with mostly solid blacks, reasonable contrast values, nice image detail, acceptable grain, and the expected level of minor scratches and anomalies.
The Audio:
The Dolby Digital English mono audio track is fine, with low hiss and a strong re-recording level. No subtitles or closed-captions.
The Extras:
An original trailer is included.
Final Thoughts:
Winners, no matter how annoying, earn the right to brag. In Elmer, the Great, that old, now long-gone American comedic stereotype--the sly, accomplished country bumpkin--is tweaked into being an obnoxious boaster who's also sensitive and loyal...but most importantly, highly skilled. And that's all that matters in the end: winning. Joe E. Brown has one of his best roles here; his natural athleticism is matched by his beautifully choreographed, deliberately awkward preening. I'm highly recommending Elmer, the Great.
---
Paul Mavis is an internationally published movie and television historian, a member of the Online Film Critics Society, and the author of The Espionage Filmography.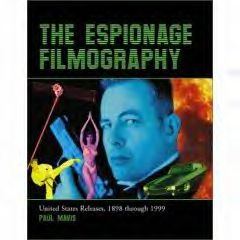 ---
C O N T E N T

---
V I D E O

---
A U D I O

---
E X T R A S

---
R E P L A Y

---
A D V I C E
Highly Recommended
---
E - M A I L
this review to a friend
Sponsored Links
Sponsored Links