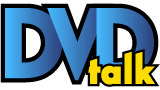 List Price: $19.95 [Buy now and save at Amazon]
---
Where to begin? Space Raiders (1983) is the kind of movie that's extremely difficult to write about, mainly because there's just nothing there. A vacuous Star Wars-type space swashbuckler somewhat patterned after The Champ (1931), Space Raiders was cobbled together using stock special effects footage (and, in this case, James Horner's music) from Battle Beyond the Stars (1980), producer Roger Corman's original Star Wars clone. Battle Beyond the Stars was cheap, costing around $2 million versus Star Wars' $11 million, but even at $2 million the film was still 3-5 times more expensive than the usual Corman production. To offset the additional expense, he squeezed as much mileage out of its comparatively pricey special effects as humanly possible, ultimately reusing them for something like half a dozen movies and direct-to-video features. Incredibly, five years later, Corman produced Andy Colby's Incredible Adventure, built around stock footage of Space Raiders' stock footage of Battle Beyond the Stars. More on Roger Corman below.



But first, Space Raiders comes to Blu-ray via Scorpion Releasing, a very good high-def video transfer from the original interpositive. The disc also includes some interesting extra features, mainly interviews.









Space Raiders' story, not that it matters, revolves around a 10-year-old "company kid," Peter (David Mendenhall), who slips aboard the space pirate ship captained by C.F. "Hawk" Hawkens (middle-aged Vince Edwards, TV's Ben Casey, an odd casting choice). Hawk takes a liking to the wide-eyed youth, eventually becoming a father figure while promising to return the boy to his home planet of Procyon III.


However, Hawk's crew first disembarks at a space station controlled by bug-eyed alien crime lord Zariatin (Ray Stewart, rather effective in pretty good but restrictive makeup), who blackmails Hawk into stealing some valuable ships. At the same time, bounty hunters spot Peter and decide to kidnap him for ransom.


With all the recycled, well, everything - special visual effects, music, sound effects, props, set pieces, costumes, alien masks, etc. - Space Raiders couldn't have been expensive, probably well under $1 million, and perhaps as low as $500,000 to make. To the credit of Corman's team of indefatigable hungry young filmmakers, it looks a bit more expensive than it was, especially for those who hadn't seen any of Corman's earlier space movies (Space Raiders may well have used stock footage from other New World titles, too) from which it was derived.


The plot, however, is subservient to the footage from which it is built around, and what's there is mindless and juvenile. Battle Beyond the Stars at least stole from the best, in that case the plot of Akira Kurosawa's Seven Samurai (and its first official remake, The Magnificent Seven). Space Raiders plays more like an extended episode of TV's Buck Rogers in the 25th Century, going so far as to cast one of that show's late-in-the-game stars, Thom Christopher, who plays the same kind of role, itself imitative of Star Trek's Mr. Spock. Space Raiders is replete with laser-blaster shoot-outs and outer space dog fights, but the characters are cardboard and only in the relationship between Peter and Hawk is any effort exerted.


Busier than ever in his late eighties, Roger Corman has produced more than 400 (!) feature length movies, though his real legacy is as a director. In that capacity he helmed 56 movies, though he's directed only one since 1971, and that was nearly 25 years ago. He established himself as one of the most creative and intelligent directors of extremely low-budget movies of the 1950s and early '60s, with films like It Conquered the World (1956), Attack of the Crab Monsters (1957), Machine-Gun Kelly (1958), The Little Shop of Horrors (1960), Pit and the Pendulum (1961), The Intruder (1962), X (1963), and The Masque of the Red Death (1964). The Wild Angels (1966) was a huge hit and Corman's ticket to the big time, but like Italian filmmaker Mario Bava, Corman didn't care for big studio production methods, though The St. Valentine's Day's Massacre (1967), for Fox, was quite good. Later, he quarreled with his usual distributor, American International Pictures (AIP) during the postproduction of Gas! Or It Became Necessary to Destroy the World in Order to Save It (1970) and United Artists over Von Richthofen and Brown (1971).


And so Corman gave up directing and instead formed his own production-distribution company, New World Pictures. Through New World and later other companies that followed (Concorde and New Horizons), Corman oversaw hundreds of cheap movies. As the drive-in market that was Corman's bread and butter collapsed, he continued churning out product for other media, first the direct-to-video/cable route and, more recently, streaming video such as Netflix.


At 88, he's still at it, with no less than seven titles listed on the IMDb for this year and beyond. But is there really a group of movie-watchers scrambling to see Sharktopus vs. Mermantula, Attack of the 50ft Cheerleader, and Art School of Horrors? Apparently at least enough of one, otherwise "I made [400-plus] Movies in Hollywood and Never Lost a Dime" Corman wouldn't keep making them. But, a hundred years from now, if the world we know still exists, it's pretty certain Corman's work as a director will still be watched and admired while more than 95% of the movies he produced after 1970 will be completely and justly forgotten.


Corman is fully deserving of the myriad awards and accolades he's received in recent years, and the man is virtually impossible to dislike. Beyond his own accomplishments he's almost equally famous for generously giving so much promising talent a leg up at the beginning of their careers: Martin Scorcese, Francis Ford Coppola, Jack Nicholson, Peter Bogdanovich, Jack Hill, Nicholas Roeg, John Sayles, Robert Towne, and James Cameron among them. But it's also true that Corman's films as a producer have been increasingly junky. Fewer important talents have risen from Roger's ranks in recent years, and where the New World Pictures of the 1970s at least occasionally produced and distributed good product, one is hard-pressed to find anything remotely memorable in his last 200 movies or so.


Video & Audio


Space Raiders is presented in 1.78:1 wide screen, approximating its original 1.85:1 aspect ratio. The image is impressively sharp with accurate color and contrast, and the original mono mix is okay, if otherwise unimpressive. The disc is in English only, with no subtitle options and is Region A encoded.


Extra Features


Supplements include new interviews with Corman, star David Mendenhall, and postproduction supervisor Clark Henderson. Also included but not listed on the back cover art is an original trailer.


Parting Thoughts


Space Raiders came about around the time Corman's personal fortune ballooned (and more power to him for being able to do that) but, simultaneously, the quotient of unexpectedly good if low-budget movies emanating from his empire dropped to next to nothing. For what it is, Space Raiders isn't offensively bad, but it's also soulless and bereft of anything other than cinematic financial ingenuity. On the receiving end, with movies like Space Raiders, moviegoers get the short end of the stick. Rent It.



Stuart Galbraith IV is the Kyoto-based film historian and publisher-editor of World Cinema Paradise. His credits include film history books, DVD and Blu-ray audio commentaries and special features.
Sponsored Links
Sponsored Links