Very Honorable Guy (Warner Archive Collection), A
List Price: $20.99 [Buy now and save at Wbshop]
---
Fast-paced, funny Damon Runyon caper. Warner Bros.' Archive Collection of hard-to-find library and cult titles continues the roll-out of vintage Joe E. Brown offerings with A Very Honorable Guy, the 1934 comedy from First National (really Warner Bros.), directed by Lloyd Bacon, and co-starring Alice White, Robert Barrat, Alan Dinehart, Irene Franklin, and Hobart Cavanaugh. An early example of a "dying guy living it up" comedy with a fun twist--he's going to voluntarily kill himself so as not to sully his reputation for keeping his word--A Very Honorable Guy only sticks around for a little over an hour, but it packs in plenty of amusing Runyonesque wise guys and wisecracks, while featuring another diverting performance from the versatile Brown. An original trailer is included in this very nice fullscreen black and white transfer.
"Colorful" New York character "Feet" Saumuels (Joe E. Brown) has had a string of bad luck lately, so when goons Moon O'Hara (Arthur Vinton) and Joe Ponzetti (Harold Huber) offer him a sawbuck for simply knocking on Red Hendrickson's (George Pat Collins) apartment door so's as they can surprise him on his birthday, Feet jumps at the chance. Only hitch is: Moon and Joe lied--they used Feet to get Red to open the door so's as they could beat his brains in, seeing as how Red owed their boss, loan shark "The Brain" (Alan Dinehart) some dough. When Feet, angered that his reputation for honesty has now been besmirched, gets clobbered by Moon, he soon wakes and attacks him...only it's a cop attending Red, and that means Feet's in the jug without a nickel to his name (he even loses the nickel he borrows to call his girl). Surprisingly, he's sprung by the Brain, who puts up $500 for his bail--an obligation Feet doesn't want, but one he takes rather than have the Brain think he's ungrateful. Unfortunately, Feet's luck doesn't improve: he loses his girl, chorine Hortense Hathaway (Alice White), a cutie-pie little chiseler who wants flat-broke Feet to show her he loves her "materially," and he doesn't have the cabbage to pay off the Brain...and you remember what happened to Red. That's when Feet gets an idea: he'll sell his body to medical science. Only...there's no takers, until Dr. Snitzer (Robert Barrat) obliges with Feet's $1,000 asking price; the mad doctor wants to make a mold of Brown's skull to put in classrooms all over the country (what Feet doesn't know is that the Doc has been keeping time with Hortense). Of course once he agrees to deliver his corpse to the Doc in 30 days, his luck changes: he wins a lot of clams playing craps (by accident), as well as in a lottery he forgot all about. And that's too bad for honorable Feet....
Speedy and unpretentious, 1934's A Very Honorable Guy is a solid example of First National's breezy, lower-budgeted comedies from that time period. Scripted by Earl Baldwin (Doctor X, Devil Dogs of the Air, Wild Boys of the Road, Brother Orchid), and directed with the anonymous efficiency that kept director Lloyd Bacon (42nd Street, The Oklahoma Kid, San Quentin) one of Warners' highest-paid house directors, A Very Honorable Guy crams quite a bit of Runyonesque quirkiness into its abbreviated run time. I haven't read Damon Runyon's same-titled 1929 short story upon which A Very Honorable Guy was based, so I can't compare how faithful the movie is to its literary source. But at least in terms of what constitutes what we usually experience with a "Damon Runyon movie," A Very Honorable Guy is successful in creating that feeling of a parallel universe in New York's Broadway district, outside the "straight" world we inhabit, filled with "colorful," slang-slinging characters of quasi-legal means, who operate from their own elaborate code. A world of "honorable dishonorables," if you will, that can accommodate "The Brain" switching from villain to benevolent patron to friend in need, and then back again to villain and then life-saving friend during the course of the story, all according to an almost Arthurian chivalrous code among Runyon's sharpies and frauds that demands, among other things like treating a doll right, that your word is your bond. Keep your word with the Brain and you're a regular guy worthy of admiration. Break it...and your head gets broken. A Very Honorable Guy's tightly constructed, farcical plot never feels entirely silly because we buy that code's angle: Feet is going to honor his commitment to kill himself no matter what, even when he's rich...until he realizes the Doc set the deal up to ace Feet out of the picture with Hortense. Since the Doc went into the deal under false pretenses, all bets are off to the honorable Feet. The same goes for the Brain: he vouches for Feet's word when the Doc calls to see if Feet will really deliver himself dead to the Doc's office in 30 days...and that voucher must be honored right down the line, regardless of Feet's sudden good luck. Even Feet's offer to pay off the Doc isn't good enough for the Brain: the deal was Feet's corpse in 30 days, and that's it, because the Brain gave his word, too.
That inflexible devotion to Runyon's code is what drives the comedic conflict here, and Baldwin and Bacon don't cheat it. The tension underlying the many amusing scenes in A Very Honorable Guy is the constant understanding in the back of the viewer's mind that Feet gave his word, and his word is everything to him. He can't escape it, even when his original problem--poverty--is solved. There's also a relatively straight-faced approach to this farcical set-up that's admirable. Considering how outrageous the premise is, the character development (and the performances) are strictly on the level. Anything more than that and we would lose patience with the plot before the hour. Characters recognizable in any Runyon adaptation pop up with perfectly-tuned turns from the pro supporting cast. Alan Dinehart's Brain walks a very thin line between coarse and violent, and smooth and benevolent--the kind of guy who desperately wants to save Feet the second circumstances change, negating his original order to have him killed...which was just as passionately believed in. Irene Franklin isn't on for long as Hortense's mother, but she gets big laughs with her faux-affected voice when trying to impress gentleman caller Dr. Snitzer, or pretending that they have a butler. A particular favorite, Hobart Cavanaugh, is a perfect Runyon embodiment, tirelessly practicing picking pockets on a coat studded with jingle bells (Cavanaugh probably gets the best Production Code-flaunting line when, after Brown says he's selling his body, Cavanaugh responds, "Who's the lucky lady?"). That forgotten star, Alice White, is spot-on as a flirty, hard-as-diamonds chippie who wants Feet to cough up some furs and jewels in exchange for love (stories vary as to why, exactly, she briefly shone before sputtering out, but despite what then-contemporary critics said about her, she could hold her own with the best sexy, smart-assed flappers of the day).
As for star Brown, this is the third movie of his I've seen this week, with A Very Honorable Guy yet another example of how resourceful he could be, in terms of creating a character suited for a particular vehicle. In Local Boy Makes Good, he had to convince us he was a milquetoast bookworm; in Elmer, the Great, a blowhard rube from the sticks who could outperform anyone on the baseball diamond. And in A Very Honorable Guy, he has to be one of those "is he or isn't he a criminal" Runyonesque characters "being known to one and all as a guy who is just around." And he accomplishes it with ease, adopting a slight New Yawk wiseguy twang to his more modulated speech (he sounds nothing like the characters in those other two movies). Keeping the physical comedy low-key, as well, since the overall situation is funny enough (he does a hilarious little shimmy as a signal to the goons, but that's about it), he still manages steady laughs from the simplest set-ups, and with surprising deftness (it's a shame Brown permanently crippled his own leading man career just a few years after this outing, when he foolishly left the protection of Warners for independent productions). For newer viewers who only know Brown from Some Like it Hot, A Very Honorable Guy is yet another potent little antidote to that brilliant, but criminally limited, movie CV.

The Video:
The fullscreen, 1.37:1 black and white transfer for A Very Honorable Guy looks solid, with nice image detail, acceptable grain, good contrast, and the expected level of minor scratches and anomalies.
The Audio:
The Dolby Digital English mono audio track is fine, with low hiss and a strong re-recording level. No subtitles or closed-captions.
The Extras:
An original trailer is included.
Final Thoughts:
Another hidden gem from Joe. E. Brown. The fans that do know Brown from some of his more popular "rube" roles might not immediately think of him for a Damon Runyon adaptation. However, he fits in perfectly in A Very Honorable Guy, getting big laughs just by playing it relatively "straight" in this equally straight-faced farce. An unexpected winner. I'm highly recommending A Very Honorable Guy.
---
Paul Mavis is an internationally published movie and television historian, a member of the Online Film Critics Society, and the author of The Espionage Filmography.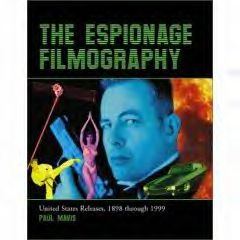 ---
C O N T E N T

---
V I D E O

---
A U D I O

---
E X T R A S

---
R E P L A Y

---
A D V I C E
Highly Recommended
---
E - M A I L
this review to a friend
Sponsored Links
Sponsored Links