Fighting Back (1948, Fox Cinema Archives)
List Price: $19.98 [Buy now and save at Amazon]
---
Talk about switching gears. 20th Century-Fox's Cinema Archives line of hard-to-find library and cult titles has released Fighting Back, the 1948 programmer from producer Sol M. Wurtzel, director Mal St. Clair and scripter John Stone, and starring Paul Langton, Jean Rogers, Gary Gray, Joe Sawyer, Morris Ankrum, John Kellogg, Tommy Ivo, Dorothy Christy, and Blondie's dog, Daisy. Looking at that original one-sheet poster art on the DVD case, and contemplating that title, you'd think Fighting Back was some kind of sleepy noir outing, or perhaps a proto-Desperate Hours suspenser. Well, you'd be wrong...and I hope you like cute dog tricks. No extras for this relatively clean fullscreen black and white transfer.
Camp Jefferson, United States Army. June Sanders (Jean Rogers) eagerly waits at the gate for her husband, Nick Sanders (Paul Langton), who's being discharged from the service. Coincidentally, Nick is also being paroled today; five years ago, convicted thief Nick took an offer to serve a longer sentence in the Army, in exchange for getting out of prison. Now, after honorable service to his country, he just wants to get his life back on track, and get a job to pay for the small, neat little suburban house June bought while he was away. June already has a salesman job lined up for Nick at her boss' textile factory. Nick is determined to tell wealthy manufacturer Robert J. Higby (Morris Ankrum) about his past--a courageous act of honesty that endears Nick to his Higby. Higby is already grateful to Nick's family, since little Jimmy Sanders (Gary Gray) has befriended Higby's handicapped son, Larry (Tommy Ivo), who suffers not only a physical affliction, but also the smothering influence of his snobby, snooty mother, Martha (Dorothy Christy), who would like nothing better than to keep Larry a namby pamby little baby who has nothing to do with dirty, "common" workers' children like Jimmy. It doesn't take long, though, for Nick's tidy little world to implode. A visit from Sam Lang (John Kellogg), the hood who let Nick take his prison rap, spots Nick's clever dog, Snuffy (Daisy the dog), and realizes that the intelligent little pooch who can do so many tricks, can also be trained to steal a diamond bracelet from Higby's desk drawer....
I had never heard of Fighting Back until this Cinema Archive disc came to my door (I thought I was getting the old Tom Skerritt vigilante movie, for some reason). Glancing briefly at that evocative original poster art on the hardcase cover, I just assumed I was in for a B noir outing that somehow involved someone threatening that rather tense-looking American nuclear family. Once the credits rolled, and I saw it was a Sol M. Wurtzel production--one of the kings of cheaply-made-but-entertaining programmer fare, producing everything from Charlie Chans, Mr. Motos and Cisco Kid Bs, to Shirley Temple outings--I thought, "I'm in good hands here for an undemanding, enjoyable outing." I may have been slightly confused by the bright, chipper title music (they could be using it ironically, I thought...), and by Mal St. Clare's name popping up--a director, despite his varied output, that I usually associate with Mack Sennett comedies and Laurel and Hardy. But once the movie started rolling--and it does that quickly, since the production only has 61 short minutes to tell its story--I was pleasantly surprised at the nicely downbeat feel it managed.
Initially playing like a very minor version of The Best Years of Our Lives, a tense, worried Nick, having served honorably on the front lines in the Philippines and then as a chauffer for a colonel after the fighting had stopped (he had to serve two years longer than his original prison sentence), returns home to a loving family, a bright, new suburban housing tract...and the gnawing fear that his past is going to wreck his future. Paul Langton, whom I know primarily from TV (particularly his memorable run in that underrated soap, Peyton Place), is excellent conveying this uneasy apprehension, joshing with his son and kissing his wife one moment, only to be shown sitting on his couch in the evening, gloomily wondering if he's going to be able to keep what he calls "heaven" (when the couple pulls up to that scrubbed-clean, hard-lit, treeless cul de sac he calls, "heaven," it's difficult for newer viewers, who have only been taught in the popular culture that suburbia is a lower level of hell, to appreciate how good those safe, simple, clean cracker boxes looked to returning vets). We may be slightly dismayed at how quickly and easily Nick seems to fit back into his family's dynamics (his interactions with his wife and young son--would the kid even remember him?--suggest not a five year absence but a return from a weekend golfing trip), but we chalk that up to typical speediness on producer Wurtzel's part: basic storytelling over any considerations of "art."
However, once Nick "passes" his first meeting/interview with his new boss, Fighting Back begins to make odd little hiccups into comedy territory, which are all the more noticeable because of the movie's successfully jittery opening. Soon, Nick is acting like a distracted child as his wife/mommy scolds him about learning the various textiles he needs to know for his job (pretty Jean Rogers, in the kind of post-Buck Rogers nothing role that ended her career just a few years later). She won't even let him play baseball with the neighborhood boys until he can distinguish taffeta from herringbone (like so many cinematic suburban fathers before and after him, man-of-the-house Nick is emasculated for comedic effect when the boys burst in and see him incongruously draped in fabric samples). Then, an incongruous, heavily padded baseball game between neighborhood boys is dropped into the middle of Fighting Back. Inexplicably, an unseen "announcer" somehow gives us a radio-worthy play-by-play of a sandlot game--wait till you hear this post-production addition describe Ivo as "the crippled honorary member of the team"--a game which ends with an absolutely horrific, grotesque shot of Ivo repeatedly falling and painfully crawling through the dirt to first base, as his father and teammates scream at him to keep going (my kids had never seen anything like that before in Little League...).
At this point in John Stone's script (Captain Lash, Passport to Suez), you don't know what the hell to expect from Fighting Back...so, naturally...it turns into a humorous diamond caper involving a cute pooch (and why not, I suppose). Spooks, the poodle/spaniel/terrier mix who, billed as Daisy, was one busy dog during the 40s with all the popular Blondie movies, suddenly takes center stage in Fighting Back, and with the help of Sennett alum St. Clair, scores in one funny sequence after another, from his reluctant training at the hands of exasperated hood Kellogg, to his midnight cat burglary work (lots of laughs here when he jumps from chair to chair as Kellogg shushes him, only to keep eluding Kellogg as the hood chases the cute mutt around), to an extended scene where Daisy keeps bringing back the bracelet as Langton and Rogers try and stall a suspicious, frustrated copper, Joe Sawyer. All of this is played in the broadest of slapstick terms (Langton bugs his eyes and fumbles his hands when he sees the bracelet for the first time--all that's needed is a laugh track to make it sitcom complete). It's nicely choreographed by St. Clair. It sends the small fry out laughing (my little kids wanted me to back it up again for all the dog scenes).
And all of this canine comedy has absolutely nothing to do with how Fighting Back first started out. In a word: bizarre
The Video:
The fullscreen, 1.37:1 black and white transfer for Fighting Back looks okay, with good-enough blacks, nice contrast, a relatively sharp image, and the expected level of grain and imperfections (nothing too distracting at all).
The Audio:
The Dolby Digital English mono audio track is fine, with a loud re-recording level, and low hiss. No subtitles or closed-captions.
The Extras:
No extras for Fighting Back.
Final Thoughts:
Fighting Back from...what? That title, that poster art, and those opening ten minutes suggest an intriguing noir dealing with a little-covered subject--convicts who exchanged their prison sentences for a WWII uniform. However, domestic suburban comedy starts to creep in almost immediately, and before you know it, Fighting Back turns into Blondie Meets an Ex-Con. Daisy the pooch is adorable, though. A thoroughly schizophrenic experience...and one I have to vouch for just on weirdness alone. I'm recommending Fighting Back.
---
Paul Mavis is an internationally published movie and television historian, a member of the Online Film Critics Society, and the author of The Espionage Filmography.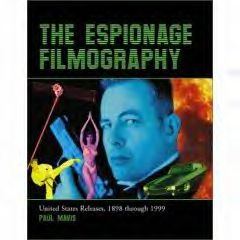 ---
C O N T E N T

---
V I D E O

---
A U D I O

---
E X T R A S

---
R E P L A Y

---
A D V I C E
Recommended
---
E - M A I L
this review to a friend
Sponsored Links
Sponsored Links