Moonshine War (Warner Archive Collection), The
List Price: $21.99 [Buy now and save at Amazon]
---
Grotesque enough at times for a few laughs...but woefully f*cked up. Warner Bros.' Archive Collection of hard-to-find library and cult titles has released The Moonshine War, the 1970 Filmways comedy actioner, released by Metro-Goldwyn-Mayer, directed by Richard Quine, and starring Patrick McGoohan, Richard Widmark, uh...Alan Alda (?), Lee Hazelwood, Joe Williams, Will Geer, Melodie Johnson, and Suzanne Zenor, as well as Max Showalter, Harry Carey, Jr., Charles Tyner, Terry (Teri) Garr, John Schuck, Bo Hopkins, and Tom Skerritt in the background for color. Scripted by Elmore Leonard from his novel, The Moonshine War suffers from one malady after another: cosmically misconceived casting, blank, lackluster direction, an indifferent, cheap production, and what I suspect was post-production tampering. Some trademark violent Leonard goofiness can't help but shine through; however, the final result is embarrassingly bad. No extras for this only-okay anamorphically enhanced widescreen transfer.
The backhills of Kentucky, just two months before the 1932 presidential elections. Rather shaky U.S. government Revenue agent Frank Long (Patrick McGoohan) has arrived in town to look up an old Army acquaintance, Son Martin (Alan Alda). You see, Long has heard stories that someone has cooked up 150 barrels of U.S.D.A. prime corn whisky, and they're a'hidin' it somewheres about in these mountains--and that can only be the work of smart-as-a-whip Son Martin. For the unedjekated, 150 barrels of corn liquer equals 4,500 gallons of 'shine. Sold at $5 dollars a gallon wholesale, that's $22,500 Depression-era dollars to the maker...and $122,500 to the moonshiner who takes the risk of selling it in the two months before Prohibition is repealed (when shoo-in FDR takes over) and people start buying the "regular" stuff again. Crooked Long-arm-of-the-law offers to look the other way for a percentage--the same deal county sheriff Baylor (Will Geer) has going--but Son isn't interested, and he makes sure Long knows it when his boys almost throw Long out of his hotel window. So Long makes a phone call to bring in reinforcements: ex-dentist/rapist Dr. Taulbee (Richard Widmark), his busty, blowsy companion Miley Mitchell (Suzanne Zenor), and his equally psychotic ex-con sidekick Dual Meaders (Lee Hazelwood). Son isn't anymore impressed by Dr. Taulbee's more insistent threats than he was by Long's entreaties, so Taulbee calls in his own army of thugs to convince Son's fellow bootlegging neighbors to make Son talk and give up the corn. When the bodies start piling up, Long realizes he's in way over his head....
For me, The Moonshine War is one of those kinds of titles that many hard-core movie fans have in the back of their heads: a tantalizing, elusive outing that always registers interest whenever it happens to pop up in a reference work you're reading...but one that's only been seen in some bastardized form years and years ago. In my case, I saw The Moonshine War as a kid in a heavily-edited, panned-and-scanned television airing back in the 70s, and that's it (if it was released on VHS, or subsequently shown on TCM, I missed it). It's one of those titles you may have vague memories of from way back; its elements all seem intriguing now that you're an adult and up on your movie history (Elmore Leonard meets The Prisoner in the violent moonshinin' backhills of Kentucky). And now an "official" release on DVD, complete with an unedited anamorphic widescreen transfer, will "solve" that nagging movie memory for you. You'll see it complete for "the first time," (hopefully) discover that it's a lost little gem, and another pesky title will get scratched off that troublesome list of your frustratingly incomplete moviegoing history.
Uh...wrong, because in the first five minutes of The Moonshine War you realize that it's an obscure title for a very good reason: it's just plain awful. From the very start, The Moonshine War gives off that unmistakable vibe of a studio product gone seriously off the rails (whether in pre, during production, or post--I suspect all three in this case...), with obvious problems you just know are only going to get worse. I'm not talking about nit-picky things like the lazy choice of substituting instantly recognizable Stockton, California's dry, dusty location work for the wooded hills of Kentucky, or the frequently silly Neal Hefti soundtrack (Neal Hefti for a hillbilly actioner?) or the iffy, cheap production values. No, I'm talking about the deep unease a viewer feels when miscast (to say the least) McGoohan starts talking in that growling, constipated estimation of an American accent he frequently used to paralyzingly funny effect, delivering it deep down into his chest where his chin seems permanently attached, while he's inexplicably contorting his face and body in what we assume are approximations of moral decrepitude (later, McGoohan lets us know he's "American" and "rural" by helpfully eating with his mouth open). It's the kind of glaring, obvious, even outlandish mistake--why was this actor cast in so inappropriate a role...and then why on earth was he allowed to make such a ridiculous spectacle of himself by the director?--that immediately cues you into realizing you're watching a potential train wreck of sizeable--and heartbreaking--proportions.
And that trepidation is confirmed when the next scene finds McGoohan going out to Alda's farm. Never mind that we never really know how these two are "friends," or to what extent their past relationship binds them today--a crucial character development and plot point that's missing here. And never mind we have no idea how Sheriff Will Geer is tied up with Alda--he's crooked, too...or merely indulgent of Alda's moonshining?--or why Hopkins, Skerritt, Shuck, and Tyner seem to be Alda's "gang" at this point...only to be indifferent bystanders later. None of those shoddy, fuzzy script developments--the first among many--matter once we hear Alda speak for the first time. Bewildered, fishbelly-white Alda--the preppiest-looking hick I ever saw (and I know my hayseeds, proudly coming from a long line of rednecks)--with rubber hose arms that couldn't do fifteen minutes' worth of minin' or farmin' or moonshinin' or nuthin', stares blankly out at McGoohan and drawls, "Waaaaahhhl I figguuurd you'd show up one of theeese daaaayzzzz," with the resulting effect on the viewer being what I can only describe as generalized hysteria. Nothing Alda ever said or did on M*A*S*H or his big-screen comedies can touch what he inadvertently achieves here (the accent comes and goes throughout the movie--at one point it's so exaggerated, it sounds like Gabby Hayes swallowed Snuffy Smith--but his overall creepy indifference is steady as a rock). And right there is when you know The Moonshine War is going to be a very special experience...and not at all a good one.
As fatal as those two lead performances are, The Moonshine War's biggest problem is that it isn't exciting or nasty enough to be credible exploitation fare (that "GP" rating doesn't help), nor is it smart enough or well thought out enough to be "about" anything deep. We get that The Moonshine War's outlook is cynical, but what, exactly, is it trying to say? If it's not trying to say anything at all, then fine. Load up the sex and violence and quirky characters and funny Leonard one-liners, and you'll get four stars from me (anyone who has read my stuff knows just the redneck moonshinin' set-up alone here predisposes me to rave about it). However, The Moonshine War doesn't deliver much of those thrills (a few tame shoot-outs, a few funny, recognizably "sick" Leonard moments...and no skin), while potential dramatic themes are either ignored...or were cut out of the movie. I don't need to root for anyone in an Elmore Leonard outing, but I suppose the movie wants us to like Alda. However, he's such a limp-dick, nondescript cipher we don't care if he lives or dies...so what's the point of the movie? The sardonic mayhem? Well, there isn't enough of that to satisfy, either. We have isolated moments of Leonard pleasure, such as record producer Lee Hazelwood's funny/disturbing restaurant scene where he takes a couples' clothes by implied force (a scene very similar to one with Richard Boone in Leonard's Hombre, and yet another source of rip-off material "homage" for hack imitator Quentin Tarantino). Or Widmark's entire, marvelously funny, off-putting performance (you haven't lived until you see Widmark--alive and unpredictable and strange like he hadn't been in years on-screen, talking about, "Pink titties...I like pink titties on a shapely woman,"). But those pleasures are few and far between all the alternately chaotic and boring dross.
Where The Moonshine War went wrong is impossible to say without a look at studio production memos, an original script, the actual shooting schedule, and the editing log...and even then I wouldn't bet money on a definitive answer. I know the feeling today is that everything Elmore Leonard touched was a masterpiece, but this was his first script, so maybe he made freshman mistakes in continuity and character development (were the best "Elmore Leonard movies" those he personally wrote for the screen...or the ones adapted by others from his written works...?). Director Richard Quine is an obvious, easy target here. A one-time talented comedy helmer with his share of hits and misses, Quine was definitely on the way out by 1970 (good work like Operation Mad Ball, Bell, Book and Candle, How to Murder Your Wife and the serious Hotel would regularly alternate with misfires like The World of Suzie Wong, The Notorious Landlady, Paris When It Sizzles, Sex and the Single Girl, and the awful Oh Dad, Poor Dad, Mamma's Hung You in the Closet and I'm Feelin' So Sad). Showing zero visual flair (even with cinematographer Richard H. Kline helping), Quine's scenes just lay there, with the only infrequent sparks provided not by his dead pacing and poor blocking but the one or two performers who are on the ball. There's one other culprit potentially responsible for The Moonshine War's herky-jerky construction, and his name doesn't appear anywhere in the credits: James Aubrey. Anyone familiar with M-G-M's (mis)fortunes at the time knows that Aubrey, the former head of CBS, had been given the studio reins of M-G-M in 1969 by majority stock holder Kirk Kerkorian. Aubrey then proceeded to alienate just about every artist in Hollywood while he slashed and burned his way through Metro's perilous financial state. Aubrey also personally tinkered with most of the new movies that had Leo the Lion slapped on them, to the fury of the moviemakers. Did Aubrey jumble up producer Martin Ransohoff's The Moonshine War? It's certainly possible (there are accounts of a personal beef between the two). There are incongruous moments here that feel very much like another M-G-M movie Aubrey reported mangled that same year--Brian G. Hutton's Kelly's Heroes--particularly the awkward insertion of anachronistic folk rock songs in an effort to boost potential soundtrack sales (The Moonshine War's final insult comes at the very end, when Alda dispatches his enemies...only to have Roy Orbison immediately blast away on the soundtrack, utterly ruining the only effective action scene in the movie). In the end, however, The Moonshine War's grievous miscalculations and mistakes are so numerous and varied, it doesn't really matter who's specifically responsible: there's more than enough blame to go around.

The Video:
The anamorphically-enhanced, 1.78:1 widescreen transfer for The Moonshine War isn't the greatest: a bit soft in image detail, with grainy, sometimes muddy color, and a fair amount of scratches and dirt. Contrast can blow out at times, too.
The Audio:
The Dolby Digital English mono audio track is healthy, with low hiss. No subtitles or closed-captions.
The Extras:
No extras for The Moonshine War.
Final Thoughts:
The laughs you should get from The Moonshine War come from a deliciously unhinged Richard Widmark and an out-of-left-field Lee Hazelwood as typically funny/scary/bumbling Elmore Leonard crooks. The laughs you shouldn't get from The Moonshine War come from spectacularly miscast Alan Alda as a blank, effete moonshiner and Patrick McGoohan as a Popeye-grumbling half-wit Revenuer. A flat-out disaster--and an especially disappointing one--considering the promising set-up...so of course I'm recommending The Moonshine War, for lovers of truly terrible moviemaking.
---
Paul Mavis is an internationally published movie and television historian, a member of the Online Film Critics Society, and the author of The Espionage Filmography.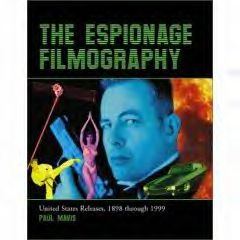 ---
C O N T E N T

---
V I D E O

---
A U D I O

---
E X T R A S

---
R E P L A Y

---
A D V I C E
Recommended
---
E - M A I L
this review to a friend
Sponsored Links
Sponsored Links