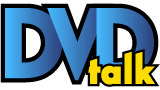 Time Bandits: Criterion Collection
List Price: $39.95 [Buy now and save at Amazon]
---

Terry Gilliam's Time Bandits (1981) is a free-wheeling adventure seen through the eyes of an 11 year-old boy, Kevin (Craig Warnock). It's a family film in the loosest sense of the word---as defined by most domestic movie audiences, at least---as its nightmarish visions and darker elements aren't far removed from later movies like Jim Henson's The Dark Crystal and Labyrinth. This clever blend of fantasy, history, comedy and drama is delivered in a way familiar to even casual fans of Gilliam's work, and the theme of "escape through imagination" would be explored in his next two films, Brazil and The Adventures of Baron Munchausen. Incidentally, Time Bandits also became the most financially successful film of Gilliam's directing career and stayed there until Twelve Monkeys almost fourteen years later.


Not that Gilliam ever cared all that much about box office receipts; with few exceptions, his singular films don't feel like the result of test groups and mass-market commercial formulas. Written with Monty Python teammate Michael Palin, Time Bandits follows Kevin in his lonely existence with technology-obsessed parents. Desperate to escape their flaccid authority, Kevin is excited to get visitors in his room: first, a knight on horseback and second, a band of dwarves led by Randall (David Rappaport) with a stolen map of the universe. Its original owner is The Supreme Being (Ralph Richardson), who finds Kevin and company before they flee through a hidden hallway and a gate through the fabric of time. Turns out that the dwarves are using the map to steal valuables throughout history, from Ancient Greece to the Titanic's doomed voyage, but others are interested in the map's power...especially a sorcerer appropriately named Evil (David Warner), who is able to trick the greedy dwarves and their curious new partner on several occasions.


I was a little young to see Time Bandits theatrically (or understand it, at least), but the film still evokes a terrific sense of childhood wonder more than three decades later. Its wonderfully loose atmosphere is heightened by solid performances, memorable special effects, and a genuine enthusiasm for discovery that rivals some of the genre's best entries. The film's episodic nature feels perfectly in line with other Python productions (especially The Meaning of Life, which would arrive two years layer), ensuring that even if you're not completely thrilled with the current landscape, a new one is just around the corner. But two of the film's true unsung heroes are its detailed production and costume design, respectively headed by Milly Burns (Brimstone and Treacle) and James Acheson (The Last Emperor). Along with Gilliam's direction, they maximize the look and effectiveness of this likable low-budget production.


Time Bandits has had no shortage of DVD and Blu-ray releases since Criterion's first attempt in 1999; more information about that disc and many others are linked below. The short version is that none of them are really definitive editions, but this new Blu-ray from Criterion---as well as a 2013 Region B release from Arrow---offers the closest alternative. Both are sourced from a relatively new 2K transfer supervised and approved by Gilliam, but each one includes a different set of bonus feature that are entertaining and informative in completely different ways. But any way you slice it, Time Bandits is an enjoyable film and this is one of the best ways to experience it for the first or 50th time.

Quality Control Department
Video & Audio Quality

Presented in its original 1.85:1 aspect ratio, this 1080p transfer of Time Bandits was supervised and approved by Terry Gilliam and looks terrific. Taken from a recent 2K master, this represents a huge upgrade over region 1/A releases from the past decade and a half including Criterion's 1999 non-anamorphic DVD, Anchor Bay's 2004 Special Edition, and Image Entertainment's disappointing 2010 Blu-ray. Image detail and textures are consistently strong, black levels are deep, and the muted color palette is no longer pushed to the warm side. It's a great looking transfer and long-overdue, as the film's interesting set designs and Gilliam's trademark "anything goes" special effects can be seen in much more detail this time around. Unless you already picked up Arrow's 2013 Region B Blu-ray (which utilizes the same new 2K director-approved transfer), you'll certainly appreciate the improvements on display here.

---


DISCLAIMER: The screen captures featured in this review are strictly decorative and do not represent Blu-ray's native 1080p image resolution.


---

Not surprisingly, this Criterion Blu-ray plays it straight with an PCM 2.0 Stereo track that preserves the film's two-channel roots. Time Bandits' audio is definitely underwhelming compared to the visuals, but this is likely due to budget issues and the era in which it was made. Plain and simple, the film has always sounded a little flat and unremarkable, though channel separation is often strong and the dialogue is balanced nicely with music cues and background effects. Still, Arrow's Region B Blu-ray (linked above) included the original 2.0 track and a 5.1 remix, so it's a shame we don't get the same option here. Optional English subtitles have been included during the main feature only.

Menu Design, Presentation & Packaging
As usual, Criterion's menu interface is smooth and easy to navigate. This one-disc set is locked for Region A players; it's packaged in their typical "stocky" Blu-ray case with artwork that differs slightly from the original DVD. The accompanying fold-out
Insert
features an essay by critic David Sterritt and an oversized "map of the universe".
Bonus Features

One partially exclusive "new" extra is included here, although some of it can be seen during supplements included on Arrow's Region B Blu-ray. This new piece,
"Creating the Worlds of Time Bandits"
(24:13), is hosted by writer David Morgan and includes interviews with production designer Milly Burns and costume designer James Acheson. This is a detailed and interesting piece that fans will enjoy, as the film's interesting set pieces and unique effects are two of its strongest assets...although the lack of participation by Terry Gilliam is definitely a little disappointing.

We also get a pair of vintage extras that, to the best of my knowledge, have not been included on earlier releases despite their age. First up is a lengthy Interview / Q&A with Gilliam and scholar Peter von Bagh from the 1998 Midnight Sun Film Festival in Sodankyla, Finland (80:16). This covers a little bit of everything about Time Bandits---including more traditional elements like casting, production, and the developmental process---as well as other topics like Gilliam's trademarks, influences, and childhood life in Minnesota. Overall, it's an entertaining session that gets plenty of breathing room. On a similar note, we also get a short 1981 Interview with actress Shelley Duvall from NBC's Tomorrow show (9:02), in which she discusses her on-set experiences and other film roles from the era.


Three additional supplements are ported over from Criterion's 1999 DVD, including a terrific Audio Commentary, a short but sweet Photo Gallery (upgraded to 1080p), and the film's amusing Theatrical Trailer. As with other Criterion releases, optional English subtitles have unfortunately not been included for any of these bonus features.

Final Thoughts

Time Bandits doesn't fit the category of "family film" in a way that most people are comfortable with, but its winning charm, unsettling visions, and unpredictable nature blur the gap between childhood and adulthood in a truly unique way. It's aged quite well in the last 30+ years and looks better than ever on Criterion's new Blu-ray, which is sourced from a relatively new 2K master used on at least one international release in the past year. The supplements, while not exactly comprehensive, are interesting and Criterion's terrific 1999 audio commentary is also carried over. There's no new contributions from Terry Gilliam this time around (which might make Arrow's Region B Blu-ray the more desirable disc), but this is still a well-rounded effort with three exclusive bonus features. Firmly Recommended.

---
Randy Miller III is an affable office monkey by day and film reviewer by night. He also does freelance design work, teaches art classes and runs a website or two. In his limited free time, Randy also enjoys slacking off, juggling HD DVDs and writing in third person.
---
---
C O N T E N T

---
V I D E O

---
A U D I O

---
E X T R A S

---
R E P L A Y

---
A D V I C E
Recommended
---
E - M A I L
this review to a friend
Sponsored Links
Sponsored Links