Air Patrol (1962, Fox Cinema Archives)
List Price: $19.98 [Buy now and save at Amazon]
---
Crisp and clean-looking...but rather dull in the end police actioner from executive producer Robert Lippert's Associated Producers, Inc.. 20th Century-Fox's Cinema Archives line of hard-to-find library and cult titles has released Air Patrol, the 1962 police procedural released by Fox, produced, written, and directed by Maury Dexter, and starring a host of familiar B faces: Willard Parker, Merry Anders, Robert Dix, John Holland, Russ Bender, George Eldredge, Ivan Bonar, and Douglass Dumbrille. What starts out as cheap-but-snazzy quickly shows its B roots with a lot of padding and an extended, lame chase scene at the end. However, if you're into vintage B crime mellers, you may want to check out the clean L.A. lines in this absolutely pristine anamorphically-enhanced black and white CinemaScope transfer. No extras, though.
3:00am, the LT Building, Los Angeles, California. In high-end art dealer Arthur Murcott's (John Holland) office, a valuable Fragonard painting is razored out of its frame, with the thief calmly ascending the stairs to the roof, where a helicopter whisks him away into the night. L.A. detectives Lieutenant Vern Taylor (Willard Parker) and Sergeant Lou Kurnitz (Russ Bender) are assigned to the case, with the first order of business finding out if Murcott's secretary, Mona Whitney (Merry Anders), who was injured during the robbery, was in on the scam. Once it's determined that a helicopter was involved in the heist, Sergeant Bob Castle (Robert Dix) of the L.A.P.D. Air Patrol department is called in for his expertise. His whirlybird footwork quickly digs up two prime suspects: once-rich old timey actor Millard Nolan (Douglass Dumbrille), who originally commissioned Murcott to buy the painting (but later backed out of the deal), and Ollie Dunning (Ivan Bonar), a solid citizen with money troubles who suddenly can afford a brand new helicopter. When Murcott receives a strange, pre-recorded phone call demanding a ransom for the painting, ex-cop-turned-insurance dick Howard Franklin (George Eldredge) puts in his two cents, with the investigation culminating in a, um...frantic air/land chase along the concrete Los Angeles River bed and the Sepulveda Dam.
It's rare that I get to actually write about one of Maury Dexter's cheapo Bs (in an exploitation career that included everything from The Young Swingers and Surf Party, to Maryjane, The Mini-Skirt Mob and Hell's Belles), because whenever they're released by Fox's Cinema Archives line, they're usually not in their correct ratio...and that's an automatic "skip" here at DVDTalk (I did break my rule and review Dexter's Raiders From Beneath the Sea). So just from the "sigh of relief" column, I was put in a generous frame of mind when I played Air Patrol and found that not only was it correctly ratioed at 2.35:1, but that the original materials used for this anamorphically-enhanced black and white transfer appeared to be pristine: sharp, crisp image with plenty of detail, deep blacks and steady contrast, and with almost no imperfections. Scripted by human dynamo Harry Spalding (Curse of the Fly, One Little Indian, The Watcher in the Woods), this time using the pseudonym "Henry Cross" (because he was embarrassed at writing 18 such B scripts in a two year period during the early 60s), Air Patrol further pleased me when the opening sequence played so well. With the help of cinematographers John Nickolaus, Jr. and Jack Woolf (aerial), who captured some rather scintillating shots of Los Angeles by night, Dexter executes a simple-yet-effect series of shots outlining the theft, aided enormously by the Beethoven of Bs, composer Albert Glasser, and his jazzy, snappy music cues. If we happen to notice that the actor playing the thief mysteriously changes when he's next seen walking up the stairs (black hair versus gray hair), we chalk it up to rushed B production schedules (or an actor who said no way to "stunt work") and don't give it another thought (if anything...those kinds of continuity errors are rather endearing with these programmers). We even get one of Spalding's ironic one-liners: when the two clueless security guards see Anders stagger out of an elevator and collapse, the one who left his post for coffee asks, "What happened to her?" to which his unsympathetic partner flatly replies, "That's what the cops are going to ask you." Nice.
So far, so good. The cop duo of Willard Parker (tall and authoritative and nicely cynical) and Russ Bender (squat and mouthy and even more cynical) fit right in with what we're expecting for a gritty little police procedural, giving as good as they get with tough-gal Anders, whom we discover has a police record...for hitting a cop (when Parker asks her if she had a permit for the art show she was busted for putting on, she snaps back, "Do you mean did I pay off [the cops]? No,"). Had Air Patrol stayed with these three, well...the movie probably wouldn't have been called Air Patrol, but we might have had a nice crime meller with agreeable noir touches (I love Anders' tough cookie smart mouth: when Parker has the nerve to be an intelligent cop who knows about Fragonard, a vaguely incredulous Anders sneers, "If you aren't the living end: an art-loving cop,"). Unfortunately...to justify that title, Robert Dix has to show up (yes, he's the son of big 30s star Richard Dix), and everything in Air Patrol gets thick. As Dix romances Anders, we're set up with a potentially interesting subtext to his character: he says he doesn't want to be in the Air Patrol. Okay, let's see what that means in the movie--hopefully it compromises him somehow, or at least broadens his character with some interesting background. Nope. We never hear another word about what should be a key plot point, as we wait in vain for it to somehow connect up with what we're watching. He remains an uninteresting cipher.
Instead, Dix begins to preside over a sub-par Dragnet/Whirlybirds episode, with sporadic, dull procedural narration and lots and lots of expositional padding to get to that 70 minute run time. One or two funny punctuations appear, like the 45-year-old "newsboy" who pops in at the police station looking to make smart comments (when Anders buys a paper from him, he exclaims to Parker--who owes on his paper bill--"Hey, she paid in cash! She'll never make the force!"), or Stacey Winters as a ticked-off housewife sick of all the noise from the flight path directly over her house ("I'd rather live with his mother!" she snaps to Dix, her unseen, whining husband heard in the background). But these moments are few and far between all the gabbing and the cliched police whodunit footwork, before we're treated to a distinctly disappointing action finale. As Dix, in his helicopter, follows the thief and the ransom note, we get several beautifully framed shots of the copter tracking a car below, which is racing through the waters of the Los Angeles River concrete sluices. How, we may ask, can they screw this up? The cinematography is exciting, the location unique, the set-up a natural. However...we quickly realize we're going to get the exact same three shots over and over and over again (helicopter, inside the car, outside the car), with absolutely no verve or juice in the editing or direction to entice us into caring what happens to either cop or crook. This isn't a chase scene; it's busy walking, and rather unimaginative padding at that...until the final--and outrageous--finale. SPOILER ALERT! When the thief (and I won't spoil who did it...but seriously, you can't figure that out from the above synopsis?) exits the car and takes off onto the Sepulveda Dam, he's finally cornered like a rat, with nowhere to run and his back against a railing, the water surging hundreds of feet below. Just then, Dix rounds the corner, takes a split second to see his quarry is trapped, with both hands raised in surrender...before Dix plugs him full of holes! When Parker arrives, Dix grimly shakes his head and flatly lies, "He just wouldn't stop," a beautifully ironic, deeply perverse ending for a really great noir...which Air Patrol ain't by a long shot.
The Video:
Perfect (see above).
The Audio:
The Dolby Digital English mono audio track is loud, with almost no trace of hiss. No subtitles or closed-captions.
The Extras:
No extras for Air Patrol.
Final Thoughts:
Unfortunately...for the birds. Air Patrol starts out so well for a Maury Dexter B programmer (and that's saying something...), but it quickly starts to coast, padding out its boring police procedural exposition to the stretching point, while failing to build on either its potentially interesting noir elements or its sometimes scintillating black and white cinematography. Vintage police and crime meller enthusiasts are the only audience for this one, and only completists from within that small group should rent Air Patrol.
---
Paul Mavis is an internationally published movie and television historian, a member of the Online Film Critics Society, and the author of The Espionage Filmography.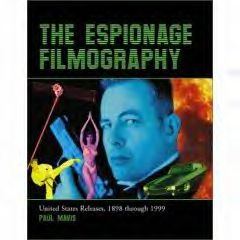 Sponsored Links
Sponsored Links