Oregon Passage (Warner Archive Collection)
List Price: $21.99 [Buy now and save at Amazon]
---
Drab, dull cavalry oater. Warner Bros.' Archive Collection line of hard-to-find library and cult titles has released Oregon Passage, the 1958 CinemaScope Western from Allied Artists starring John Ericson, Lola Albright, Toni Gerry, Edward Platt, and H.M. Wynant. One of countless "besieged fort" oaters from the 1950s, Oregon Passage's inept widescreen framing only serves to point out how threadbare the promising script actually is, while the action--a must-have for any Western programmer--is regrettably tame. The good actors help not a whit. No extras for this anamorphically-enhanced, faded De Luxe color transfer.
The Cascade Mountains of Oregon, 1871. All is quiet between the isolated U.S. Cavalry posts and the Indians under a temporary truce...until renegade Shoshoni Black Eagle (H.M. Wynant) goes on the warpath, stirring up a race war. Lieutenant Niles Ord (John Ericson) has been charged by post commander Captain Boyson (Harvey Stephens) with finding Black Eagle. However, a raid on a ceremonial village only yields a few braves (who are shot) and Little Deer (Toni Gerry), who has been kidnapped from another tribe as a virgin bride for Black Eagle. Ord, who is 1/16th Cherokee, is best friends with his Indian guide, Nato (Paul Fierro), who had tricked Ord into attacking the village to rescue her--it turns out Little Deer is from Nato's tribe. Back at the fort, Ord learns there's a new commander (Boyson hasn't been the same since he was captured and tortured by Indians): Major Roland Dane (Edward Platt), a by-the-book martinet/weakling who's insanely jealous of his wife. And up to a point, he's got a right to be: sexy Sylvia (Lola Albright) flirts with anything in pants...but that's just to drive her hated husband crazy. What Ord doesn't know, though, is that Dane requested duty at this fort specifically to test his wife's fidelity, since he knows all about Sylvia's affair with Ord two years before Dane married her. Suspicious Dane won't listen to Ord about the unique strategies needed to fight the wily Black Eagle, so when things heat up after Boyson is slaughtered leaving the fort, things get dicey for Ord...both professionally and romantically.
I'm not going to waste a lot of time on this crappy Monogram Allied Artists "high B" outing. Scripted by good action writer Jack DeWitt (The Bamboo Prison, Cell 2455, Death Row, A Man Called Horse, Sky Riders), Oregon Passage--like so many other Westerns from that most fertile of American movie genres--has plenty of interesting ideas to play around with in all that unfortunately desultory exposition. The opening scene where Ericson, Nato, and pony soldier Walter Barnes scout and raid the Shoshoni ceremonial village introduces several potentially promising threads that point toward a Western that could have had more on its mind than just guns and horsesh*t. Fair, tough-but-honest Ericson is shown to be at odds with his men, when he cautions no Indian women and children are to be killed during the raid (Indian-hater Barnes just wants to coming riding in, guns blazing). Ericson also rescues a half-naked Gerry from getting raped by an American soldier (...before she was to be raped by Wynant's Black Eagle on her "wedding night"), offering her protection and a return to the cavalry fort--an act of compassion that offends his new superior Platt ("Rescued? The Army doesn't rescue Indians--it destroys them," he sneers to Ericson). We later learn Ericson, being 1/16th Cherokee himself, was brought up by Indians (his best friend is Indian scout Nato), which would explain his fair-minded treatment of them . On the other hand, Oregon Passage isn't afraid to detail Indian atrocities against Whites (particularly women), when that sort of historical detail was being rapidly phased out as "insensitive" in the bigger-budgeted, more cautious-minded oaters of the late 1950s and early 1960s (Captain Boyson, having been tortured once before by his Indian captors, is kidnapped again...only this time his belly is slit open, and stuffed with what the script euphemistically calls "filth").
Sounds like a good, solid actioner detailing the nasty Cavalry-Indian wars that brought out the worst in both sides, right? Wrong, because absolutely nothing is done with any of these thematics here: they're merely mentioned as plot points...and then dropped without explanation or elaboration. Where's Ericson's personal and professional conflict over being a "half-breed" himself, working for an entity that wants to destroy his own people? Where's a discussion of how that treaty was supposed to be enforced, when the cavalry is headed-up by men like Platt who only want Indians destroyed, while the Indian tribes are led astray by killers and torturers like renegade Black Eagle? Where's a comparison between the two warring cultures, and the moral "rightness" or "wrongness" of the acts they commit, such as rape, kidnapping, torture, and murder? Well...you'll ask those questions in vain watching the kiddie show Oregon Passage, which immediately switches into "comic book" mode after that opening, spending an inordinate amount of time detailing Platt's, Albright's, and Ericson's ridiculously cliched and excruciatingly dull love triangle, while ignoring the issues it set-up above--any of which would be infinitely more interesting (when a seething Platt, entertaining the idea that Albright might be kidnapped and raped by Black Eagle--a valid concern since, idiotically, he lets her ride around outside the beseiged fort every day--says his first bullet is going to be for her...the second bullet should have been for DeWitt for trotting out that old groaner of a subplot).
Worst of all, Oregon Passage can't even get the basic pleasures of a typical action-filled oater right. I've written this countless times before, but it's true that as long as you have a horse, a gun, and a wide expanse of land on camera, you're going to have to go out of your way to screw up the simple, primitive pleasures of the Western genre, and yet, Oregon Passage correctly exploits almost none of the genre's most basic conventions. Despite a bumped-up budget (when Allied Artists was consciously trying to compete with the majors in these quasi-A efforts), and the CinemaScope process to capture the sweep of the Deschutes National Forest location shooting, Oregon Passage's rushed three week shooting schedule shows--it looks remarkably flat and dreary. Director Paul Landres (lots of Bs and episodic television, like The Lone Ranger, The Cisco Kid, and The Life and Legend of Wyatt Earp) couldn't block or stage an exciting widescreen set-up to save his life here, with tedious, nondescript visuals and static, innervated action scenes that wouldn't have passed muster on the small screen Westerns airing at the time, nor certainly on the huge, expansive CinemaScope frame. The main actors--all good--try their level best, but what can they do with a director who can't even frame or block properly, let alone guide their performances into something beyond juvenile melodrama? As a fan of the Western genre, you can excuse Oregon Passage for choking on its early promise of being something "more" than simply a meat and potatoes oater...but there's no way you can forgive it for not even achieving that.
The Video:
The 2.35:1 anamorphically-enhanced widescreen transfer for Oregon Passage looks pretty bad, with wild color shifts every minute or so (there's a definite red/purple tinge to everything, a sure sign of color fade). The image is reasonably sharp, with an expected level of screen imperfections, like scratches and dirt. Grain is noticeable, too.
The Audio:
The Dolby Digital English split mono track for Oregon Passage is okay, with low hiss and a decent re-recording level. No subtitles or closed-captions, though.
The Extras:
No extras for Oregon Passage.
Final Thoughts:
I don't care who won, but I know who lost: me. Despite the faux-allure of CinemaScope (if you don't know how to fill it...it ain't a plus), and a storyline that at least held the promise of something "more," Oregon Passage turns out to be bargain-basement cowboys and indians filler, with anemic action and cliched situations. I'll watch anything with a horse in it, but I'm advising even hard-core Western fans to skip Oregon Passage.
---
Paul Mavis is an internationally published movie and television historian, a member of the Online Film Critics Society, and the author of The Espionage Filmography.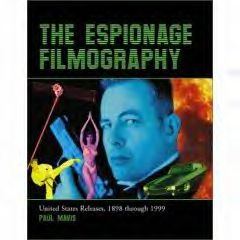 Sponsored Links
Sponsored Links