The Movie:
"What I Did Last Summer" … Charlie Brown and the rest of the Peanuts gang have an exciting camping adventure to tell their trombone-voiced schoolteacher in Race for Your Life, Charlie Brown!, the 1977 theatrical feature from Charles M. Schulz's cottage industry. Bizarrely enough, Paramount's newly restored edition of the film marks its first official release on DVD. 1980's Bon Voyage, Charlie Brown (And Don't Come Back!!) will follow in October 2015.
In anticipation of the 2015 Peanuts CGI feature, it's interesting to catch something like Race for Your Life, Charlie Brown! and see what worked and what didn't when it came to Peanuts on film. During Schulz's lifetime, there were only four animated Peanuts movies made, as opposed to the dozens of television specials broadcast in 1964-94. All four movies wisely kept the TV production team of producer Lee Mendelson and director Bill Melendez, adjusting the homey, suburban world of Charlie Brown and Snoopy to make it more theatrical and, at times, a little weirder (the gloomy Rod McKuen tunes and psychedelic/Pop Art design touches in 1969's A Boy Named Charlie Brown make it my favorite, by far). When it came to the breezy Race for Your Life, Mendelson and Melendez seemed content to dial down their ambitions and make what was essentially a longer-than-normal TV special.
Pleasant, nostalgic, often numbingly dull, Race for Your Life, Charlie Brown! floats by on a plot that would barely fill a half-hour special, much less a 76-minute feature. Despite that, it does have all the Peanuts favorites doing all the stuff one would expect them to do (most, anyhow - for some unknown reason, Lucy doesn't figure all that prominently here). The Peanuts gang set out on a summer getaway to Camp Nowhere, a regimented co-ed outfit tucked away in the piney mountains. For these sheltered suburban kids (plus Snoopy and Woodstock), the tough-love, character-building camp experience is put to the ultimate test when they join in the camp's ultra-competitive annual river race. Divided into teams of boys (Charlie Brown, Linus, Schroeder and Franklin) and girls (Peppermint Patty, Lucy, Sally and Marcie), the gang face off against the reigning champions, a trio of taunting nameless bullies who use all sorts of dishonest tactics to win. The bullies' team also includes a malicious cat, Brutus, who becomes the antagonist for the otherwise carefree Snoopy and Woodstock team. As they set out on the race, the Peanuts kids' progress gets predictably hampered by the bullies, although they also bring it on themselves with Peppermint Patty's well-meaning yet incompetent leadership over the girls and Charlie Brown's wishy-washiness as the reluctant head of the boys' team. Over the course of this endless river race, rafts are diverted, Snoopy and Woodstock experience a traumatic separation, Peppermint Patty can't make a decision without conducting a secret ballot vote, and Charlie Brown learns to grow a spine.
When it comes to Peanuts, I'm as much an awestruck fan as anyone else, but the bland Race for Your Life, Charlie Brown! now seems like yet another byproduct of a bad period for the franchise (remember It's Arbor Day, Charlie Brown? No?). Unlike the previous Peanuts movies, Charles M. Schulz wrote this one without recycling gags from specific daily strips. Since the gang periodically went to Summer camp on the comics page, it allowed for fertile ground for a familiar story given a bigger, cinematic treatment. Besides the climactic scene where all the kids are barreling down a treacherous log flume, however, Schulz's piecemeal, gag-filled approach is every bit as episodic as the TV specials. While Charlie Brown, Snoopy and Woodstock have a few funny bits, most of the story is given over to the gang constantly getting duped by the bullies (who are pretty lame, as far as memorable villains are concerned).
Race for Your Life, Charlie Brown! also reflects Schulz's love of Peppermint Patty, who had risen to the top ranks of Peanuts characters in the '70s daily strips. Back then, Schulz made the personality of comic-strip-Patty into a touching combo of assertiveness and vulnerability. While strip Patty was definitely a "rare gem," in this movie she's mostly shown as stupid and obnoxious. Be warned: Sally, Linus and Lucy all take a back seat to this freckle-faced little harpy.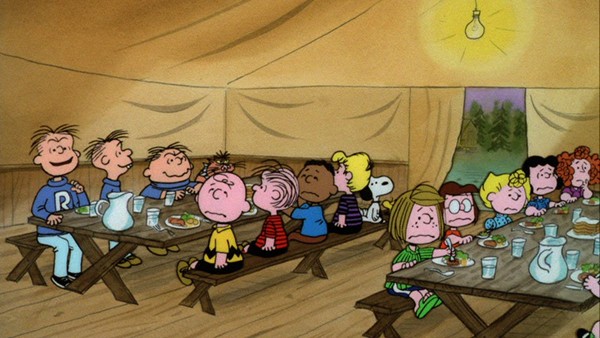 The DVD:
---
Paramount's DVD edition of Race for Your Life, Charlie Brown arrives as part of its Peanuts Movies series. The plastic keep-case holding the disc is in Snoopy's-doghouse-red instead of the usual black.
Video:
At last, we have a nice home video version of Race for Your Life, Charlie Brown in 16:9 anamorphic widescreen. The image has been digitally remastered for this particular DVD release, bringing out the vivid colors and painterly textures in the background imagery. This is one of those restorations where the elimination of every instance of dirt and age from the source print leaves it appearing almost too clean (as if it was never photographed on celluloid), which may leave some animation purists grumbling. Other than that quibble, it truly is a lovely looking picture with excellent detail.
Audio:
It's in glorious mono, Charlie Brown! The dynamic limitations of soundtrack shows its age, but like the visuals it's a clean aural presentation with a pleasant balance. Bass has a nice fullness, while hiss and distortion has been kept to a minimum. French and Spanish dubbed soundtracks also also supplied here, as are optional subtitles in English, French, Spanish and Portuguese.
Extras:
Just the film's theatrical trailer, which makes it out as more exciting than it actually is.
Final Thoughts:
Of all the Peanuts feature films, 1977's Race For Your Life, Charlie Brown may well be the Charlie Browniest. This outing with Snoopy, Woodstock, and the gang on a treacherous river race has been given a good first-time DVD release in lovely, restored widescreen. Pleasant stuff for vintage Peanuts devotees, although even the most hardcore Snoopy lovers would be hard-pressed to watch this lightweight, gag-formatted trek more than once. Rent It.
---
Matt Hinrichs is a designer, artist, film critic and jack-of-all-trades in Phoenix, Arizona. Since 2000, he has been blogging at Scrubbles.net. 4 Color Cowboy is his repository of Western-kitsch imagery, while other films he's experienced are logged at Letterboxd. He also welcomes friends on Twitter @4colorcowboy.