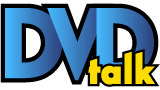 Daredevil (Widescreen Edition)
Fox // PG-13 // July 29, 2003
List Price: $29.98 [Buy now and save at Amazon]
---
THE MOVIE



They say that justice is blind. And that's certainly the case with Matt Murdock, who's a lawyer by day and a superhero vigilante by night. But it wasn't always that way. When he was young, Matt was just another kid who, like many young kids, got picked on by bullies after school. Matt's own father was his personal hero, a boxer who unbeknownst to Matt, had gotten mixed up with the wrong crowd. One day after school, Matt sees his father roughhousing a guy as part of his loan shark activities, and Matt is so upset he runs from the scene only to get involved in an accident which causes him to be permanently blinded.



But blindness isn't the only result of the accident. Matt's other four senses, particularly his hearing, have been unusually heightened, giving him the ability to "see" through the sounds that are going on around him. One night, when Matt's father is asked to "take a dive" in a fight, the remorse for what has happened to his son and his love for him causes the elder Murdock to ignore the wishes of the evil men he is working for. He wins the fight, but pays the ultimate price after the bout – and after his father has died in his arms, Matt vows to spend the rest of his life fighting for justice…by any means necessary.



Ben Affleck stars as Matt Murdock/Daredevil, and while there are those who would say that Affleck isn't much of an actor, I thought he nailed the part perfectly – giving the character the proper amount of heroism, loneliness and occasional anger that makes this superhero seem like an "ordinary guy" rather than some fantasy pulled from the pages of a comic. This may very well be the best role Affleck has taken on so far in his career.



As for the movie itself, since I've never read the Daredevil comics, I can't really comment on how accurate the movie is – only to say that I found the film to be an exciting ride, and (risking the wrath of Spider-Man and X-Men fans) easily the best "Comic Book" movie I have seen on the big screen since the original Superman. I think one of the reasons I enjoyed the movie so much is because it is grounded in realism. Sure, there are a number of special effects and CGI work in the film, but unlike other comic book-based films, there is very little on-screen that screams "fake" or "phony". While other such films make their final battle between the good and bad guy a showcase for the special effects department, Daredevil's climax gives us a good, old-fashioned fight between Daredevil and his arch-nemesis Kingpin (Michael Clarke Duncan).



Daredevil succeeds because it isn't afraid of giving depth to its characters. Matt Murdock spends most of the film struggling with his conscience over vigilantism and true justice; reporter Ben Urich (played by Joe Pantoliano) struggles over his duties as a reporter to report the truth about Daredevil and his feelings that Daredevil is needed to fight evil in the city; and even Kingpin has a method for his madness – stating that what he does is for "business" purposes and that "no one is innocent".



THE DVD



Video:

Presented in anamorphic 2:35:1 widescreen, the transfer is top-notch and looks great on DVD. I remember seeing the movie in the theater and (you know how they dim those projector lamps!) having trouble making out a great deal of the action due to the fact that much of it takes place at night on the city rooftops. You won't have that problem here. While the film maintains its "dark" look on DVD, the sharpness is incredible, the colors are rich, but not over-saturated, and I could not detect any obvious flaws in the transfer. In short, this is an incredible looking DVD. There is a layer change during the movie that takes place at about the 54-minute mark, right after Matt has awoke from an evening of "sweet love" with Elektra (Jennifer Garner) and right before he heads off to Kingpin's "Black & White Ball".



Audio:

Sound plays a big part in Matt Murdock's life, and this DVD does the character justice with one of the best tracks I have heard on DVD. Audio is available in 5.1 DTS, 5.1 Dolby, French Dolby Surround, Spanish Dolby Surround and a special "Visually Impaired Track" which describes all the action for impaired viewers (this is quite similar to the audio track that existed on the very first DVD release of Terminator 2 for those who have or can remember that edition). There's also a quite entertaining audio commentary track with director/screenwriter Mark Steven Johnson and produced Gary Foster which both tells a lot about how the movie was made and shares some fun stories about things that happened on the sets.



I watched Daredevil with the DTS track, and I was highly impressed with how aggressive and crisp the audio was. Viewers will notice it almost immediately, with the "flipping" of the pages during the Marvel logo, and with the rat scampering through the water in the film's opening shot. Daredevil will definitely be one of the DVDs you'll want to consider throwing in your player when showing off your sound system to friends and family!



The Extras

If you believe that "the devil is in the details", then the Daredevil DVD is the movie for you! Quite simply, this double-DVD set is jammed packed with extras, even more impressive (in my opinion) than the Spider-Man 2-DVD set.


Disc One:

In addition to the various audio options listed above and, of course, a chapter selection for the movie, Disc One also contains the option to see a Text Commentary which can be played with any soundtrack of your choice, including the audio commentary one. The Text Commentary is subtitles that will appear on your screen during the movie that will relate details about the production, the actors, the story and even tidbits about Marvel comics and how what one is watching on-screen relates to the actual Daredevil comic book.



Viewers will have the option of turning on an Enhanced Viewing Mode in which an icon will pop up on your screen during the film, and by hitting "Enter" on your remote, you will jump to a special multi-angle (three angles are available to watch) featurette concerning the scene you were watching in the movie. These behind the scenes bits are narrated by visual effects producer John Kilkenny.



Disc One also has some DVD-ROM features, and by using a computer, you'll see a cool animated intro followed by a menu with a number of selections. Viewers will be able to read some text about the history of the comic book; get character information about Daredevil, Elektra, Kingpin and Bullseye; upload four wallpapers; jump to the "Dot Comic" section of the Marvel website (where you can read full-length comics online); and play "The Sensory Quiz", a game that tests your hearing abilities, of which this reviewer only scored 10 out of 22 – assuring that Matt Murdock's job isn't in jeopardy any time soon!



Disc Two:


Disc Two is divided up into two major sections, "The Film" and "The Comic Book", with each section providing a nice number of features about both the movie and the comic.



In "The Film" section, we get "Beyond Hell's Kitchen": Making Daredevil a great hour-long documentary that takes viewers through the complete process from the film's initial greenlighting, through pre-production, production, post-production and release in the theaters. This documentary also features an "Enhanced Viewing Mode" similar to that for the film on Disc One, enabling viewers (should they wish to turn the feature on) to jump out of the documentary at points for multi-angle featurettes.



The other features in "The Film" section include a Jennifer Garner Screen Test which shows about 2 and a half minutes of her auditioning for the role of Elektra; Multi Angle Dailies which allow viewers to look at two different angles of a scene – or both at the same time in the third angle; Daredevil: HBO First Look Special, a 25-minute documentary about the movie that is much "glossier" that the other hour-long documentary made specifically for this DVD release; Moving Through Space: A Day with Tom Sullivan, which is a fascinating look into the life of an actual blind man, who was also a consultant on the film.



"The Film" section also contains three Music Videos from music that appeared in the film (along with a music promo ad); Theatrical Trailers for Daredevil (the teaser plus two longer theatrical versions) plus trailers for 28 Days Later and The League of Extraordinary Gentlemen; and a Still Gallery which includes pictures (divided into their own sections) of Storyboards, Costumes, Set Designs, Production Stills and Props.



In "The Comic Book" section, viewers will get to see Men Without Fear: Creating Daredevil, an hour-long featurette which contains comments about the history of the Daredevil comic from people like Stan Lee, John Romita, Frank Miller Joe Quesada, Brian Michael Bendis and Kevin Smith, and which I found to be my favorite extra on the entire DVD set. There's also a Shadow World Tour, which is a short six-minute segment that shows how Daredevil's sight is portrayed in the comic books (using panels from actual comics) and comparing that with the way his sight was visualized in the film version. Finally, there's a somewhat confusingly titled Modeling Sheets, which actually turn out to be biographies for the characters of Daredevil, Elektra, Kingpin, Bullseye and Foggy Nelson.



THE BOTTOM LINE


This is a DVD that is made for both fans of the movie and fans of the comic book. It's also quite simply one of the best DVD releases I have seen so far in 2003. Even if you were disappointed by the film but still love Daredevil as a comic book character, there is plenty to recommend about this DVD release.



As for me, I simply loved the film, and this DVD edition is everything I could have hoped for…and a whole lot more! It's jammed with tons of extras, gives viewers an excellent transfer of the film, and will result in hours of fun viewing in front of your television sets or computer monitors.



A DVD set that "dares" to be different from the rest, Daredevil is a must-own for comic book and comic book movie fans everywhere!
---
C O N T E N T

---
V I D E O

---
A U D I O

---
E X T R A S

---
R E P L A Y

---
A D V I C E
DVD Talk Collector Series
---
E - M A I L
this review to a friend
Sponsored Links
Sponsored Links