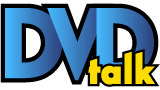 Fisher King: Criterion Collection, The
List Price: $39.95 [Buy now and save at Amazon]
---

One of the least "Terry Gilliam" of Terry Gilliam's films, The Fisher King (1991) finds the director in unfamiliar territory: present-day New York, helming a story about romance and redemption written by someone else. At first glance, Richard LaGravenese's screenplay feels like an odd fit for the visually ambitious Python: this modern-day fairy tale follows a cynical man ("shock jock" radio host Jack Lucas, played by Jeff Bridges) and his quest for redemption after he's saved by the homeless Parry (Robin Williams), whose paths inadvertently crossed three years earlier during a horrific tragedy. They're kind of at similar points in their lives: Jack's hit rock bottom but somehow manages to keep his supportive girlfriend Anne (Mercedes Ruehl), while Parry pines for the bookish Lydia (Amanda Plummer) but lacks the courage to pursue her. Naturally, Jack sees an opportunity to repay his debt: he'll just get them together...but the only problem is that Parry's long gone off the deep end, as evidenced by his belief that (a) The Holy Grail resides in an Upper East Side billionaire's castle, and (b) he's being pursed by a flaming red knight on horseback.


Even the film's most ardent supporters should agree that portions of The Fisher King are a rambling, unfocused mess (unless, of course, you count that as a selling point). It's never more painfully evident than the film's bloated second act, which attempts to cram in bitter highlights from Jack and Anne's failing, one-sided relationship, Jack's growing need to repay his emotional debt, Parry's wild mood swings and horrific visions of The Red Knight, his voyeuristic affection for Lydia, Jack's dimwitted plot to set her up with Parry via a free video store membership... and, of course, that whole business about stealing The Holy Grail from its rightful owner. Gilliam comes close to juggling at least half of these balls in the air successfully, but the bulk of The Fisher King's doughy middle falls flat. At least he sticks the landing, though: everything finally gels---or comes as close as possible---during a terrific final stretch that's framed by an unforgettable flashback, a daring nighttime raid, and a happy ending that actually feels earned.


I probably wouldn't have been so soft on certain portions of The Fisher King 10 or 20 years ago, but time has actually been kind to it. The recent death of Robin Williams has obviously changed the weight of several words and events during the film, while some of its dated story elements---a hole-in-the-wall video rental store and shock-jock terrestrial radio, to name a few---have aged just enough to feel like nostalgic relics instead of slightly past their expiration date. Further down the line, such elements might only enforce the film's out-of-time mentality and anchor it as a fractured fairly tale from an alternate universe. Of course, The Fisher King's real highlight is its terrific casting and performances, from the three leads (Bridges, Williams, and Ruehl, who won an Oscar for her role) down to well-placed cameos by the likes of John de Lancie, David Hyde Pierce, Tom Waits, and the late Michael Jeter. A handful of honest one-liners and monologues punctuate certain scenes with truth and authority. And the soundtrack, which rounds up composer George Fenton, Ray Charles, Harry Nilsson, John Coltrane, and Chill Rob G? Oh, snap!


This is the second time The Fisher King's been on Blu-ray, as it was originally licensed in 2011 by Image Entertainment (and debuted on DVD over a decade earlier). Eight years earlier, Criterion's 1993 laserdisc set the bar pretty high and, until now, it had yet to be beaten as a total package. First-time viewers---especially those new to Gilliam's output---should definitely rent it first, but anyone with even a passing interest in the film will appreciate this fantastic A/V presentation and the absolute wealth of old and new extras assembled for this long-overdue disc.

Quality Control Department
Video & Audio Quality

Presented in a slightly opened-up 1.78:1 aspect ratio that feels close enough to the 1.85:1 original, The Fisher King looks excellent on Criterion's freshly-minted Blu-ray. This new director-approved transfer appears to be a modest step up from Image Entertainment's 2011 release, revealing an excellent amount detail and strong color reproduction. This isn't a pretty-looking film by design, but cramped indoor sets are loaded with texture and the odd lighting is supported by tightly controlled contrast and a terrific amount of shadow detail, while the wide-open exterior shots display a suitable amount of depth. Prior to Criterion's disc, the last version of The Fisher King I watched more than once was Columbia/Tri-Star's 2001 DVD. So while the improvements over that release are obviously more dramatic, anyone who owns the Image Blu-ray probably won't notice as much of a night-and-day difference.

---

DISCLAIMER: The images featured on this page are strictly decorative and do not represent the Blu-ray under review.


---

The Fisher King's audio presentation is pretty much the same story: Columbia's 2001 DVD only served up a modest Dolby Digital 2.0 presentation, while Image's 2011 Blu-ray upgraded to a more expansive and detailed DTS-HD 5.1 Master Audio track. Criterion skips their standard LPCM format and ops for the latter, which renders crystal-clear dialogue and excellent use of the surround channels on countless occasions. The Fisher King has no shortage of surprises (visually and sound-wise), so it's good to know that this disc follows suit and plays up the more surreal moments with plenty of expansive echoes, strong music cues, and more than enough front-channel separation when the situation demands it...and sometimes, even when it doesn't. Optional English subtitles are included during the film only.

Menu Design, Presentation & Packaging
As usual, Criterion's menu interface is smooth and easy to navigate. This one-disc set is locked for Region A players; it's packaged in their typical "stocky" case with new artwork by NYC artist Angel Ortiz (AKA "LA2"). The accompanying fold-out
Insert
features an essay by critic Bilge Ebiri, technical specs, and a poster on the back side.
Bonus Features

I'll be honest: I've been pretty disappointed with a lot of Criterion re-issues as of late, as they usually just recycle existing bonus features and add nothing new to the package. This clearly isn't the case with The Fisher King: Criterion's last stab at it was a deluxe laserdisc all the way back in 1993, and they've seen fit to port over everything of interest while adding a few more recent souvenirs and several retrospective interviews as well.


The new extras lead off with two featurettes ("The Fool and the Wounded King" and "The Real and the Fantastical", 61 minutes total) that include interviews with Terry Gilliam, producer Lynda Obst, Jeff Bridges, Mercedes Ruehl, Amanda Plummer, and screenwriter Richard LaGravenese, who speak about the film's development, release, and continuing legacy (especially in the wake of Robin Williams' death). On paper, this doesn't sound much different than your standard behind-the-scenes fare, but it's extremely polished and flows smoothly from one segment to another. As a whole, these featurettes provide an excellent idea of what the on-set experience was like nearly 25 years ago.


These new supplements continue with more focused looks at the production. "The Tale of The Red Knight" (12 minutes) features artists Keith Greco and Vincent Jefferds, who discuss the challenges of bringing the nightmarish character to life. "Jeff's Tale" (12 min) sits down again with Bridges, a long-time photo hobbyist, who is more than willing to share his panoramic pictures from the set. Finally, "Jeff and Jack" (20 minutes) details Bridges' working relationship with acting coach Stephen Bridgewater, who gave him a crash course in "shock jock" via improvisation and research. As an addendum to these featurettes, the 2006 interview "Robin's Tale" (20 minutes) gives the late actor time to reflect on working with Gilliam, his first read-through of the script, shooting in New York, and much more.


Archival extras from the 1993 Criterion laserdisc are also here; they're led by a feature-length Audio Commentary with Gilliam, who chats at length about the film's adaptation, working with a screenwriter for the first time, setting a film in the present day, casting and music, visual effects, and much more. It's always nice to see a long-dormant Criterion commentary see the light of day again (I'm reminded of Time Bandits, or when Sony licensed the vintage Taxi Driver track for their excellent Blu-ray) and, combined with Gilliam's new retrospective comments, we get about as close to "the whole picture" as possible. Other returning supplements include six Deleted Scenes from a workprint version (with optional Gilliam commentary), four short Costume Tests with Amanda Plummer, Mercedes Ruehl, Jeff Bridges, and Robin Williams, plus a fine collection of domestic and international Trailers for the main feature.


One miscellaneous extra hasn't been carried over---a key scene analysis with storyboards and more---but some or all of this material may very well be glimpsed during the new extras. Overall, it's a fantastic and thorough collection that, no matter your opinion of the main feature, is very thoughtful and entertaining from start to finish.

Final Thoughts

What's not to like about The Fisher King? Well, a lot, actually....but there's a good deal to love about it, too. The top-notch casting and terrific performances are a major highlight, and its wild flights of fancy ensure an unpredictable ride for first-time viewers and the certainty that you'll at least like something this film has to offer. But it's overstuffed to the point of absurdity (most of all, during the bloated and rambling second act) which almost drags down other parts of the production with it. Still, the high points during this film still hit extremely hard, and its dated pop culture elements have actually turned The Fisher King into more of an bygone fairy tale than expected. Criterion's Blu-ray package, however, is almost flawless from every angle: the A/V presentation is impressive, while the thoroughly entertaining extras resurrect their 1993 laserdisc with plenty of new ones to boot. Firmly Recommended.

---
Randy Miller III is an affable office monkey by day and film reviewer by night. He also does freelance design work, teaches art classes and runs a website or two. In his limited free time, Randy also enjoys slacking off, juggling HD DVDs and writing in third person.
---
---
C O N T E N T

---
V I D E O

---
A U D I O

---
E X T R A S

---
R E P L A Y

---
A D V I C E
Recommended
---
E - M A I L
this review to a friend
Sponsored Links
Sponsored Links