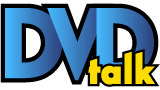 List Price: $29.95 [Buy now and save at Amazon]
---
The Movie:
The death of a famous playwright, beloved in the theatre community yet loathed by his own family, serves as the catalyst for the 2013 indie Blumenthal. If the comedy of errors that results comes across as a mannered, Woody Allen-lite diversion filled with modern Jewish neuroses, at least it's decently executed by writer-director-actor Seth Fisher (The Good Wife).


As the packaging on Olive Films' Blu-ray indicates, Blumenthal's story centers around Brian Cox's preening playwright Harold Blumenthal. He's not the movie's most prominent character by a long shot, however. As the story begins, Harold has recently dropped dead from laughing at one of his own jokes. Shown via clips from a fictional, Charlie Rose-type talk show, Harold is depicted as a widely admired artist - and a self-centered prick. The people who knew the latter side best include his sole heirs - Harold's fussy educator brother, Saul (Mark Blum), and Saul's son, Ethan (Seth Fisher), a neurotic pharmaceutical salesman. Seething over a years-long grudge over stolen inspiration for Harold's plays, Saul wastes little time mourning over Harold, which comes as some surprise to his gentile wife, Cheryl (Laila Robins). To get over his resentment, Saul convinces Ethan to try and retrieve Harold's lifetime achievement award, currently in the possession of the playwright's agent, Jimmy Basmati (Fred Melamed). In the process of attempting to recover the award, Ethan finds out about Harold's secret lover, an alluring, cultured woman named Fiona (Nicole Ansari-Cox). The revelations that Saul and Ethan uncover about Fiona and her role in Harold's puffed-up career enable them to have some closure with the celebrity they so despised. For Ethan, it also helps heal the bad breakup recently experienced with his patient girlfriend, Christina (Mei Melançon).


Despite Cox's looming presence, Blumenthal truly is Seth Fisher's joint - based on the evidence herein, it's apparent that Fisher desperately wants to be Woody Allen. His admiration goes to the point that this entire film feels like an extended homage to the auteur's Annie Hall/Manhattan/Stardust Memories period. Fisher himself plays Ethan as a carbon copy of Allen's typical self-centered, neurotic schmucks - men who fail to realize how good they have it until it's almost gone. The homage becomes complete when one adds in the Manhattan-shot locales, the array of quirky, well-heeled city dwellers, and the many scenes of two characters kvetching over matters trivial and profound. For such an obviously derivative project, much of it strangely works - the characters are appealingly written and decently performed, while the basic story has enough backbone to keep it engaging through the end.


For all their faults, Woody Allen's movies always presented concrete, believable if highly stylized worlds - that's where Blumenthal disappoints. Fisher has his characters constantly on the move - throughout apartments, bars, offices, and the streets of Manhattan - yet much of the movie feels like a stagy, affected off-Broadway play transferred to film. His dialogue labors with a mannered stiffness, especially the speed-talking scenes with Ethan and his co-worker, Isaac (Alexander Cendese). This is where actor-Fisher overcame director-Fisher - sure, he can skillfully do rapid-fire dialogue, but to what end? The story is pretty cute, however, and there's an amusing if out-of-nowhere subplot with Laila Robins' Cheryl, a frustrated actress, considering plastic surgery while mulling over the possibility of an affair with the Blumenthals' friendly dog walker (Kevin Isola). Fisher has enough talent to make me wonder what he'll do next, despite a debut feature that falls short of a whole-hearted recommendation.







The Blu-ray:

---
Video


Olive Films' Blu-ray edition of Blumenthal sports a handsome looking image in 2.35:1 widescreen. The letterboxed picture has a clean, somewhat antiseptic feel similar to many current digitally-photographed films. The lighting is kept soft and naturalistic, while colors appear true-to-life without appearing overly saturated. The 1080p resolution brings out some appealing detail in the characters' clothes and the set decorations, so much so that I found myself preoccupied with the backgrounds while the story unspooled. Probably not at all what the director intended!


Audio


The soundtrack is also a pristine effort, with clear dialogue having a strong presence in the 5.1 Surround mix. Whenever the track uses musical selections, it's integrated subtly into the soundtrack. No subtitle track is included on the disc.


Extras


The disc only includes Blumenthal's theatrical trailer. A shame, since I would have loved to have heard a director's commentary.


Final Thoughts


Is it Woody Allen, or is it Memorex? Blumenthal ends up a competent-enough indie comedy, with writer-director Seth Fisher delivering some genuine laughs as a tensed-up, neurotic New Yorker dealing with the passing of his loathed uncle, a famous playwright. Rent It.





---
Matt Hinrichs is a designer, artist, film critic and jack-of-all-trades in Phoenix, Arizona. Since 2000, he has been blogging at Scrubbles.net. 4 Color Cowboy is his repository of Western-kitsch imagery, while other films he's experienced are logged at Letterboxd. He also welcomes friends on Twitter @4colorcowboy.
Sponsored Links
Sponsored Links