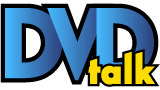 Fox // PG-13 // July 29, 2003
List Price: $29.99 [Buy now and save at Amazon]
---
The Movie:


Although certainly not a total loss, it's difficult to know where to begin in describing how writer/director Mark Steven Johnson ("Simon Birch") goes wrong. Johnson was certainly passionate about the production, with stories in magazine articles during the film's release about how the film's director persistently lobbied executives at Marvel comics and Fox studios to take on the job of directing and writing "Daredevil".



The concept is certainly the thing, and "Daredevil" has quite a good one. Lawyer Matt Murdock (Ben Affleck) was blinded by a chemical spill as a child. All of his other senses were heightened, allowing him to have no fear, leaping across the cityscape. His sense of hearing allows him to see (sorta) via sound waves - one of the film's best ideas is how this "radar sense" is visualized. When his father, a professional boxer, is killed, Matt vows to seek justice. As an adult, he's a lawyer by day and crime fighter by night. He has none of the usual "superhero" powers and, as a result, he returns home at night with painful reminders of any fight he's gotten himself into.



Although I certainly do not expect a complex tale from a comic book movie (for that, I'd get a more substancial tale from the books themselves), but "Daredevil"'s story seems noticably lacking. At 90 minutes and change, the film feels as if it's been edited down rather heavily, probably partially to earn a PG-13 rating (although this is still a hard PG-13). The film really does feel as if it could use another 25-30 minutes to fill out the characters, though.



Murdock's training to get his abilities to where they are is quickly gone through. Jennifer Garner makes a wonderful appearance as Murdock's love interest, Elektra. However, we learn little about Elektra's backstory, aside from a few sentences about her past. Garner appears to be having fun with the role and she's really much more engaging than just about anyone else in the picture. Still, one can't help but feel that she's wasted in a minor role.



Before being accused of being an Affleck-hater, let me note that I have been complimentary to nearly every one of his performances, especially recent fare such as "Bounce" and "Changing Lanes". However, he either seems to be a wrong choice for the role of "Daredevil" or he can't pull anything together out of Johnson's thinly written script. Maybe a combination of both? Johnson's screenplay comes up with a few moments where the character is conflicted about his role as crimefighter, but these aren't really explored. Affleck, despite what appears to be a decent effort, can't seem make this character very dynamic. The film's villians don't fare much better - Colin Farrell makes an impression as psycho Irish assassin Bullseye, but Michael Clarke Duncan has surprisingly little to do as the Kingpin. Joe Pantoliano turns up in a minor role as an investigative reporter, while Jon Favreau plays Matt's assistant. Both are barely-written characters, only made into something somewhat substancial by good performances from both.



Technically, I'm still not entirely convinced by "Daredevil". For a film that cost a reported $80 million dollars, that money doesn't always seem to be on-screen. The action scenes are decently choreographed, such as the fight between Matt and Elektra in the park, but there's a little too much reliance on wirework. The film's effects are satisfactory and Ericson Core ("Payback")'s cinematography is effectively gritty, but I can't help but feel that I've seen this kind of thing portrayed better several times elsewhere.



That line is actually a good summary of how I felt about the picture. Although there's little moments in "Daredevil" here and there that work, all of this has been done better elsewhere. Johnson's screenplay, a weak effort with little in the way of character development, story or conflict, is really the villian here. The concept is a good one and the movie manages the desire look, but this is just a movie that demands a more substancial tale.




The DVD



VIDEO: "Daredevil" is presented by Fox in 2.35:1 anamorphic widescreen. Despite disliking the movie, I was lucky enough to catch the film theatrically in a DLP (digital light processing) presentation. Given the dark appearance of "Daredevil", it was a pleasure to watch the film in DLP, as every little bit of detail was still visible, even in low-light sequences. While the DVD doesn't portray the film's darkness quite as well (not that I'd expect it to), Fox's presentation still impresses. Sharpness and detail are quite good throughout, and definition remains consistent throughout the presentation, with no slip-ups into slight softness.



Some flaws did occur, though. Edge enhancement was visible in a couple of scenes, but only to a minor degree. Some compression artifacts were occasionally spotted, too. However, the print looked crystal clear and no other issues were noticed. Colors - especially reds - are well-saturated and strong.



SOUND: "Daredevil" is presented by Fox in both Dolby Digital 5.1 and DTS 5.1 (there are also 2.0 Spanish and Visually Impared mixes - the Visually Impared soundtrack offers narration of the on-screen events). Sound mixers Peter Devlin ("Bad Boys II") and Steve Boeddeker ("Tomb Raider"), along with the film's sound crew, have put together a sound mix that will likely stand as demo material for many for quite some time. Given the importance of the character's sense of sound, the film's sound designers have heightened the envelopment of the sound mix. Surrounds come into play almost constantly, for anything from dynamic sound effects to highly realistic and convincing ambient sounds. Although many scenes in the film offer a 360 degree sound (those who can enable back surround use should; it heightens the experience even further) experience, one fight scene in a bar is a particular highlight, as it shifts between highlighting different sounds going on in the mix.



This is a very dynamic soundtrack, with strong bass and a forceful, yet not overpowering sound. The hard rock/metal soundtrack doesn't work too well at times, but it's integrated into the soundtrack in a way that I thought kept it at least somewhat in the background, or at least secondary to the sound effects. Dialogue remained clear throughout, with no issues. Those seeking surround-heavy material should certainly check it out.



EXTRAS:



Commentary: This is a commentary with director Steven Mark Johnson and producer Gary Foster. The commentary is actually quite fun, as the two seem to be having a grand old time chatting about the movie, talking about what they think works, while also having a good sense of humor about some issues in the film and discussing some of the obstacles that were encountered during the production. There's a few interesting comments scattered throughout about how scenes were entirely reconfigured from one thing to another. There's some curse words scattered throughout the track; I thought the two were funny, but those who don't want younger viewers to hear that kind of language shouldn't let them listen. Not that kids listen to commentaries anyway, I guess.



Enhanced Viewing Mode: If this feature is enabled, an icon appears occasionally throughout the picture. Clicking on it brings up a multi-angle breakdown of the sequence, narrated by one of the film's visual effects supervisors.



Text Commentary: This is an additional subtitle fact track that can be played along with the film.



Beyond Hell's Kitchen: This nearly hour-long documentary is a well-produced, informative and very entertaining behind-the-scenes look at the making of the picture. We learn a great deal about the battles that Mark Steven Johnson had to go through to convince both Marvel and Fox executives that he was the right person for the job, and how he had to deal with constant revisions to how all of the participants saw the character. We see costume production, testing and cameras are present during some meetings between production staff as they discuss their plans on different aspects of the feature. The documentary also goes into areas such as fight choreography, cinematography and FX. This is an excellent, informative piece that I enjoyed highly. An "extended viewing mode" feature is also available here to bring up more information.



Jennifer Garner Screen Test: This is a 2 1/2 minute clip that has Garner going through the coffee shop scene and the scene after the park fight.



Multi-Angle Dailies: Two fight scenes are offered, each offering different takes of the scene. Via the remote, users can select different camera angles.



Moving Through Space with Tom Sullivan: This is a very interesting 8-minute featurette featuring the film's consultant, Tom Sullivan, who is visually impared. He provides a lot of insight on what it is like to be blind and to use his other senses in a way that guide him through life.



The Men Without Fear: Creating Daredevil: This is another nearly hour-long documentary. Where the other documentary focused on the making of the movie, this piece focuses more on the making of the comic book, with interviews from John Romita and John Romita, Jr., Frank Miller, Kevin Smith and Stan Lee, among others. It's a very interesting look at the making of the comic book and its history. It's also informative about the business of comic books, as well.



Shadow World Tour: This is a comparison between how the comic book visualized Daredevil's senses versus the movie's visualization.



Modeling Sheets: Animated stills and bio information for the characters.



Also: Character profile, "Kingpin"; a 25-minute HBO "First Look" special that is largely promotional; a massive still gallery; the film's teaser and theatrical trailers; trailers for "League of Extraordinary Gentlemen" and "28 Days Later"; 3 music videos and DVD_ROM features.



Final Thoughts: The story's the thing, and I still feel "Daredevil" doesn't have much of one. Given the concept, a grander, more developed action/drama could have been great. Still, although I thought it was a rather mediocre movie, Fox has put together an outstanding DVD. The picture is presented with top-notch audio/video quality, along with a remarkable amount of supplements that are both entertaining and highly informative. Fans of the film should certainly seek out the DVD. For those who haven't, I'd recommend a rental.



Sponsored Links
Sponsored Links