PAW Patrol: Brave Heroes, Big Rescues
List Price: $14.98 [Buy now and save at Amazon]
---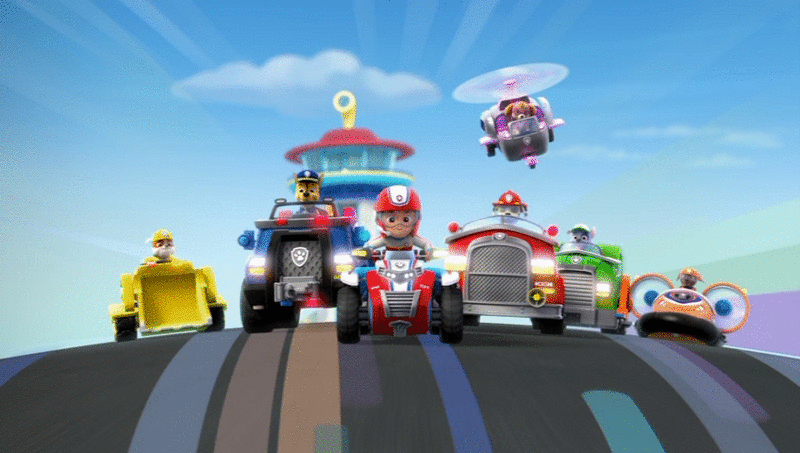 PAW Patrol is one of Nick Jr.'s most popular new shows aimed at the kindergarten and elementary school set, packed with all the harmless action and cornball jokes that kids and immature DVD reviewers can't help but snicker at. Brave Heroes, Big Rescues is the fifth themed collection of PAW Patrol episodes, and it doesn't really change anything about the show's formula or characters. Most episodes go like this: the six PAW Patrol canines (klutzy firefighter Marshall, aquatic expert Zuma, construction oaf Rubble, police officer Chase, recycling guru Rocky, and high-flying Skye) kill time until a citizen yelps for help, while ten-year old handler Ryder waits back at high-tech HQ with a curiously accurate animated breakdown of the situation before sending his pups to the rescue. At no point is it explained how their operation is funded, or why Marshall can heat up the siren on his fire engine to look for a lost backpack.
As with past volumes (including the last one, Meet Everest) this 92-minute collection feels a little skimpy. Six episodes are included here: "Pups Save Jake", "Pups Save the Parade", "Pups Save a Mer-Pup", "Pups Save a Friend", "Pups Save a Stowaway", and "Pups Bark With Dinosaurs", all of which originally aired as part of the show's second season during 2014-15. They're presented more or less in random broadcast order, and the newest of the bunch ("Pups Bark With Dinosaurs", one of two "double-length" or 22-minute episodes) is over six months old already. That's odd, considering PAW Patrol is a few months into its third season and this loose collection of episodes has no obvious theme that would prevent newer episodes from making the cut. Either way, the real first-world problem here is that four of the included six episodes are standard 11-minute shorts, which brings down the "bang for your buck" value of this disc. A lesser kids' show probably wouldn't get away with it, but $15 for 90 minutes of entertainment is a stiff price for all but the most enthusiastic fans. Aren't poor parents shelling out enough for the toys already?
After a few ads, warnings, and logos, Paramount's DVD opens with colorful menu designs that are easy to use...but honestly, do we really need four separate selection screens for seven episodes? This one-disc release arrives in an eco-friendly blue keepcase with a matching slipcover and two promotional inserts. No bonus features are included.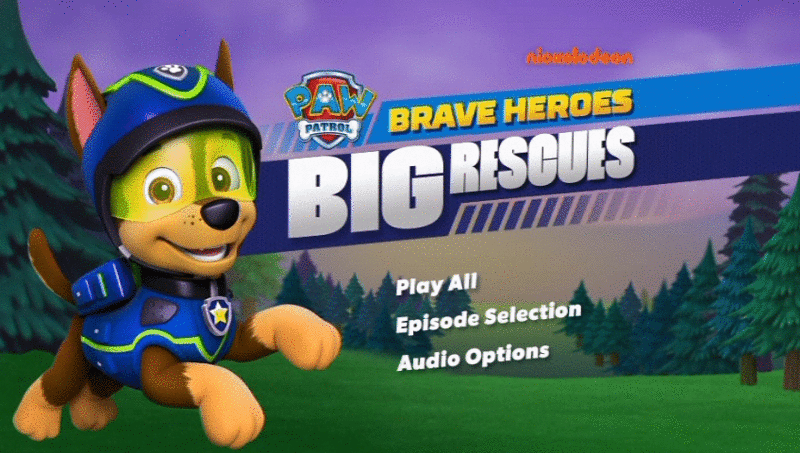 Quality Control Department
Video & Audio Quality
Since PAW Patrol was created in HD and is less than three years old, it's no surprise that Brave Heroes, Big Rescues looks uniformly strong on DVD with bright colors, strong image detail and a pleasing amount of texture on the characters and backgrounds. All episodes are presented in their original 1.78:1 aspect ratios, which showcase PAW Patrol's eye-catching visual design and compositions. The stylized color schemes are vivid with no obvious bleeding, while shadow detail and black levels are consistent from start to finish. Small amounts of banding can be seen along the way, but that's expected for standard definition releases and may very well be a source material issue. Overall, this is one of the best-looking Nick Jr. DVDs in recent memory, and it's almost a shame there's no Blu-ray option.
---
DISCLAIMER: These compressed and resized screen captures are decorative and do not represent this title's native 480p resolution.
---
The audio is presented in Dolby Digital 5.1 and sounds fine under the circumstances. Dialogue is crisp without fighting for attention, while a modest amount of channel separation gives song-driven moments and action sequences a decent amount of punch. My only mild complaint is that the volume levels are cranked a little high, particularly during the theme song; music-buying parents might agree that the term "brickwalled" applies here. But it's doubtful that this problem is exclusive to the DVD, so it's impossible to punish the wrong culprit. Unfortunately, no English subtitles or Closed Captions have been offered during any of these seven episodes, but optional French and Spanish dubs are advertised on the packaging. Again, there aren't any bonus features on board, which isn't surprising.
Final Thoughts
Despite my continued dislike of Nick's molasses-like DVD release strategy for popular shows like PAW Patrol (90 minute volumes twice a year?) and the absence of a Blu-ray option, Brave Heroes, Big Rescues is another decent collection of fun episodes that young fans should enjoy. The A/V presentation is quite good for standard definition, and the general lack of extras isn't surprising at all. "All or nothing" fans who don't want a disc might want to look into Amazon's HD streaming (it's available by the season too); otherwise, parents could do a lot worse. Recommended.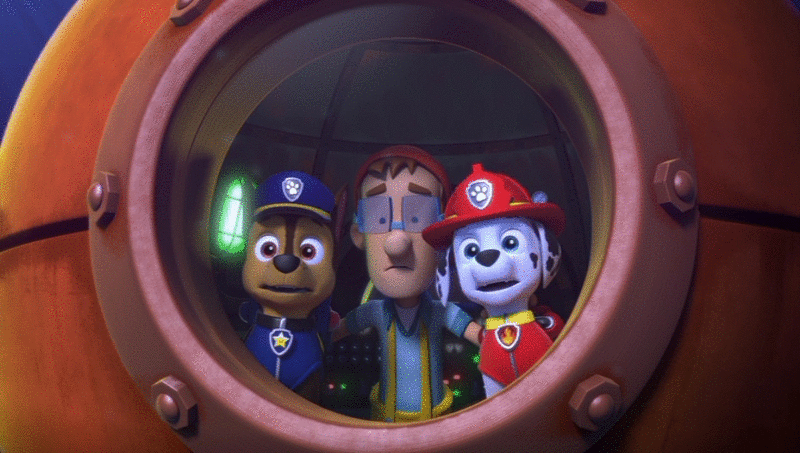 ---
Randy Miller III is an affable office monkey by day and film reviewer by night. He also does freelance design work, teaches art classes and runs a website or two. In his limited free time, Randy also enjoys slacking off, juggling HD DVDs, and writing in third person.
---

---
C O N T E N T

---
V I D E O

---
A U D I O

---
E X T R A S

---
R E P L A Y

---
A D V I C E
Recommended
---
E - M A I L
this review to a friend
Sponsored Links
Sponsored Links