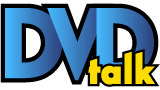 American Ninja 4: The Annihilation
List Price: $29.95 [Buy now and save at Amazon]
---
The Movie:
From Cedric Sundstorm, director of American Ninja 3: Blood Hunt comes the slightly less mediocre follow up, American Ninja 4: The Annihilation. This fourth film sees superstar action hero extraordinaire Michael Dudikoff return to the role that made him a household name, after he bailed on the third film. Whereas David Bradley was the star of that third film, cast alongside Steve James, this time out Sundstorm had the good sense to get 'The Dude' back in the spotlight, but also to keep Bradley on for continuity's sake. The end result? An entertaining mess of a film that packs in a whole lot of action while throwing common sense and realism out the window… where it belongs!
When the story begins, an American ninja named Sean Davidson (David Bradley) is sent in to save some members of the Delta Force Team being held hostage by a former British soldier named Mulgrew (James Booth who starred alongside Dudikoff a couple of years earlier in the amazing Avenging Force). He's gone rogue and plans to build a nuclear bomb in a suitcase. Mulgrew has a seedy Arabic cohort who helps him out with his evil plans. When Davidson makes the scene, it doesn't take him too long to get his ass kicked and in turn join the ranks of the hostages he was sent in to save. How on Earth do the forces of good solve this dilemma? Why, call in Peace Corps. veteran and American Ninja numero uno, Joe Armstrong (Michael Dudikoff) to go in there and fix what's broken… mainly Mulgrew's head!
Armstong trucks on over there and finds himself teaming up with the members of a penal colony who oppose Mulgrew and his fascist ways. But what they don't count on is that Mulgrew's has an army of ninjas guarding the old monastery he calls home. These deadly assassins won't hesitate to kill anyone who threatens their master. Will Armstrong and the penal colonists be able to save Sean Davidson and the rest of the hostages and stop Mulgrew from blowing up New York City with his suitcase bomb before it's too late?
Okay, first things first, there are a lot of things very, very wrong with this movie. We can overlook the anti-Arab sentiment in the film, after all it's a product of its time and that's a typical element of many of the Cannon films we all know and love. You just have to accept it. We can look past the fact that David Bradley has the charisma of a rock and that Michael Dudikoff looks like he's phoning in his performance, that's half their charmed. We can look past the logic gaps like the fact that Armstrong is at one point in the film referred to as Davidson's friend despite the fact that, as far as we know, they've never met before. We can even look past the fact that Michael Dudikoff doesn't even appear in the movie until the half way mark. But what it much harder to look past is the absence of the one and only Steve James. Davidson has a black sidekick in the film and if I had to guess I'd say that this role was written for James. After all he'd played Curtis Jackson in the first three films in the series, why not the fourth? Well for whatever reason James doesn't appear in this one and instead we get a carbon copy Steve James wannabe and you know what? It really does hurt the movie. James brought a cool sense of charisma and slickness to the series and without him here, cast against Bradley's stone cold demeanor or Dudikoff's calm and collected psuedo-philosopher posturing, the contrast between the characters isn't there and it just isn't as much fun.
Missing Steve James factor aside, however, this one still manages to be an entertaining film. While you'd think that the producers would have given the two stars more screen time together, when they eventually do team up to take on the evil ninjas it's worth the wait. There's plenty of gratuitous violence and completely unrealistic stunts and combat scenes. The Delta Force characters are an interesting touch (pay attention to some of their names) and the sets that it all goes down in are so poorly constructed that they almost make the movie look like a high school play at times. The last half hour of the film is ripe with unintentional hilarity, all leading up to a great showdown with an evil super ninja. Regardless of how flawed the film is, and make no mistake, it's very, very flawed American Ninja4: The Annihilation i's completely entertaining.
The Blu-ray:

Video:


American Ninja4: The Annihilation arrives on Blu-ray from Olive Films in an AVC encoded 1080p high definition transfer from in the film's original aspect ratio of 1.85.1 in a transfer that is about on par with the third film's Blu-ray release. Colors are reproduced nicely, never too bright or too bold but at the same time, properly balanced. The image is consistently crisp and solid. Detail is quite good and once again offers a nice step up from past DVD editions. Elements used for the transfer were obviously in very nice shape as there's very little in the way of actual print damage. Black levels are pretty solid here and there are no problems at all with any edge enhancement or noise reduction.
Sound:
The only audio option for the feature is an English language track presented in DTS-HD 2.0 lossless format. There are no alternate language options, although English subtitles are provided. There are no issues here, this track isn't fancy at all but it gets the job done without any issues. Balance is good, depth and range are solid and the dialogue and score both sound quite nice. No issues with any hiss or distortion to note some occasional weight behind the score helps to accentuate the action sequences well.
Extras:
The main extra on this disc is a featurette called Last Tango In Lesotho that runs just over fourteen minutes. Here we get input from director Cedric Sundstorm, producer Avi Lerner and the man himself, Michael Dudikoff (but sadly, not David Bradley). Sundstrom talks for the first eleven minutes about making the Americans the captives this time, the threat against NYC featured in the movie and trying to make the movie more international. Lerner talks about following up the success of the third film and ensuring that a franchise is profitable, giving his thoughts on the business side of things. Dudikoff is only here for a short minute but he expresses his admiration for the opportunity he was given to star in movies like this.
Outside of that we get a music video for the song The Cobra Strikes, a trailer for the feature, static menus and chapter selection.
Final Thoughts:
American Ninja 4: Annihilation has plenty of problems but the quantity of ass-kicking that it contains means if nothing else, it will entertain you. Steve James is sorely missed here, but it's fun to see Dudikoff back in the role and when he and Bradley do get to teaming up, they're fun to watch. Olive's Blu-ray has less extras than were provided for their releases of the first three movies but the featurette is pretty great. Recommended for fans of the series.
Ian lives in NYC with his wife where he writes for DVD Talk, runs Rock! Shock! Pop!. He likes NYC a lot, even if it is expensive and loud.
---
C O N T E N T

---
V I D E O

---
A U D I O

---
E X T R A S

---
R E P L A Y

---
A D V I C E
Recommended
---
E - M A I L
this review to a friend
Sponsored Links
Sponsored Links