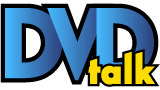 Kino // PG-13 // August 16, 2016
List Price: $29.95 [Buy now and save at Amazon]
---
The Movie:
Directed by Curtis Harrington for American International Pictures in 1972, Whoever Slew Auntie Roo? (which you've got to admit is a great title) takes place in the England of the 1920s. Here we meet Rosie Forrest, also known as our titular Auntie Roo (Shelly Winters). She's a kindly American ex-pat who lives nearby an orphanage filled to the brim with the kind of sad but loveable kids who tend to fill orphanages in these types of movies. Every year as Christmas approaches, Roo opens up her massive home, dubbed Forrest Grange, to the unfortunate young'ins and hosts an equally massive Christmas dinner party complete with all the fixings and presents galore.
Roo, however, has a few skeletons in her closet, not the least of which is the fact that she keeps the mummified remains of her daughter up in the creepy old attic of the home, treating her corpse as it if were still a living being. When, as Christmas approaches, Roo becomes obsessed with little orphan girl Katy Coombs (Chloe Franks), a dead ringer for her dead daughter, she sets about to make the girl her own. The only one who seems to think that anything is wrong here is Katy's brother, Christopher (Mark Lester), but as none of the grownups in his life will acknowledge anything is awry, he sees no other choice but to save his sister himself, though Inspector Ralph Willoughby (Lionel Jeffries) is poking around...
Made a year after Harrington and Winters' first collaboration for AIP, that being 1971's What's The Matter With Helen?, this is a delightfully twisted little tale of a mother's love gone horribly wrong. Winters is in very fine form here, chewing just enough scenery to make her character work but also delivering some convincingly tender moments in a few spots. This helps us see her as human enough to feel for her now and then, rather to reject her outright from the start as some sort of monster. She's a lot of fun to watch here and a perfect casting choice for the part. Child actors Chloe Franks and Mark Lester (the same Mark Lester who starred in 1968's Oliver!) play their characters as they're written, so don't expect them to do much more than abide by the tried and true clichés of cinematic orphans established in earlier films, but they at least do what they do well. There are some fun supporting plays here too, such as Lionel Jeffries, Michael Gothard and Jody Cornwell, all of whom bring their own unique screen presence to their respective roles.
Harrington paces the movie well. It goes at a good clip and while the story is more than a little bit predictable, it's still a lot of fun to watch and even if we know where it's probably going to go and even, more or less, when it'll get there the movie delivers some solid suspense. It's never truly terrifying the way a more impactful horror picture would be but it's got some legitimately eerie moments.
Although the film would have been made on a modest budget (this was AIP after all), the production values are pretty solid across the board. Desmond Dickinson, who shot a lot of classic British horror and suspense pictures (such as Horror Hotel, A Study In Terror and Horrors Of The Black Museum to name just a few), does a great job behind the camera. Roo's mansion can be both ornate and impressive but also shadowy and macabre thanks to the way that things are framed and lit in the film. Composer Kenneth Jones has a similar background in horror and suspense films (among plenty of other genres), having written music from The Tomb Of Ligea and The Horror Of Snape Island. His score adds some welcome atmosphere to the film and does what a good score should: heightens the suspense and the drama in the film.
The DVD:

Video:


Whoever Slew Auntie Roo? looks great on Blu-ray, framed here in its original aspect ratio of 1.85.1 widescreen and presented in AVC encoded 1080p high definition taken from a new 2k scan done in 2016 for this release. The movie makes use of some occasionally drab color schemes but those colors are reproduced quite nicely and the outdoor scenes, which are much more colorful, have some nice pop to them. Black levels look good and there's very little print damage to note at all. This still looks like the low budget picture that it is, but that's not a bad thing. Detail is very nicely improved over the previous DVD release (where it was paired, under the MGM Midnite Movies banner, with What's The Matter With Helen?), texture is solid and there's a fair bit of depth here too.
Sound:
The English language DTS-HD Mono track is definitely on the flat side but it too is improved over the previous DVD release. The score sounds alright and the dialogue is easy enough to follow and to understand. No alternate language options or subtitle options are provided.
Extras:
As far as the extras are concerned, Kino has supplied a newly recorded commentary track with David Del Valle and Nathaniel Bell that does a fine job of detailing the history of the picture by putting much of what we see here in context alongside the respective careers of the film's director and leading lady. There's a lot of back and forth between the two commentators about Harrington's style, what he was going for with this feature and some of what he ran into during the production, but so too is there quite a bit of interesting discussion about Winters' work in the film and her career in general (not to mention how she got along with a few of her co-stars!). There's also some talk about AIP's role in the film, the locations, the supporting cast and a fair bit more.
A trailer for the feature as well as bonus trailers for Madhouse, Deranged, Jennifer, and The Crimson Cult (all also available on Blu-ray from Kino's Studio Classics line), static menus and chapter selection round out the supplemental package for this release.
Final Thoughts:
Whoever Slew Auntie Roo? is hardly a masterpiece of startling terror but it is a delightfully entertaining mix of suspense and quirky character drama. Winters steals the show here, delivering a pretty blustery but genuinely effective lead turn, but the supporting players all do great work too. Kino's Blu-ray offers a nice upgrade over the previous MGM DVD edition in terms of picture and sound quality and throws in an interesting commentary track as its prime supplement. Recommended!
Ian lives in NYC with his wife where he writes for DVD Talk, runs Rock! Shock! Pop!. He likes NYC a lot, even if it is expensive and loud.
---
C O N T E N T

---
V I D E O

---
A U D I O

---
E X T R A S

---
R E P L A Y

---
A D V I C E
Recommended
---
E - M A I L
this review to a friend
Sponsored Links
Sponsored Links