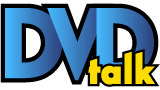 Theatre of Blood (Limited Edition Series)
List Price: $29.95 [Buy now and save at Amazon]
---
THE FILM:
This odd 1973 thriller from Douglas Hickox (Zulu Dawn) is difficult for me to review. Apparently a favorite of legendary horror actor Vincent Price, Theatre of Blood finally affords the cult-favorite star the opportunity to deliver long stretches of Shakespearean dialogue amid reels of bloody violence. Price plays aging stage actor Edward Lionheart, who returns from exile to murder his harshest critics. The murders are based on Shakespeare's plays, and the film is rife with black humor. There is entertainment in this madcap romp, but the movie becomes exhausting in its second hour. Price seems to be having fun, and, after a career spent entertaining others, he deserves this diversion.
Price's Lionheart dives into the River Thames after he is again denied a best actor award. The man's career is built of Shakespearean performances alone, which caused critics to bemoan his refusal to branch out into unfamiliar waters. Several years later, Lionheart reappears, very much alive, and begins killing the men and women who criticized his beloved performances. With his equally insane daughter, Edwina (Diana Rigg), assisting alongside a group of homeless followers, Lionheart stages elaborate, symbolic murders based on the Bard's most famous works. Price dons full costume and make-up, and acts to the rafters.
The central character's plight parallels Price's own rise and plateau from serious actor to horror-film staple. If you have seen a Vincent Price film you know he delivers uniformly excellent performances no matter the surroundings, but it is easy to imagine a late-life Price contemplating the direction his career took. The actor was apparently disappointed at having never acted Shakespeare on screen, so he joined Theatre of Blood and created a tribute of sorts for his longtime fans. The role as written by Anthony Greville-Bell is not especially deep, but Price makes you feel for Lionheart. As he impales, slices and dices, you actually root for the man to end these anonymous critics. Black humor runs through the film's veins, too, and each splatter of blood is accompanied by uneasy chuckles.
The pattern of kidnap, soliloquy, murder does grow increasingly tiresome before the climax, and those averse to Shakespeare's style may find Theatre of Blood somewhat boring. The supporting characters are thinly written but enjoy their demises. There is little character growth or plot variety, but this is certainly a showcase for Price. The deaths are inventive and entertaining, and Price appears to revel in the over-the-top horror. I found my mind wandering when the police and other third parties were on screen, and the scenes with Price are expectedly the most interesting. Theatre of Blood is an acquired taste, but Price fans should enjoy it.
THE BLU-RAY:
PICTURE:
The 1.66:1/1080p/AVC-encoded image from Twilight Time is relatively impressive, and certainly an improvement from MGM's non-anamorphic DVD. Print damage is minimal, colors are bold and nicely saturated, and black levels are steady. The grain is natural, fine-object detail is good, and skin tones appear level. The image is soft in spots, but the transfer is pleasingly free of edge enhancement or noise reduction.
SOUND:
The 1.0 DTS-HD Master Audio mono track is decent if somewhat and expectedly flat. Dialogue is clean and without distortion, and is balanced appropriately with effects and music. I did not detect any hiss or distortion. English subtitles are included.
PACKAGING AND EXTRAS:
Twilight Time releases Theatre of Blood as part of its "Limited Edition Series," and only 3,000 units were produced. The disc is packed in a clear Blu-ray case, and a booklet with essay and photos is included. Extras include an Isolated Score Track in 2.0 DTS-HD Master Audio, an Audio Commentary by Film Historians Nick Redman and David Del Valle, and the Theatrical Trailer (2:31/SD).
FINAL THOUGHTS:
This Vincent Price thriller is rife with dark humor and is a showcase for the actor's talents. He plays an aging Shakespearean actor who begins killing his harshest critics with bloody, theatrical glee. This gimmick wears a bit thin by the second hour, but Theatre of Blood should please the fans that it was meant to salute. Recommended.
William lives in Burlington, North Carolina, and looks forward to a Friday-afternoon matinee.
---
C O N T E N T

---
V I D E O

---
A U D I O

---
E X T R A S

---
R E P L A Y

---
A D V I C E
Recommended
---
E - M A I L
this review to a friend
Sponsored Links
Sponsored Links