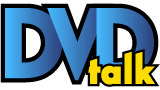 List Price: $29.95 [Buy now and save at Amazon]
---
Fulci. Argento. Collaborators at last.






That was the plan, anyway. Italian genre titans Dario Argento and Lucio Fulci united to write a grisly reimagining of Mystery of the Wax Museum and House of Wax, with the expectation that it would mark Fulci's first time in the director's chair since 1991's Door Into Silence. Shortly before production was to begin, however, the long-ailing Fulci passed away. Seasoned special effects maestro Sergio Stivaletti -- a longtime collaborator of Argento's before and since -- was tapped to take the reins, marking his directorial debut.



I guess it says something that all that backstory is one of the least interesting things about Wax Mask. This turn-of-the-twentieth-century period piece is a gothic kinda-sorta-giallo sopping with splatter, heaps on so much nudity that its leading lady is topless for most of the climax, and some steampunk androids are thrown in for good measure because of course they are.






Okay, so maybe Sonia

(Romina Mondello)

is aiming a little too high. Despite not having any experience in costume design, she's interviewing with Boris Volkoff (Cemetery Without Crosses' Robert Hossein) to fill a vacancy at his new wax museum just the same. She's practically been turned out by Volkoff's assistant before the man himself steps in to offer her the job. It's fortuitous timing for Andrea

(Riccardo Serventi Longhi)

, a reporter who's been aching for some way to photograph Volkoff's eerily realistic wax creations. Maybe Sonia can get him a foot in the door, and if not...well, she's indescribably gorgeous, so maybe Andrea can worm his way in somewhere else instead. Wink! Sonia steadfastly stands by her new employer, but she's disturbed by the nightmarishly accurate reproduction of her parents' murders for one of the museum's exhibits -- a murder that she herself witnessed -- complete with grisly details never released to the public. How could Volkoff possibly know all of this? A cloaked figure has been skulking around Paris, with one bizarre death after another following in his wake. Is this the same murderer that Sonia saw slaughter her family twelve years earlier? Why is Volkoff so hellbent on not having his wax creations photographed? How is he able to make these figures look almost disturbingly lifelike?



If you've ever gotten around to watching the original House of Wax, you can already answer every last one of those questions. Hell, if you've seen pretty much any movie, ever, you'll get 'em right on your first try too. There may not be any actual mystery to speak of throughout Wax Mask, even if its characters pretend that there is, but there's no shortage of surprises. Set nearly a century in the past, Wax Mask's gothic production design is almost always striking, as enthralled by bold, primary colors as it is by shadows. Much the same as Henry Jarrod's second stab at a wax museum, Volkoff's creations favor the ghoulish and nightmarish. Murderers. Dragons. Gorgons. Wax though they may be, they're hardly static figures, with Volkoff routinely finding some way to animate them. Director Stivaletti leverages his extraordinary skills in grisly makeup effects, with creatures and carnage alike remaining deeply impressive these twenty years later.

(He also pays homage to Fulci with some extreme close-ups of eyes early on.)

If only the laughably inept digital effects held up so well. Much like Volkoff's cacklingly elaborate wax displays, the mantra seems to be that too much is never enough. Wax Mask seizes every available opportunity to careen over the top, from composer Maurizio Abeni's this-one-goes-to-eleven orchestral-ish bombast to the Hammer-era-Frankenstein secret laboratory to completely nonsensical twists to the shamelessly exploitative nudity and barrel drums of stage blood. The English dub is ridiculous in the greatest possible way, teeming with awkward lines like "I didn't expect the studio of an artist such as you to look like this. It's more like a scientist's laboratory which in fact is what you call it." There's so much going on that I forgot until just now that Sonia was served up on a silver platter to some ravenous pigs at one point. It all builds to a gloriously unhinged climax with Sonia bound and topless the entire time as well as a jarring shift into straight-up Terminator territory.






I can't really defend Wax Mask as a proper horror film, exactly. Its stabs at suspense rarely connect. None of its jolts or scares are particularly effective. I sincerely can't put into words how abysmal the English dub is. Still, Wax Mask may not be good, but it is a tremendous amount of fun. Rent It.






Video



---

When I pin on my Blu-ray reviewer badge, I can't help but recoil at the sight of Wax Mask. The image is flat and heavily processed, often more closely resembling video than film. It looks as if it's been artificially sharpened as well to try and compensate. When I just plop down on my couch and watch this disc, though, it's surprisingly okay. I can certainly still spot these issues, but they're far less distracting than the screenshots scattered throughout this review would suggest, and the filtering isn't ruinous as it has been in so many other titles. There's still no shortage of fine detail on display. From cylinders of vividly colored liquid in a secret laboratory to the Bava-esque hues in the wax musuem, Wax Mask's use of color is often striking. It's a long way from reference quality, sure, but this is still an entirely watchable release. Warts and all, I'm sure it's a staggering improvement over Image Entertainment's DVD from seventeen years back.








One 7 Movies opts for a BD-25 for their inaugural Blu-ray release. Wax Mask opens up the mattes a hair to reveal an aspect ratio of 1.78:1.






Audio



---

The good news...? Wax Mask piles on a pair of lossless, six-channel soundtracks: one 16-bit Dolby TrueHD track in Italian and another in English. Also along for the ride are lossy stereo tracks

(448kbps)

in each language.



The bad news...? There aren't any subtitles, leaving the Italian audio as little more than a curiosity. All of the film's on-screen text is in Italian, by the way, so the lack of subtitles also impacts folks who were eyeing the English audio from word one. It's a further disappointment that the stereo tracks didn't get the lossless treatment.






Unsurprisingly, then, I primarily watched Wax Mask in English and in 5.1. The lossless audio does a commendable job filling every speaker with sound: the bombastic score, blood slowly dripping into a trough, sparking electrical arcs, giant cylinders of colored liquids bubbling and gurgling, and flames roaring from every direction. Particularly throughout its final moments, Wax Mask gleefully seizes hold of the LFE and can unleash hellish waves of bass, though it doesn't make all that much of an impression prior to that. The English dubbing is dreadful: awkwardly, breathlessly rambling to match lip movements at times while scarcely bothering at all in others. Worse still, the dialogue has a thin, canned quality that feels hopelessly disconnected from the rest of the audio. It's endearingly sloppy, though: ridiculous to the point where it's almost a check in the 'Win' column. Just go in knowing what you're gonna get.






Extras



---


Backstage Scenes (23 min.;

SD

): This lengthy collection of fly-on-the-wall footage during production is in Italian, but the nature of the material means that the lack of accompanying subtitles doesn't sting too much. Thrill to Sergio Stivaletti directing on the set, peeks at Wax Mask's leading ladies in hair and make-up, sets being dressed with all the right grisly touches, and a lengthy look at the climactic pyrotechnics. Some picture-in-picture footage near the end compares behind the scenes material with the finished film, and there's also a brief moment on the mixing stage.




Special Effects Scenes (13 min.;

SD

): This second assortment is the same idea with a different slant: conceptual art, fabricating and showcasing metal skeletons, fleshing out the wax figures, and all matter of splatter, both in the workshop and on the set.


The Final Word
---

Wax Mask is every bit as stylish, gory, and gonzo as you'd expect a gothic, quasi-giallo re-envisioning of House of Wax to be. Despite

(or because of it?)

being dragged down by more than its share of misfires -- feigning that there's any mystery whatsoever swirling around the secret of Volkoff's wax creations, its wildly over-the-top score, the lack of any real scares or suspense, its howlingly ridiculous English dub, one of the least compelling male leads in any film Argento has put his stamp on, and the I-don't-even-know foray into James Cameron territory near the end -- Wax Mask is still a hell of a lot of fun. This Blu-ray release is too uneven to be recommended with all that much enthusiasm, but it's worth a look at the right price. Rent It.






A Few Leftover Screenshots



---
Sponsored Links
Sponsored Links