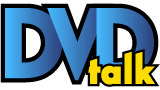 Kino // PG-13 // April 3, 2018 // Region 0
List Price: $19.95 [Buy now and save at Amazon]
---
I've never been able to explain this, but while watching sports on TV or even live bores the heck out of me, most sports-related movies have managed to at least hold my interest and some even enough to warrant re-watching. 1997's The Sixth Man, one of many basketball-oriented films, combines the sport with fantasy elements that are pretty much hit-and-miss. Brothers Kenny (Marlon Wayans) and Antoine (Kadeem Hardison) Tyler have been star basketball players their whole lives, and both eventually make the team at the University of Washington in Seattle. A freak accident occurs during a game and Antoine ends up dead, shifting the movie into a rather somber tone at that point as Kenny is pretty much devastated. The team loses a string of games without him as well but fear not, as Kenny wishes for his brother to come back and his wish sort of comes true when he reappears as a ghost that only he can hear or see.
For Antoine, the inability to keep playing basketball has been a fate worse than death, and he decides to help the team get back on track mainly through the usual tricks that movie ghosts do, such as flying up to the hoops and helping the ball get dunked, as well as messing up the other team's plays. At first he doesn't make himself known to anyone except his brother, which results in many other movie ghost jokes where in one shot you see the two of them talking to each other and then in the next you see Kenny talking to himself like a crazy person as everyone else is seeing him. Eventually Antoine decides to let the other team members know he's back, but for some reason his existence is still off-limits to coach Pederson (David Paymer) and Kenny's love interest, sports reporter RC St. John (Michael Michele). Yet at the same time, Antoine can't help playing jokes on his brother- such as an incredibly awkward scene where Kenny and RC go on a dinner date and Antoine plays around with the food, and later blocks their kiss goodnight by putting his invisible hands over Kenny's mouth. This of course has happened in similar movies, and I can never get past why the ghost would want to remain a secret yet still intentionally mess up things for the few people they've entrusted their existence to. This is supposed to be a comedy of course, but these gags are more annoying than funny.
Much of the supernatural goings-on are achieved through CG effects, which look a bit dated now especially in hi-def. And while it seems Antoine's return from the afterlife is a good thing for the team, a conflict inevitably arises as to whether it's better to lose a game playing the best you can than winning with an unfair advantage. Kenny also catches on to how his brother has always been the one forcing himself into the spotlight, and starts to figure that he wants a chance to show off his own playing skills without his help.
I'd first seen this movie on laserdisc, which was released as an "Exclusive Director's Edition" with a longer cut. Normally I prefer to see the original theatrical version of any movie before watching any alternate version, but I didn't know the laserdisc was a different cut prior to getting it. That version runs close to two hours, and while I'm a believer in the statement "no good movie is ever long enough" I felt that version really dragged. The biggest problem I had with it then was the upbeat beginning then falling into a very sad tone after Antoine's death (a sad song plays through a montage of the mourning) but then shifting into silly slapstick soon after he comes back. I had wondered how the theatrical version played in comparison, and was finally able to see it on this new Blu-Ray from Kino. It turns out that it still runs too long, with the laserdisc version only adding in about five extra minutes. The jump from sad to silly wasn't as jarring here as I'd remembered it, but there are still as many unfunny moments that get driven into the ground longer than they should as before. The problem with the sound on this disc, which I'll address in the appropriate section below, doesn't help matters.
Picture:
You do get a rather nice-looking hi-def transfer on this disc, at the proper 1.85 ratio. Everything looks just as it should (except for some slightly visible compression, though still far better than what you'd see from streaming), with the CG special effects looking a bit dated as a result but they would look the same if you were to see a good film print of this properly projected today. Colors are strong without overly 'popping' and there's several nice establishing shots of the different cities the story takes place, including one of the Oakland Coliseum.
Sound:
Here's the bad news for anyone looking forward to this disc: although this movie was released in Dolby Digital and the laserdisc had a rather lively 5.1 AC-3 track, something went wrong with this Blu-Ray. As I started the movie my heart sank a bit as my receiver's display only lit up a 2-channel DTS Master Audio signal while applying Pro-Logic decoding, and even further when I quickly realized there was no sound from anywhere but the center speaker. That's right, the 5.1 mix has been reduced here to mono. Granted the sound quality is still very clear with a decent amount of bass still coming through, but I've always felt that playing a multi-channel sound mix in mono is the audio equivalent of showing a color movie in black and white. This has already happened on a few other Blu-Ray titles (of movies with 2-channel matrixed surround tracks) from other companies as well- Olive's Fatal Beauty and Cheech and Chong's The Corsican Brothers, and Camp Nowhere from Mill Creek- which Kino is releasing a new edition of and it seems the problem has also been carried over there. A few other movies with 5.1 mixes have somehow gotten onto Blu-Ray with only their 2-channel matrixed mixes as well. I don't know much about how hi-def masters are done, but I can't think of any instance where a mono mix would be desired nor what sort of mistakes would have to be made for them to turn out that way- especially when the disc is then encoded with a 2-channel audio track. In any event, this movie loses quite a bit as a result.
Extras:
The only extra is a "Trailers" option on the menu which actually brings up a minute-long home video promo for The Sixth Man in 4x3 standard-def which seems to be missing a voiceover. Another similar promo for the basketball comedy Celtic Pride (which is an enjoyable movie) is also included. The laserdisc included a brief special-effects demo and a commentary track from director Randall Miller. Of course that track was timed to the longer cut, and Miller might not have been able to revisit it as he recently spent a year in prison after a camera assistant was killed while working on a film he was directing and is now legally restricted from many areas of film production.
Final Thoughts:
The Sixth Man has a number of faults, mainly unfunny gags that don't know when to quit and moments where it isn't sure what type of film it even wants to be. While it's still slightly entertaining, the botching of the audio on this disc pushes it to the Skip It pile (it will be shelved in my collection with the other botched discs I have) unless Kino is able to correct this on future printings.
Jesse Skeen is a life-long obsessive media collector (with an unhealthy preoccupation with obsolete and failed formats) and former theater film projectionist. He enjoys watching movies and strives for presenting them perfectly, but lacks the talent to make his own.
Sponsored Links
Sponsored Links