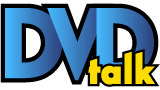 Other // Unrated // July 10, 2018
List Price: $29.95 [Buy now and save at Amazon]
---
A pleasant French comedy filmed in 1940 but not released until after the war, in 1945, and not in the U.S. until 1952, The French Way (Fausse alerte, or "False Alarm") comes to Blu-ray via Sprocket Vault and SabuCat. The main draw is top-billed Josephine Baker, the pioneering African-American-born star of the Folies Bergère, aide to the French Resistance, and civil rights activist. Featured in the French movies Zouzou (1934) and Princess Tam Tam (1935), in The French Way she's demurer and just one member of an ensemble cast of about ten major characters, even though the Blu-ray cover art features only images of Baker, one close-up on the front and two on the back. She's great whenever she's onscreen but The French Way is appealing mainly for other reasons, more about which below.



Reportedly the French cut of the film ran about 90 minutes, but what's presented here is the original 1952 American release, cut to 74 minutes. Despite a few awkward transitions this version feels just about the right length, entertaining without a lot of unwanted padding to its already slim narrative. The hard-to-read text on the back of the Blu-ray states, "The order of some scenes was changed and about 2-3 minutes of 'dramatic' footage was cut. In all other respects, it is virtually complete as originally released in France."



Quite unusual in this day and age, the video transfer sources 1952 American release film elements, meaning that the opening titles have been redone in English and, something I don't recall ever seeing on a Blu-ray before, the (white) non-removable English subtitles are original from that release, optically layered onto the actual film, rather than video-supered later as is commonplace today.









The French Way was written, shot, and probably edited during the months between the start of World War II in September 1939 and the fall of France in June 1940. Most of the story revolves around young lovers Bernard (Georges Marchal) and Claire (Micheline Presle), anxious but unable to marry because his father, Monsieur Dalban (Saturnin Fabre), and her mother, Madame Ancelot (Gabrielle Dorziat) have been feuding for decades over claims Ancelot's ancestors made about an alleged tryst with Napoleon.


Josephine Baker plays cabaret star Zazu, who rents her lavish apartment from Dalban. He enlists her to set his son up with one of the chorus girls, but instead she sides and conspires with them. She also hires a tramp, Léon (Lucien Baroux) to prepare her windows for air raid blackouts, and he later goes to work for Honore (Raymond Aimos), a café owner and the local air raid warden.


More than Baker's presence or its innocuous screenplay, The French Way intrigues as a rare pre-Occupation wartime feature. Germany is never once mentioned by name, but the possibility of air raids looms large over the story, its characters spending a good part of its running time in and out of air raid shelters, the cellars of big Parisian apartment buildings.


The picture's curious tone acknowledges the present danger, almost eerily so such as a nightclub scene near the end, where an unseen announcer reassures revelers that should the evening's performance be interrupted by an alert, the nightclubbers will have plenty of time and guided by clear instructions to the nearest shelter. Yet, overall, the characters in The French Way take the war in stride, a most mild annoyance that means Bernard will have to serve and, a running gag, that lazy tramp Léon will have no trouble finding work what with all the men away.


The wartime setting offers some clever bits. Feuding Dalban and Ancelot find themselves seated next to one another, but because each is wearing a gas mask neither recognizes the other, and end up falling in love. An enterprising Frenchman makes a killing selling little fold-up chairs in the damp, uncomfortable shelters, and Madame Ancelot goes to some effort to convert her space into something resembling a living room.


Other than Baker, Micheline Presle is probably the most recognizable cast member, she a major French star of the 1940s and beyond, and because of her marriage to American actor-director William Marshall, appeared in a handful of Hollywood films, including Under My Skin and Adventures of Captain Fabian. After her divorce she resumed her career in France, appearing in many prestigious films as recently as 2012 and, at nearly 96, remains active.


Video & Audio


Despite overly-aggressive digital noise reduction here and there, SabuCat's Blu-ray of The French Way generally looks great, the black-and-white film elements in very good shape. As described above the release has unusual English subtitles optically married to the film elements, though they're easy to read and generally good. The LPCM mono is also reasonably strong on this Region "A" disc.


Extra Features


No supplements at all, the main menu screen having on a "Play" option, though chapter stops are on the disc.


Parting Thoughts


Hardly a classic of French cinema but very worthwhile for a number of reasons, The French Way is Recommended.




Stuart Galbraith IV is the Kyoto-based film historian largely absent from reviewing these days while he restores a 200-year-old Japanese farmhouse.
---
C O N T E N T

---
V I D E O

---
A U D I O

---
E X T R A S

---
R E P L A Y

---
A D V I C E
Recommended
---
E - M A I L
this review to a friend
Sponsored Links
Sponsored Links