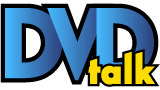 List Price: $18.84 [Buy now and save at Amazon]
---
The Movie:
The title refers to the first impression someone has of a picture that contains multiple meanings. To demonstrate this, we're shown a drawing that can either be interpreted as a vase or two faces looking at each other. One might see a vase at first and upon further inspection, also acknowledge the two faces, but the initial reaction shows what our brain wanted to see in the first place. The other image is an afterthought, if we're inclined to look closer.
At the beginning of Blindspotting, an equally hilarious and heartbreaking masterwork whose every second crackles with ingenuity and boundless energy, ex-con Collin (Daveed Diggs) only has three days left in his probation as he tries to stay out of trouble, spending his days working for a moving company with his best friend Miles (Rafael Casal) and playing by the rules as much as he can so he can find a pocket of self-respect in his harsh environment. Yet all the police around him and the new gentrified white hipster residents of his hometown, Oakland, California, sees him as not much more than a potential thug, to be conveniently snuffed out by an officer who can easily get away with it by claiming he saw a gun. They look at him and go by the first thing their brain recognizes. Upon further investigation, we see all the different, complex, yet enlightening angles of the image of a person.
Miles, on the other hand, deals with another frustration with his identity. As a white man who grew up in the predominantly black population of pre-gentrified Oakland, he speaks and acts with the kind of cultural flavor that goes with what comes natural with him. Yet with the horde of white tech bros invading his city, he's seen as yet another poser who tries to act black to fit into the city's urban background. He's mad that these people are ripping Oakland's personality through its core while appropriating themselves into it. In many ways, he's more of the OG Oakland thug that people assume Collin is; volatile and violent. Yet Collin knows that if the police show up during an altercation that Miles more than likely started, they will shoot him instead.
This creates a potent conflict for Collin as he tries to set his life straight. The bond between the two friends is undeniably strong, yet Collin knows that Miles' shenanigans might prove to be too dangerous for him. This problem intensifies when Collin witnesses a cop (Ethan Embry) shoot a black suspect in the back. The cop predictably gets away with what's clearly a murder, and Collin's trauma from this memory makes his heightened anxiety all the more unmanageable, especially considering his sobering realization that his hometown is a place that's actively trying to kill him. A haunting sequence that's profoundly beautiful in its honest artistry shows him imagining all of the murdered young black men standing next to their gravestones, judging whether or not Collin turning a blind eye to this atrocity to save his own skin keeps perpetuating their tragedy. This built-up tension eventually explodes in a rousing and breathtaking climax that sounds preachy and on the nose on paper, but is executed with great empathy and righteous anger.
Casal and Diggs wrote the script as well as portraying the main characters. They know these people, as well as the history and current status of Oakland all too well. They infuse so much life into the people that surround their beloved Oakland, that there isn't a second we don't believe in these characters. As someone who lived in the East Bay for many years and had to leave mainly because of the gentrification and rising costs, pretty much everything you see in the film exists in one form or another, and the natural comedy that's derived from them is all too real. Yet Blindspotting isn't just great for audiences who are familiar with the area and can catch many of the local jokes and references. Director Carlos Lopez Estrada injects a universal theme of not being able to feel at home in your own neighborhood and your own mind that everyone can relate to in one form or another.
Blindspotting is chock full of quotable lines and interactions that are as funny as any comedy you'll see this year. Yet it's never afraid to switch into darker and brutally honest gears in order to express its anger and disillusionment. The various tonal shifts found in the film, ranging all the way to overtly theatrical dream sequences, could have turned it into an unfocused disaster, but Casal, Diggs, and Estrada pull it off with flying colors by never letting their eye off the ball when it comes to staying true to these tremendously well-constructed characters.
The Blu-ray:
Video:
Estrada's vision of Oakland is bursting with various bold colors, so a clear transfer without any color bleeding is essential here. Thankfully, the 1080p presentation is near perfect in that sense.
Audio:
The Dolby Atmos track is subtle in the ways that it brings the audience into the Oakland ambiance. The dialogue is clear and crisp, but the surround channels, and especially the subwoofer, come to life when the many rap tracks kick in.
Extras:
Commentary with Director Carlos Lopez Estrada: Estrada has a calm and smooth energy that digs into the many technical approaches he had in bringing the story to life.
Commentary by Daveed Diggs and Rafael Cassal: On the other end of that spectrum, this commentary is full of life and humor as the two best friend collaborators have fun with the memories of making the film.
Straight From the Town: A 30-minute making-of special that dives deep into the production. A must for fans.
Director's Diary: Footage from Estrada's phone, a delightful piece for those looking for an unfiltered and raw look into the production.
Deleted Scenes: Six minutes of excised material. It's easy to see why they were cut.
Final Thoughts:
With Sorry to Bother You (Shot in Oakland at the same time as Blindspotting), Blackkklansman, The Hate You Give, and Blindspotting, 2018 turned out to be the year of African-American films that explore their socially conscious themes through various different tones and artistic approaches. Just like many of these examples, aside from its social and cultural immediacy, Blindspotting is a wildly entertaining and engaging gem with great character and technical work.
Oktay Ege Kozak is a film critic and screenwriter based in Portland, Oregon. He also writes for The Playlist, The Oregon Herald, and Beyazperde.com
---
C O N T E N T

---
V I D E O

---
A U D I O

---
E X T R A S

---
R E P L A Y

---
A D V I C E
DVD Talk Collector Series
---
E - M A I L
this review to a friend
Sponsored Links
Sponsored Links