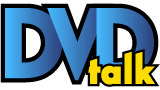 List Price: $39.95 [Buy now and save at Amazon]
---
In 10 Words or Less
Guys in dresses on the run from the mob
Reviewer's Bias*
Loves:
The Criterion Collection, Billy Wilder films
Likes:
Jack Lemmon, Marilyn Monroe
Dislikes:
Feeling conflicted about classic comedies
Hates:
The Movie
Sometimes, all you need to do is look at the ingredients to know a recipe is going to result in something great. Billy Wilder in the director's chair and sharing the typewriter. Jack Lemmon and Tony Curtis as the comedic leads. Marilyn Monroe providing the film's undeniable starpower. Add that up and you have a film that's bound to be good, no matter what else is in the mix. That the story--of a pair of musicians who witness a mob rub-out and go on the run disguised as women--is hugely entertaining, is why the film has stood the test of time as an all-time great comedy.

Joe and Jerry (Curtis and Lemmon) are a pair of down-on-the-luck jazz musicians who accidentally witness "Spats" (George Raft) and his crew kill a rival gangster, and need to get out of town in a hurry. They find their chance at survival in a all-girl band on their way to Florida. Donning dresses, wigs and make-up, they become Josephine and Daphne, and join the band, where they meet ukulele-playing dynamo Sugar Cane (Monroe), who is attempting an escape of her own, trying to run from her bad choices when it comes to men and drinking (making the role upsettingly real in relation to Monroe's life.) The guys naturally take a liking to Sugar, but need to keep up their subterfuge to stay alive and stay close to her.


Comedy arising from secret identities and deception has a long history, as does comedy from cross-dressing, as there's something inherently funny about the tension of trying to maintain a secret and in the visual contrast of a traditionally masculine guy in traditionally feminine garb (especially when it's done poorly.) But as society comes to accept and understand transgender and non-binary people more, the idea of "a guy in a dress" as a joke becomes less of a simple laughing matter. Similarly, the concept of fooling a woman into loving you, or tricking her in order to spend time with her without her knowing, a classic rom-com set-up, feels increasingly creepy, especially when part of Joe's plan to win over Sugar is to take on yet another persona to lie to her (and takes it to another level when he "negs" her into a hardcore make-out moment.) Obviously, this film was made in a different time, but we're watching the film now, and it's increasingly difficult to just ignore such factors and watch the film with a different mindset. That said, there's thankfully not much in the way of gay panic in the drag elements (if anything, the film feels almost progressive in some ways) and Curtis and Lemmon's jokes are more about the guys and their situation than the women they pretend to be like.

Fortunately, the film offers more than enough to enjoy to help battle guilty feelings a bit, especially since Joe and Jerry, though lustful for Sugar and her obvious attributes, are not monsters, and, in a manner befitting a predecessor to
Tootsie
and
Bosom Buddies
, they learn from their experiences as faux females, especially Lemmon's Jerry, who winds up in an unusual courtship with a rich man played with glee by Joe E. Brown (whose motivation grows increasingly unclear.) There's also the matter that their drag is not so much a choice but a survival technique, which becomes very clear when they cross paths with Spats again, leading to a fast-paced third act that's full of action and laughs. Wilder's set-ups and framing make for a film that not only looks great but moves with purpose, lending scenes an energy that quick-cut editing and gimmicky camera work could only hope to achieve.

Curtis and Lemmon are a wonderful comedic pair, with Curtis taking something of the straight-man role, while Lemmon cuts loose a bit more, but they both get their share of lines, with Curtis even breaking out a sort-of-Cary Grant impersonation in his second alter-ego, while Lemmon embraces his feminine side as he takes his drag a bit further than his pal. Lemmon exudes likability, and his portrayal of Daphne is a highlight of the film, full of nervous tittering and fun jabs at Curtis' romantic scheming. They are more than capable of the smart dialogue Wilder and his co-writer I. A. L. Diamond give them to work with, as well as the more physical gags.


Of course, it's Monroe's name that comes first on the film, which only makes sense when she eventually takes the screen as Sugar. A vision of loveliness, she's made to encourage desire, but then she speaks, and it's clear that Wilder hasn't cast her simply to be window dressing for the boys to act around. Sugar is a complex woman with a sad backstory, even if her goal is remarkably base and simple: get a rich guy to take care of her. But she's no gold digger. She wants love, not just a guy with cash--but someone who can pay the bills is important too, after bad experiences with deadbeats.


Though she's performing in that trademark, heightened, Marilyn way, she's very natural (likely because there's a lot of her in the part) and earns the empathy of the viewer easily, in part because she's very funny. Sure, some of that's the script by Wilder and Diamond--an all-time classic full of great exchanges and reaction--but you need timing to make it work, and Marilyn, when on her game, was a talented comedienne and completes the film in a way few were capable of.

The Disc
Some Like It Hot
(Criterion spine number 950) arrives on one Blu-ray disc in a clear keepcase with a dual-sided cover (featuring an attractive shot of Curtis and Lemmon) and a fold-out pamphlet. The minimalist Criterion menu provides the choice to watch the film, select scenes, adjust languages and check out the special features. There are no audio options, but subtitles are available in English.
The Quality
My personal high-water mark when it comes to striking black-and-white film is the high-contrast Criterion release of
Carnival of Souls
, a film that was burned into my brain upon my first viewing. Well, this new AVC-encoded, 1080pm 1.85:1 transfer of
Some Like it Hot
, struck from a fresh 4K restoration by MGM, Park Circus and Criterion from a scan of the original 35mm camera negative--with material from a duplicate negative and a fine-grain positive where necessary--is stunningly gorgeous, and takes a new top spot on the list. From the beginning, it is clear that the restoration was done with care and attention to detail, as you couldn't spot a problem without some serious nitpicking (with the exception of a specific outdoor scene seemingly shot without enough light, thus appearing murkier than the rest of the picture.) Fine detail is remarkable throughout, which is just what the production design and costuming deserved (you can really spot the hidden bleeding heart on the back of Monroe's dress), and the level of contrast and the depth of the blacks and grays make for a beautiful, deep image. Grain is consistent and pleasing, and there are no digital distractions added in the move to disc.

An era-appropriate LPCM 1.0 track is the perfect backing for this film, ensuring the whip-smart dialogue is crisp and clean, while the music is strong and well-separated in the mix. There are no problems with distortions or other imperfections, making this a wonderful presentation that defies the film's age.

The Extras
Criterion has added a few intriguing extras, starting with a new featurette on costume designer Orry-Kelly, with designer/historian Deborah Nadoolman Landis and historian/archivist Larry McQueen (18:59). As someone who didn't came in without much knowledge of the designer's work, learning about him and his creations (shown through copious stills) and how he designed for Monroe on this film from two people with deep knowledge of the field was fascinating. They go into heavy detail on the dresses designed for the film, including discussion of a material used that's no longer in production (and why). I could watch a feature-length documentary with these two talking about costume design.

Few companies offer up archival material the way Criterion does, as evidenced by the inclusion of a pair of 1982 interviews with Wilder from The Dick Cavett Show (55:37). In these freewheeling chats--ostensibly to promote his comedy Buddy, Buddy--the writer/director talks about a variety of topics, including his experiences in Berlin, anti-semitism and the Nazis, drugs, exotic dancers and meeting Sigmund Freud. It's all over the map and fascinating to watch, even if he barely talks about movies in the first half (he eventually gets to talking about Monroe, good and bad), and it's upsetting to hear them talk about the rise of the Nazis in Germany, as there are many disturbing parallels to Trump's America. Watching this interview, which is just two guys talking at length--no clips, no games--I almost wrote,"It's too bad there aren't shows like this today," but then I remembered watching Alec Baldwin's talk show, and thought maybe it's better left in the past.


Lemmon also gets the archival interview treatment, with a 9:50 sit-down from a 1988 episode of France's Cinema cinemas. Among the highlights of the chat are Lemmon's delightful imitation of Wilder, his recollection of the fear he faced in playing the role and his attempt to recreate Daphne's voice decades later and his memories of Marilyn. Eminently likable, Lemmon is treat to hear from.


Wrapping up the "new" content is a 1955 radio interview (8:54) with Monroe by Dave Garroway (host of Monitor), which is Monroe as she is remembered--breathy, soft-spoken and self-effacing, though also quick witted and engaging. The questions are a bit esoteric, similar to those asked by James Lipton on Inside the Actors Studio, and Monroe gives them a good deal of thought, carefully managing each answer. All of the talk of Monroe on this disc just furthers a sense of sadness about her life.


The previous laserdisc, DVD and Blu-ray releases offered a good deal of extras, and thankfully a few made their way onto this version, though the patchwork MGM commentary (from the DVD and Blu-ray) and the home movies from the laserdisc, along with some of the galleries, haven't been carried over. But the big one that has is film scholar Howard Suber's 1989 commentary from the Criterion laserdisc. It's a very academic affair, focusing on film and comedy theory, breaking down the structure of the film and the use of tropes and techniques to build the laughs, while also going in-depth on Monroe, her personal life and her performance. Commentaries are often referred to as film classes on a disc, but that's the absolutely truth when it comes to this lecture (which is a dryer way of describing it than it really comes across.)


Originally recorded in 2001, the 31:14 "Tony Curtis on Some Like it Hot" sees the star sit down with critic Leonard Maltin in a booth at the historic Formosa Cafe for a chat about his memories of the film, including the inspirations for his millionaire accent, his experiences with Monroe and the lessons he received from a female impersonator. This chat is very candid, with some very interesting stories about Monroe, as Curtis is an engaging personality with plenty to say about the movie.


A trio of behind-the-scenes featurettes offer a retrospective view of the movie, starting with "The Making of Some Like it Hot (25:45). Interviews with Lemmon, Curtis, co-writer I.A.L. Diamond and his wife, and Wilder are spliced together to tell the story of the film's production. (Lemmon's segments are pulled from a few different interviews, while Curtis' interview from before is re-used here, along with another.


For the story of the film that takes place after it was made, "The Legacy of Some Like it Hot" (20:23) looks at the movie's sets and successes, with input from famous fans like Hugh Hefner and Curtis Hanson (who provides a brief location tour) and Suber (this time in front of a camera rather than behind a mic.) Battles with morality groups, problems with Marilyn and middling critical reception are among the more interesting elements the piece covers in a tight, informative exploration.


The 12:03 Memories from the Sweet Sue's brings together a quartet of the women in Sugar's female band, giving them the opportunity to reminisce about their time on the set and watch and comment on scenes from the film. It's a rarity in bonus content to hear from actors whose names aren't in the opening titles, so this is a unique perspective and a welcome one.


Putting a cap on the disc is the film's 2:20 trailer, which clearly walks the viewer through the film's plot, accompanying it with over-the-top boasts and claims, along with a promo for the film's soundtrack album.


The extras wrap up with the 12-panel fold-out pamphlet, which includes, alongside the disc and movie details, an essay by author and comedy historian Sam Wasson, who touches on the sense of a good time that inspires the film, Wilder's style as a filmmaker, and his connection to his female stars..

The Bottom Line
While it hasn't aged well in some regards--men in comedic drag and the use of deception to win over women aren't quite as acceptable as they once may have been, thanks to evolutions in societal norms--
Some Like it Hot
remains remarkably vital almost 60 years after Billy Wilder brought together a trio of comedic greats to put on a rollicking good show, with fantastically funny dialogue, excellent performances and a sense of style far ahead of most of Wilder's contemporaries. Criterion has delivered the film in beautiful condition, and loaded up a healthy collection of bonus content, heavy on archival material from across a wide spectrum, making this a must for fans of classic, or for that matter, any comedies.
---
Francis Rizzo III is a native Long Islander, where he works in academia. In his spare time, he enjoys watching hockey, writing and spending time with his wife, daughter and puppy.Follow him on Twitter
---
*The Reviewer's Bias section is an attempt to help readers use the review to its best effect. By knowing where the reviewer's biases lie on the film's subject matter, one can read the review with the right mindset.
---
C O N T E N T

---
V I D E O

---
A U D I O

---
E X T R A S

---
R E P L A Y

---
A D V I C E
Highly Recommended
---
E - M A I L
this review to a friend
Sponsored Links
Sponsored Links