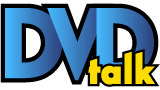 Howling III: The Marsupials
List Price: $29.99 [Buy now and save at Amazon]
---
A sentient werewolf skeleton going for the jugular. A superfluity of lycanthropic nuns hunting down a runaway. A Russian ballerina transforming mid-pirouette into a hairy behemoth. A soldier who just happens to be clutching a bazooka when a Tasmanian wolf-god storms into his tent. A mouse in a werewolf costume fumbling its way towards his mother's pouch...because, y'know, Australian werewolves are marsupials. Dame Edna.






So, yeah, don't let that Roman numeral in the title lull you into a false sense of security; Howling III: The Marsupials is anything but more of the same.



For starters, its werewolves aren't monsters, exactly. Hunted to near-extinction, what few of these creatures remain in Australia have been living in seclusion. They don't look at the rest of us like Happy Meals on legs; they just want us to leave 'em the hell alone. Still, there's living off the grid, and then there's this. It's all a little too The Hills Have Eyes for Jerboa

(Imogen Annesley)

– not that she's seen that film nor any movie at all, come to think of it. Farewell, whatever weird, primitive, rape-y ritual she was in the middle of being subjected to. Hello, Sydney!



Forget the usual fish-out-of-water routine; Jerboa finds her footing in the big city just about immediately. Romance! Gainful employment

(in a werewolf-movie-within-a-werewolf-movie, natch)

! Alas, her past is catching up with her, as a few of Jerboa's kinfolk are hot on her trail, aiming to protect their clan's long-guarded secret. Little do they know that their past is threatening to catch up with them as well, with obsessed anthropologist Harry Beckmeyer

(Barry Otto)

setting out to prove his theory – based on an 80 year old reel of film – that werewolves are real. It's probably worth mentioning that werewolves aren't uniquely Australian. There's been a rash of attacks in Siberia, and Beckmeyer can't shake the suspicion that one of those Russian lycanthropes might have decamped down under. As if all that weren't enough, someone might need to break it to Donny

(Leigh Biolos)

that his girlfriend is carrying his baby son in her pouch. Oh, and by the way, Jerboa has a pouch.






Howling III is about as polarizing a movie as they come. It's a star-crossed romance that, sure, just happens to swirl around marsupial werewolves. It's a monster movie without a villain, exactly. The werewolves aren't ravenously slaughtering everyone in sight – though they are quick to kill to protect their own. Once the government catches wind of these seemingly alien creatures, soldiers are dispatched to round 'em up for scientific study, which...I mean, the movie doesn't treat that as a good thing, but neither is it portrayed with all that much malice on the grunts' part or embodied in a cold, cruel military leader or whatever. The central nemesis is society's compulsion to fear and control what they don't understand, and that applies to both the Australian government and the werewolves of Flow (get it?) alike. This is as Australian a movie as you're likely to come across, with a didgeridoo-inflected score and all the shots of the Sydney Opera House you'd expect, plus even a "shrimp on the bah-bie!" quip for good measure. And it's all realized with bug-eyed comedy and unapologetically over-the-top visual flair.



There's nothing else like this out there, so you might make it to the end credits in Howling III and wonder what the hell it is you just watched. I'll confess that I can't write anything close to an unbiased review, as this was such a transformative movie for me growing up. One of the greatest summers of my life – somewhere around 1989, back when HBO had, like, 6 movies in rotation – revolved around me watching a triple feature of Howling III, Killer Klowns from Outer Space, and Ghoulies II. For weeks on end, ten-year-old me would munch on Chicken McNugget Happy Meals and cheerfully watch the same three flicks back-to-back every single day. I haven't been the same since.






Thirty years later, Howling III still holds up for me. So much of that is thanks to the impossible balance that Philippe Mora strikes. As entrancingly strange a movie as this so frequently is, its surreal stretches don't diminish the impact of character relationships or the film's societal commentary. I appreciate its disinterest in reducing anyone to heroes or villains. A low budget doesn't get in the way of Howling III unleashing all sorts of ambitious, gonzo effects. It screams ahead at a manic pace, bouncing between a slew of different storylines that inevitably collide. Up until some cringingly dreadful acting in its closing moments, the performances are exactly what they ought to be. It's fun and bizarre and hysterical and sweet and surprising and...yeah, I know how commas work, but I'm trying to do something here. Howling III is a longtime favorite that I'm rediscovering after entirely too many years away, and I'm thrilled to report that I love it as much now as I ever did. Your mileage may and probably will vary, but this is my review, and I say Highly Recommended.






Video



---

One of the stories that Philippe Mora tells throughout the disc's extras is how the Australian Film Commission refused to finance Howling III. Flash forward thirty years and change, and the National Film and Sound Archive of Australia has spearheaded a 4K restoration from the original camera negative. Funny how things work out.



I can't quickly track down my copy of the DVD that Elite Entertainment released way back in 2001, and I never bothered to pick up Timeless Media's universally reviled Blu-ray release that wasn't even in high-def. I don't need to do a side-by-side comparison to tell you that Scream Factory's release is in an altogether different league. While not the most dazzling 4K remaster I've come across, definition is more than respectable and the image very nicely detailed, benefitting from robust contrast and, when called for, a startlingly vivid palette. There are quite a few times I found myself struck by how gorgeous Howling III can look, from the hypersaturated hues of the movie-within-a-movie It Came from Uranus to the aching beauty of the ballet rehearsal in Sydney's iconic Opera House. Mora rightfully awes at the restoration in his audio commentary, and accordingly, there's no wear, damage or other anomalies to report. The AVC encode doesn't break up under the strain of the strobing that winds up being a significant plot point. My biggest gripe is that in one early scene, the filmic texture is less distinct than it ought to be, and the image overall looks kind of smeary for a bit. The effect is more pronounced in motion, but:






That's brief, however, and doesn't drag down the score for what is otherwise such a strong presentation.



Lightly letterboxed to preserve its theatrical aspect ratio of 1.85:1, Howling III wriggles its way into the loving warmth of a dual-layer Blu-ray disc.






Audio



---

This 24-bit DTS-HD Master Audio stereo track sounds phenomenal. Every element in the mix is clean, clear, and distinct, with dialogue in particular sounding so marvelous as to belie the film's age. Also impressive is the separation across these two channels, whether it's a frenzied dash through an arcade or something as understated as the clatter of a dot matrix printer on the right in the hospital. Bass response is less than thunderous but still hits the marks I'd hope to hear. Again, I'm left without any concerns – no intrusive background noise, dropouts, clipping, or the like. Very nicely done.






Howling III's audio commentary gets the lossless treatment as well. Rounding out the audio options is a set of English

(SDH)

subtitles.







Extras



---


Audio Commentary: Philippe Mora's commentary from the Elite DVD didn't find its way here, replaced instead by a new track moderated by Jamie Blanks (Urban Legend; Valentine). It's not strictly a Howling III commentary, however, primarily serving as an overview of Mora's life and career, with the discussion only occasionally veering towards this film in particular. Don't mistake that as a complaint, 'cause this is a Gatling gun barrage of one amazing story after another. Mora speaks about flatmate Eric Clapton funding his first movie, shrugging off Peter Sellers repeatedly dressing up as Hitler

(assuming "oh, I guess that's showbiz for you")

, the grasshopper rape that opens The Beast Within, the military getting involved after a too-successful casting call for punks in the Eastern bloc for Howling II, the price tag for an appropriately daunting extraterrestrial anal probe in Communion, and the list goes on and on from there. That's about a third of the highlights I made it a point to jot down, so you're in for a treat.



Among the topics of discussion for Howling III in particular are how this nearly marked Nicole Kidman's feature film debut

(Mora didn't think she was right for the part of Jerboa)

, the remarkable life of actor Frank Thring, a sense of humor so polarizing that many viewers didn't even recognize it as comedy, and a glowing New York Times review that helped the film to rake in millions of dollars.



While it's far from a traditional commentary – almost never screen-specific, despite the fact that Blanks and Mora are watching Howling III all the while – I loved it more than I could possibly put into words. As essential a listen as they come.




Interview with Philippe Mora (27 min.;

HD

): This half-hour conversation opens with Mora recapping his tumultuous time on Howling II, from making a werewolf movie with no werewolf suits to using the same Iron Curtain crew as Yentl to only taking the gig to buy his wife a new car.



It all dovetails nicely into Howling III, with his experience on the prior film having cemented his disinterest in traditional sequels. Mora speaks about a low budget helping him to get away with all these wildly absurd ideas, using comedy as an avenue to explore serious issues that no financier would touch otherwise, and setting out to make a distinctively Australian genre film. He also speaks about embracing author Gary Brandner in a way that the prior Howling movies had not and how the polarizing nature of the film didn't get in the way of its financial success. There is some overlap with the other extras on this disc – say, Mora explaining Curt Siodmak's metaphor for Jewish persecution in The Wolfman – but there's no shortage of unique material to make this well-worth setting aside the time to watch.




Vintage Interviews from Not Quite Hollywood (19 min.;

SD

): Mora is again the central figure here, in interviews conducted for Mark Hartley's brilliant Ozploitation doc. For the first two-thirds, Mora speaks about transplanting the European werewolf myth to Australia, deciding he'd rather have fun making something unique or strange if he's going to devote a year of his life to a film, executing that whole thing with a mouse in a werewolf suit seeking mama's pouch, and my favorite version of the financing story, where he basically strolls out of a bank with a million bucks with no real pushback. This being Mora's third interview on the disc, it follows that some anecdotes are repeated, but he's such a gifted storyteller that he's not exactly prone to saying the same things in the same way. The nature of Not Quite Hollywood invites a different perspective as well, such as Mora noting how cast and crews prefer the fast pace of short film shoots, the Australian government's misplaced bias towards producers rather than directors, and that Australian genre cinema didn't have a chance to be embraced the way these films could have or should have been.



The remainder of this reel is spent with special makeup effects artist Bob McCarron, who speaks about how his $80,000 budget could only go so far with all these werewolves, the uniqueness of Mora's vision, and the allure of Aussie cult cinema.





Trailer (2 min.;

SD

): Last to bat is a VHS-sourced trailer.





Howling III hasn't been lavished with some of the familiar Scream Factory bells and whistles – no reversible art, no slipcover, no DVD – but none of that's missed, exactly.






The Final Word



---

Howling III: The Marsupials is hardly just another werewolf flick. Those aching for full moons, silver bullets, and buckets of viscera would probably be better off looking elsewhere. On the other hand, if you have a taste for the offbeat – and all the better if you're an Australophile – you'll hopefully find the demented majesty of Howling III as irresistible as I do. Scream Factory has done this longtime favorite of mine justice. As this is a deeply polarizing movie, I wouldn't blame the uninitiated for maybe streaming it first, but certainly for those of us who long ago fell under Howling III's spell, this special edition comes Highly Recommended.





---
C O N T E N T

---
V I D E O

---
A U D I O

---
E X T R A S

---
R E P L A Y

---
A D V I C E
Highly Recommended
---
E - M A I L
this review to a friend
Sponsored Links
Sponsored Links