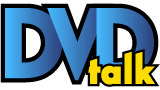 Fox // PG-13 // January 22, 2019
List Price: $34.99 [Buy now and save at Amazon]
---
THE FILM:
Well acted and topically resonant, The Hate U Give is a satisfying adaptation of Angie Thomas' young adult novel of the same name. This drama, from director George Tillman Jr. (Notorious), follows 16-year-old Starr Carter (Amandla Stenberg) as she walks the line between two very different societies. Carter lives in a poor, largely African-American neighborhood, but attends a prep school across town filled with wealthy white students. When Starr's childhood friend, Khalil Harris (Algee Smith), is shot during a traffic stop, Starr becomes an unwitting witness and lightning rod for social justice. The Hate U Give tackles some weighty current affairs and weaves them into a simple, effective coming-of-age drama to produce a satisfying film.
After another of Starr's childhood friends is shot by local gang members, Starr's parents Lisa (Regina Hall) and Maverick Carter (Russell Hornsby), who overcame his own troubled past, enroll Starr and her brothers Sekani (TJ Wright) and Seven (Lamar Johnson) in Williamson Prep, where they stand out due to the color of their skin and lack of expendable cash. Starr makes a couple of white friends, including Hailey (Sabrina Carpenter), who constantly drops not-so-innocent racist comments around her and bristles when called on her BS. Starr leaves the prep-school life at school, and associates with longtime friends at home. She runs into Khalil at a local party and knows he has begun dealing drugs for King (Anthony Mackie), whose daughter is Seven's half-sister. Khalil offers to give Starr a ride home after someone fires a gun at the party, but a law enforcement officer stops Khalil's car. During that traffic stop, the white officer shoots Khalil, mistaking a hairbrush he picks up for a weapon. Starr is devastated, and quickly meets with local police brass, including her uncle Carlos (Common), a local detective, to discuss the shooting.
Although some of the issues are blunt and a few characters bleed toward overly simplistic stereotypes, The Hate U Give largely handles its hotter topics effectively, and avoids pointing a finger at any one party. Instead, Tillman's film concentrates on the human drama and allows the social issues to serve as a conversation-starting backdrop. The film examines the prejudice inside Starr's own home, too; most notably displayed by Maverick, who does not approve when Starr's white boyfriend Chris (K.J. Apa) brings her home in a limousine from prom. Starr and Maverick argue about Maverick's reaction, and engage in a meaningful discussion about why so many of the neighborhood's sons have turned to dope dealing and poisonous people like King, who provide opportunities that are otherwise seemingly unattainable. Starr quickly realizes she does not need friends like Hailey, who is not representative of her entire prep-school friend group, and she mourns for Khalil and his mom while acknowledging that some of Khalil's own choices led to his end.
A second-act conflict comes as social-justice advocate and attorney April Ofrah (Issa Rae) encourages Starr to testify before a Grand Jury so the officer will be indicted for the shooting. This earns her an enemy in King, whose drug-dealing operation will be exposed if details of Khalil's life spill into the public eye. The Hate U Give is most effective when it sees Starr wade through the aftermath of Khalil's death in two vastly different settings. This provides ample conflict and drama within the film, and these scenes resonate loudly. Stenberg, who played Rue in The Hunger Games is excellent here. Her performance is restrained, believable and emotionally rich. The supporting cast, particularly Hall, Hornsby, Apa and Carpenter, is also very strong, and Tillman does a nice job keeping the pace tight and the drama forward moving. The Hate U Give is successful in tackling hot-button issues like officer-involved shootings, race relations and poverty, and it does so without preaching to the audience. With a background of these topical social issues and a strong but straightforward coming-of-age story at its heart, The Hate U Give impresses.
THE BLU-RAY:
PICTURE:
Fox provides an expectedly excellent 2.40:1/1080p/AVC-encoded image for this recent film. Fine-object detail is consistently impressive, as are textures in fabrics like Starr's school uniform. Skin tones are natural, highlights are kept in check and black levels are strong. Colors are bold and nicely saturated, and the film maintains excellent clarity in dimly lit scenes. A party sequence offers strobing, colorful lights that do not blur, and the image looks good in motion. Other than a couple of softer shots and one instance of minor aliasing, this is a top-notch transfer.
SOUND:
The 7.1 DTS-HD Master Audio mix is also impressive. There are plenty of rap and pop music tunes that expand through the entire sound scape and call on the subwoofer for support. Dialogue is clear, whether delivered from the center channel or directionally, and ambient noise, like party chatter and crowd noise, surrounds the viewer effectively. Spanish and French 5.1 Dolby Digital dubs are included, as are English SDH, French and Spanish subtitles.
PACKAGING AND EXTRAS:
This two-disc set comes in an eco-case that is wrapped in a slipcover and includes the Blu-ray, a DVD and a digital copy. Bonus material includes Extended Scenes (15:21/HD); Starting a Conversation (10:07/HD); The Talk (8:25/HD); Code Switching (9:20/HD); Starr: Shine Your Light (13:42/HD); The Heart of Georgia (5:05/HD); Thank U Georgia (2:11/HD); a Gallery (3:05/HD); the Theatrical Trailer (2:26/HD); and a Commentary by George Tillman Jr., Amandla Sternberg, Russell Hornsby, Angie Thomas and Editor Craig Hayes.
FINAL THOUGHTS:
Dramatically affecting with topical social issues, The Hate U Give is a successful adaptation of Angie Thomas' young adult novel. Amandla Sternberg gives a fine performance as a 16-year-old girl who witnesses an officer-involved shooting. Fox's Blu-ray offers excellent picture and sound and some decent featurettes. Highly Recommended.
William lives in Burlington, North Carolina, and looks forward to a Friday-afternoon matinee.
---
C O N T E N T

---
V I D E O

---
A U D I O

---
E X T R A S

---
R E P L A Y

---
A D V I C E
Highly Recommended
---
E - M A I L
this review to a friend
Sponsored Links
Sponsored Links