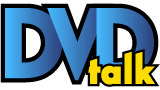 Peppa Pig: When I Grow Up
Fox // Unrated // January 22, 2019
List Price: $14.98 [Buy now and save at Amazon]
---
The Movie:
I continue to add to my arsenal of childcare by video by grabbing my third Peppa Pig DVD to review (my first one is reviewed here and my second one is reviewed here), because I…find myself enjoying these? They're worth a laugh, my kid continues to enjoy them, why go against a good thing.
"When I Grow Up" is another in a continually rolling release of Peppa DVDs, similar in variety and format to the others as well. A handful of episodes from the show ranging in various years (in this case, 2009-2018) are included, some that may have a commonality, maybe they don't. But they're not for your enjoyment and belief suspension, they're for your child's.
And they get their universe expanded a little bit by being exposed to doctors, firemen and policeman, in its own strange way. So there may have been a plan in episode selection by the grown-ups, and its sold a little bit by the charm and humor that the characters possess.
The good part of Peppa Pig is that your child will sit and watch them for awhile and stare and laugh at the characters, the bad part is that at some point he'll start to develop a fondness for certain installments. Thankfully, "Miss Rabbit's Helicopter" is one mine tends to like and in that regard, When I Grow Up kind of saves me, and when it comes to an overall experience, the disc gives you enough looks at secondary characters that you'll sit beside your child and watch.
The Disc:
The Video:
Another 12 episodes presented in 1.78:1 anamorphic widescreen. There's nothing to these discs that I haven't seen before, they continue to look fine, with little image post-processing and colors that are vivid.
The Sound:
Going to essentially borrow my language from the video qualities here; the two-channel Dolby is similar to past releases and doesn't reinvent the wheel, music sounds ok and everything is in front of the soundstage, sounds as clear as can be.
The Extras:
Nada.
Final Thoughts:
Peppa Pig: When I Grow Up is another in a solid, complaint-free releases of DVDs from the Peppa Pig series, with enough of a selection to get the young one in your family asking for the TV to be turned on so he or she can watch it while you make breakfast (note: this has not happened to me). Technically the disc is fine and the lack of extras given the genre isn't a surprise. Any one of these things are a good jumping off point to the character, this is as good as any of them.
---
C O N T E N T

---
V I D E O

---
A U D I O

---
E X T R A S

---
R E P L A Y

---
A D V I C E
Recommended
---
E - M A I L
this review to a friend
Sponsored Links
Sponsored Links