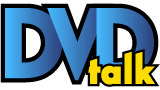 List Price: $29.95 [Buy now and save at Amazon]
---
---
"If you don't sleep at night, it isn't the coffee – it's the bunk."
---
Forget that musty old tagline on the Maxford House Coffee building; they just haven't gotten around to replacing it with the slogan that Jimmy (Murder, My Sweet's Dick Powell) dreamed up. You get it, right? C'mon, it's a play on words! It's a well-known scientific fact that coffee helps you sleep – or, at least, that's the latest medical report from Austria – so if you're having trouble dozing off, don't blame Maxford House. So, yeah, it isn't the coffee; it's the bunk! It's a cinch for the coffee mogul's $25,000 slogan contest. (And that's in 1940 dollars, so think somewhere in the neighborhood of a half million these days.) Just imagine! He and Betty (Ellen Drew) can finally get hitched. They can at long last afford their dream home. And hey, there'll even be enough to get Ma (Georgia Caine) that snazzy davenport sofa she's been asking about for years. Okay, okay, there's the small matter of the several million other entrants vying for the same prize, but Jimmy has had such a string of bad luck at these sorts of contests that surely his time has come.
And, as far as he knows, it has! A few of his co-workers at a competing coffee company decide to poke fun at Jimmy's daydreaming, gluing together a fake telegram declaring him the winner. The whole thing spirals out of control too quickly for Tom, Dick, and Harry (zing!) to come clean about their prank. When Jimmy goes to collect his check, it comes as news to Dr. Maxford (Raymond Walburn) that the deadlocked jurors have finally crowned a winner. But he just assumes he's as out of the loop as ever, forking over a check for twenty-five large without too much fuss.
Seeing as how we're talking about the golden age of department stores, Shindel Bros. offers one-stop shopping for Jimmy and Betty: everything from an engagement ring to a fancy fur to an electro-sofa to a balsa wood glider. The two of them are eager to share their good fortune with the entire neighborhood. Heck, Jimmy doesn't even get anything for himself, instead stuffing a fleet of cabs to the gills with gifts for everyone else on the block. And wouldn't you know it? Right when the two of them are in the middle of playing Santa (in, yes, July), Maxford starts putting two and two together and thinks he's been scammed.
Christmas in July is, at the end of the day, about the American Dream: about being given a chance to succeed. It's not as if Jimmy won – or thinks he won – the lottery. He feels like he's earned this $25,000, thanks not to happenstance but to his inventive mind. He was all too happy to supply the coffee company he actually works for with dozens of catchy slogans and marketing tactics, only to ignored for years on end. It's only once Jimmy appears to be an established success for a competitor that the big man upstairs (Ernest Truex) pays attention, lavishing him with a private office, a colossal salary, and a secretary all his own, based on nothing more than a fake telegram. Mr. Baxter can't relate, having inherited his wealth and his father's coffee company. Whereas Jimmy fervently believes in his ideas, Baxter can't trust any of his own. Never having earned his way to the top, Baxter is far too gunshy to pull the trigger on any concept that isn't already proven.
And though Christmas in July does satirize consumer capitalism and explore class struggles, Preston Sturges weaves this social commentary in with a measured hand. This is such a riotously funny movie, and it's astonishing just how much else Sturges is able to accomplish in its lean 67 minute runtime. Jimmy and Betty aren't some overidealized, doe-eyed couple; there's some serious strain on their relationship, much of which – at least to their minds – comes down to money. The moral message of Christmas in July isn't something as overly reductive as "big corporations are bad". Jimmy loves working at E. Baxter & Sons Coffee, and even when he comes into wealth, he has no intention of leaving. All he ever really wanted was to contribute more than punching numbers. As Jimmy's supervisor (Harry Hayden) warmly tells him when his daydreaming mucks up his work, success doesn't come down to how many zeroes are on a check.
Christmas in July is just so sweet and good-natured. There isn't a villain in sight. The pranksters try their best to come clean at the outset and to make things right once that opportunity's lost. Even the not-altogether-pleasant actions taken by Shindel and Maxford are understandable, given that they reasonably believe they've been hoodwinked. And, at the end, Jimmy and Betty haven't learned too much of a valuable lesson because the film opens with them already on reasonably strong footing. Their first inclination isn't gluttony or consumption but to brighten the lives of their friends and family. Even the engagement ring that Jimmy splurges on for Betty isn't anything truly outrageous. He doesn't lust after the most expensive ring in the store; Jimmy just wants to get her the right one rather than some meaningless display of wealth. The community of which the two of them are a part are as integral to the story as its two nou-faux riche lovebirds. It's instead the likes of Baxter and Maxford that have a lesson to learn, and it's one aided greatly by Sturges' magnificent writing. There are several monologues in particular that leave me awestruck, nearly eighty years after his cameras finished rolling.
No, Christmas in July generally isn't mentioned in the same breath as Sturges' most enduring work, but perhaps it ought to be. This is a timeless gem illustrating how the spirit of Christmas doesn't depend on what page the calendar happens to be flipped to. Highly Recommended.
Video
---
The flipside of the case notes that Christmas in July has been newly remastered in 4K. Remastered from what, I'm not quite certain. As respectable a presentation as this is, the 1.37:1 image is a touch soft and boasts a more coarse grain structure compared to, say, Sturges' The Palm Beach Story and Sullivan's Travels. I assume that's a limitation of the elements available. In every other respect, what Kino Lorber Studio Classics has delivered here looks wonderful – better in motion and from a reasonable viewing distance than the screenshots throughout this review might suggest.
Even under close inspection, I'm not left with any concerns about its AVC encode. Contrast also falls much where I'd expect. Take Maxford's tuxedo as he storms into the contest jurors' room, for instance:
The whites of Maxford's shirt are clean and bright, and the substantial blacks of his jacket reveal a great deal of shadow detail. Better still, this remaster is on the brink of being immaculate. Some extremely light speckling is occasionally visible, as are thin vertical lines such as the one on the left of the frame below, but none of this proves the least bit intrusive. Though perhaps not a five star rave review, I still can't imagine that any of Preston Sturges' many admirers would be the least bit disappointed with how Christmas in July looks in 1080p.
Nevermind my slightly excessive cropping; Christmas in July is indeed presented on Blu-ray at its original aspect ratio of 1.37:1. Given the limited extras and the lean runtime of the film itself, it probably goes without saying that Christmas in July arrives on a single-layer Blu-ray disc.
Audio
---
I'm similarly pleased with Christmas in July's lossless monaural track, presented here in 16-bit DTS-HD Master Audio. There are no distracting abberations to speak of, free of any clicks, pops, dropouts, or the like. Even its most chaotic moments, such as Baxter shouting down Jimmy's loudly supportive coworkers, aren't marred by any excessive clipping or distortion:
This monologue of Betty's late in the film does sound as if background noise has been filtered out. It's a bit disconcerting to hear complete silence in the spaces between words while the dialogue itself is still on the scratchy side, to the point that the remaining noise is almost percussive by the end of this excerpt:
To be fair, that's the only instance along those lines that leapt out at me. I'm otherwise not left with any complaints or concerns, and even that example above is picking nits.
Also included are an audio commentary and a set of English subtitles.
Extras
---



Audio Commentary: Every bit as compelling as Christmas in July itself, Samm Deighan's commentary covers a staggering amount of ground: the near-entirety of Preston Sturges' life and career, contrasting Jimmy and Betty's somewhat stormy yet genuine relationship with the more idealized romances then so typical in film, analyzing its deftly-woven politics and social commentary in the context of the Great Depression, and what makes Sturges' work and Christmas in July in particular so unique, among a great many other topics. Deighan also reads from reviews of Christmas in July as well as Sturges' 11 Rules for Box Office Appeal. This is such an outstanding commentary and a deeply rewarding listen.





Trailer (2 min.;

SD

): Trailers for Christmas in July and a handful of other Kino Lorber Studio Classics releases round out the extras.



The Final Word
---
A traditional holiday movie it's not, but Christmas in July embodies much of what makes the season so special: family, community, generosity, sympathy, and selflessness. Add in Preston Sturges' brilliant writing, incisive satirizing of consumerism and social strata, and an infectiously manic pace, and you're left with a gem underappreciated for far too long. It's always a thrill to see another of Sturges' films find its way to Blu-ray, especially when accompanied by such a terrific audio commentary, and...hey! Just in time for the holidays too. Highly Recommended.
P.P.S.
---
On the off-chance that you don't keep up with Kino Lorber's release slate, The Great McGinty – Sturges' first outing as both writer and director – is making its bow on Blu-ray in January.
---
C O N T E N T

---
V I D E O

---
A U D I O

---
E X T R A S

---
R E P L A Y

---
A D V I C E
Highly Recommended
---
E - M A I L
this review to a friend
Sponsored Links
Sponsored Links