The Documentary
---
Crop Circles: Quest for Truth wouldn't grab my attention just sitting there on the store shelf. That's a shame in this case, because it's a bit better than the overblown title would have you believe. This documentary is directed by the Academy Award Nominated William Gazecki, also known for Reckless Indifference and Waco: The Rules of Engagement (ah, so he has a history of dramatic title choices). This is more than the cheesy tabloid articles or even the cable specials you might have seen: there's more hard facts than speculation, but it commits the cardinal sin of all documentaries: it's a little biased.
Before we go that route, let me give you some background on this stuff. First, what exactly are crop circles themselves? Simply put, they are intricate patterns and designs literally carved into farm fields, whose origins have not been determined. These aren't just any old designs…they're far too intricate to have all been made on the fly by pranksters (though the inevitable fakes have been discovered on some occasions). Here's a few examples of crop circles, to give you a basic idea of the level of detail found in these designs: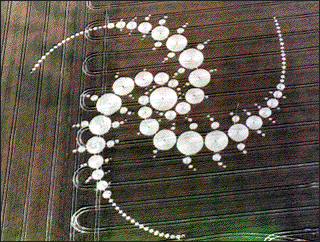 Well, you get the idea. Pretty fascinating stuff, if you ask me. I'd heard of the phenomenon many times over, but had yet to delve deeper into the mystery of crop circles. This subject has been explored before in movies and other stories: M. Night Shyalaman's Signs even joined the party last year, although that's not exactly the kind of evidence I was really looking for. Crop Circles: Quest for Truth in far from a fictional movie; this documentary is grounded in fact, and points out many things I never knew about this mysterious phenomenon. But it's a little flawed in the long run.

First off, I must mention the film's focus: it concentrates solely on hard facts, evidence, and only the slightest and occasional mention of the inevitable "UFOs and aliens" theory. Most of the interview subjects are adamant that the origin is here on Earth. This is a plus: the director could have easily steered down the sensationalist path. However, while many crop circles have been branded as fakes (though certainly not all of them), this is never really mentioned at all. Don't get me wrong: I have no idea myself where these come from, but I'd at least like more possibilities presented that those given in this documentary. That said, it's very well done and interesting…those that watch it will likely enjoy every minute of the film's 110-minute running time (which was also a nice surprise). Anyway, on to the DVD itself…this is another offering from the good folks over at Shout! Factory (the "!" is for emphasis!). Let's send this one over to the DVD Quality Control Department.

The DVD
---
Video:
Video is generally good here, though it's a bit rough in spots. Obviously, there's a good bit of hand-held footage during the "historical" portion of the documentary, and it's not exactly demo material. Some of the back and white footage that looks more recent exhibits an irritating defect near the bottom (looks like a slight tracking problem), and spoils an otherwise clean image. With that said, most of the footage looks really good. The cinematography really needed to deliver here, due to the subject matter, and the majority of new footage shot (either on the ground and in helicopters) looks clean and clear. A major plus is the 1.85:1 widescreen aspect ratio, which helps to separate this from your typical, ham-handed documentary. Overall, a solid presentation, considering the subject matter and history here.
Audio:
The audio won't exactly knock your socks off, but it delivers. Once again, the quality of sound here really depends on the source material. When it's good, it's good; when it's bad, it's still OK. You'd be hard-pressed to find a better sounding documentary, though…the production team did a pretty good job here. You won't have any major complaints with either the audio or the video, so I guess that's the best we could hope for.
Extras:
Extras here are a little thin, but there's a few things of note. Four Additional Sequences (don't call them "deleted scenes") are here for your viewing pleasure. For the most part, they're pretty interesting, but my favorite of these was an interviewee sharing about his experience with a CIA agent years ago. It's pretty chilling stuff, and it makes me wonder why it was cut from the main feature. Also included is a Highlight Montage, which obviously shows the best bits from the documentary. Next up are five Interview Clips with director William Gazecki which are worth a look. Finally, we get the film's Trailer…it's a bit self-important, but I guess that's the trailer's job, right? Overall, the extras a pretty good here, and leave you wanting more.
Menu design and presentation:
Menus are well-designed and easy to navigate. The packaging itself is fairly standard, and could have been a little more provocative. The cover design itself makes sure to tell you that the director was, in fact, "Academy Award Nominated", though nowadays that holds about the same weight as winning an MTV music award. Social commentary aside, this was presented well and should please fans.
Should anything else have been included?
I can't help but think a little more could have been added. I mentioned before that I thought this documentary was a little one-sided, so it would have been nice to see things from other points of view. As far as traditional extras go, an Audio Commentary with the director or interview subjects would have been neat to hear. Still, what we do get is pretty good, and most people will be satisfied with the extras on board.
Final Thoughts
---
This is more than your average documentary, but might not be for those who have different theories. The facts and evidence provided are very clear and well-presented, so Crop Circles: Quest for Truth is Recommended for any interested parties. I don't have the exact MSRP on this one, but I'm guessing it's around $20 based on the prices I've seen online …a decent value for what you get. You can be sure that there's plenty of DVD choices available for those interested in crop circles, but Quest for Truth proves to be one of the better examples. This documentary was well put together, and makes for an entertaining and educational two hours, bottom line. Hey, who knows where crop circles really come from? I sure don't, and maybe nobody does…but I guess that's the point.
---
Randy Miller III is a part-time cartooning instructor based in Harrisburg, PA. He also does freelance graphic design projects and works in an art gallery. When he's not doing that, he enjoys slacking off, general debauchery, and writing things in third person.